The 6 Most Explosive Pieces of Evidence Against Johnny Depp
Johnny Depp's tumultuous marriage to ex-wife Amber Heard is dominating headlines once again this week, as their defamation trial continues.
Depp, 58, is locked in a high-profile court battle with Heard, 36, after filing a $50 million lawsuit accusing her of defamation over an op-ed published by The Washington Post, in which she said she was a victim of domestic abuse.
While Heard did not name Depp in the article, his lawyers argued it was obvious she was referring to the star. Heard is countersuing for $100 million for nuisance.
The proceedings at Virginia's Fairfax County Circuit Courthouse have become a talking point in recent weeks, with each star making shocking allegations about the other—with the bulk of the accusations centering around domestic abuse.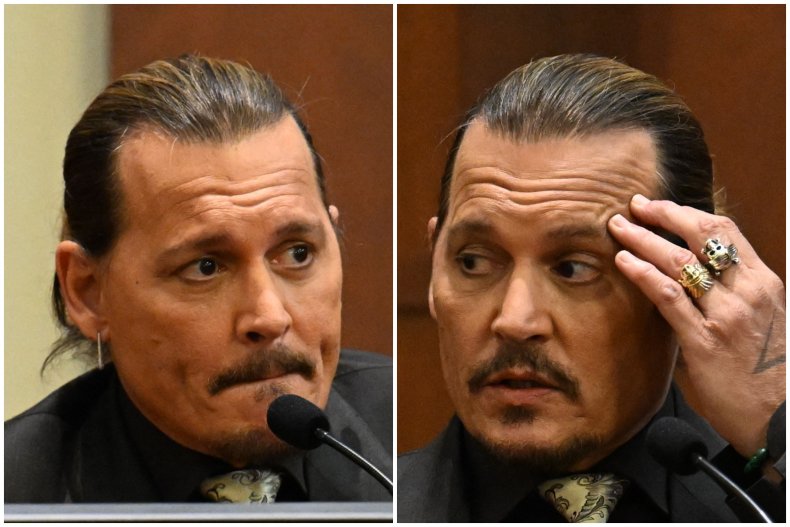 During her two days of testifying earlier this month, Heard emotionally alleged that she had been beaten and sexually assaulted by Depp during their ill-fated relationship, which ended in 2016.
For his part, Depp had earlier testified that he, too, had been physically abused by his Rum Diary co-star Heard, who he accused of throwing a large bottle of vodka at him, resulting in injuries that included the severing of part of his fingertip.
Depp and Heard have each denied the other's allegations of domestic abuse.
With the trial having resumed on Monday following a weeklong break, Newsweek has looked at some of the most explosive pieces of evidence presented in court against Depp thus far.
1.Depp Allegedly Under the Influence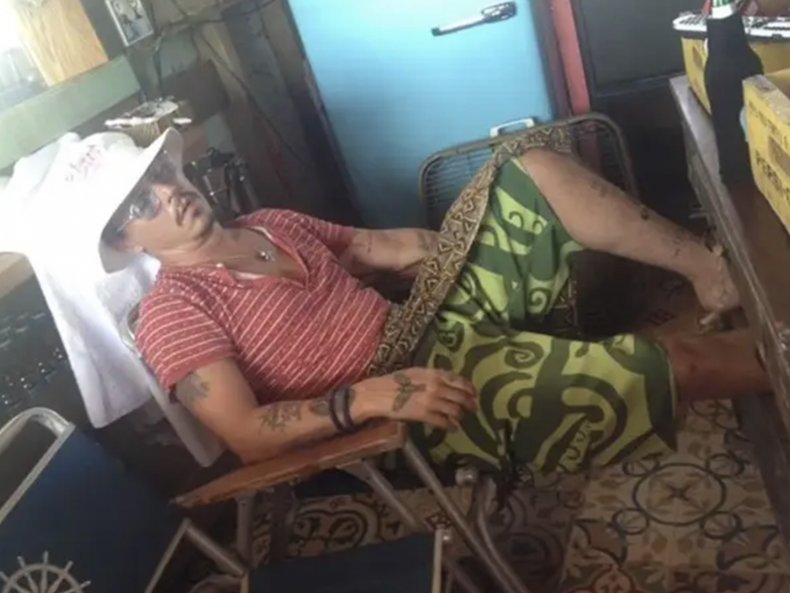 Various photos were shared in court showing Depp purportedly passed out after allegedly binging on drugs and alcohol during his relationship with Heard.
During opening statements last month, Heard's attorney, Elaine Bredehoft, spoke about Depp's "crushing" drug and alcohol abuse, alleging that he would become a "monster" when he was under the influence of substances.
The attorney described Depp as "delusional" and "paranoid," claiming that he would drink and take drugs before allegedly "assaulting" Heard on various occasions.
Depp himself testified about using recreational drugs with musician Marilyn Manson and WandaVision actor Paul Bettany,
2. Depp's Text Messages to Paul Bettany
Text messages from June 2013 presented in court showed Depp and Bettany joking about how to kill Heard, with Depp writing: "Let's burn Amber!!!"
Paul wrote back: "I'm not sure we should burn Amber. She is delightful company and pleasing on the eye. We could of course do the English course of action and perform a drowning test. Thoughts? You have a swimming pool."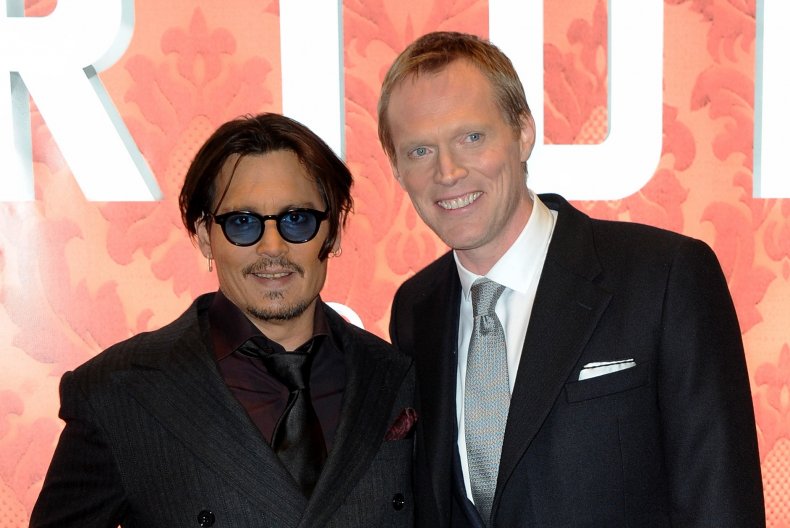 Depp replied: "Let's drown her before we burn her!!! I will f*** her burnt corpse afterwards to make sure she is dead."
Bettany responded: "My thoughts entirely! Lets be CERTAIN before we pronounce her a witch."
When asked about the messages in court, Depp said the text was taken "directly" from a Monty Python sketch about burning and drowning witches.
In many text messages read out, Depp called Heard explicit names like "ugly c***," "worthless hooker" and "filthy whore."
"When I write something, when I write a text, especially if I'm in a particularly impassioned place it's a canvas, it's a painting," Depp said in court, having previously said that he has a dark sense of humor.
3. Liquor Bottle Used in Alleged Assault
During her testimony earlier this month, Heard was seen hesitating as she was shown a photo of a bottle that she alleged Depp had used on her during a fight.
Amid images of broken glass shown during their confrontations, both Depp and Heard have made allegations against one another.
Depp alleged that Heard threw a large bottle of vodka at him, resulting in injuries that included the severing of part of his fingertip.
However, Heard has disputed the claim, saying that Depp cut his fingertip himself while being intoxicated for three straight days. She also alleged that Depp hit her, choked her and sexually assaulted her during the fight in question.
4. Photos of Heard Bruised, Hair Pulled Out
On May 5, Heard recalled the time she believed Depp was going to kill her, during a fight in December 2015. She said that Depp was chasing her and dragging her around their apartment by her hair.
"We had an argument that was a shoving I was losing," she said.
Heard's lawyer presented photos Heard claims to be of pieces of her hair on the floor of her apartment that Depp allegedly pulled out. They also showed a photo of Heard's scalp.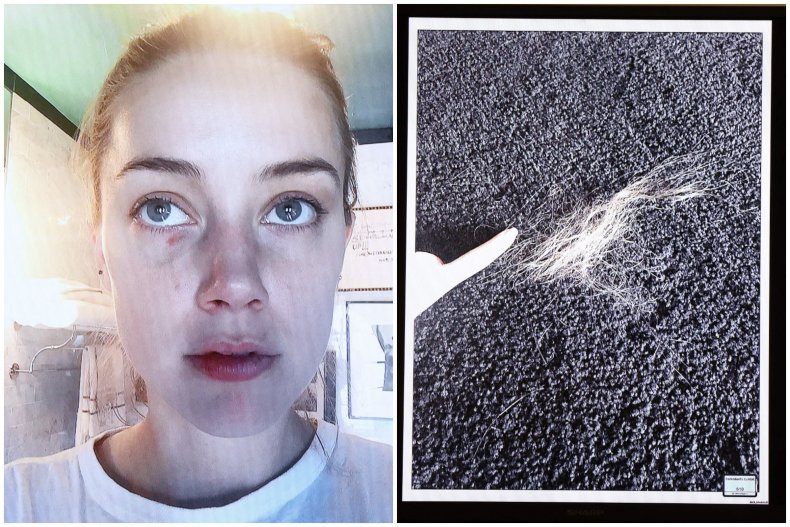 She testified that Depp was challenging her to get back up after he hit and shoved her down. After she stood back up, Heard said Depp "balled up his fist, leaned back and head-butted me square in the nose."
Heard said he was screaming, "I f***ing hate you" over and over again, each time sounding louder as he "pounded" her in the back of the head.
In that moment, Heard said she thought Depp was going to kill her.
"I thought this is how I'm going to die," she said. "He's going to kill me now. And he wouldn't even realize it."
5. Images of Drugs, Alcohol
During the trial, multiple allegations of drug use have been put forth by both sides, prompting those following the trial to discuss a photo that had been presented, alleging to show evidence of Depp's indulgence.
In the image, a variety of items were shown, including four neat lines of cocaine, an ID card, a pint of whisky, tobacco, a Keith Richards CD, and a skull and crossbones pill box emblazoned with the words "property of J.D." Also present in the image was a tampon applicator, which recently became a talking point online.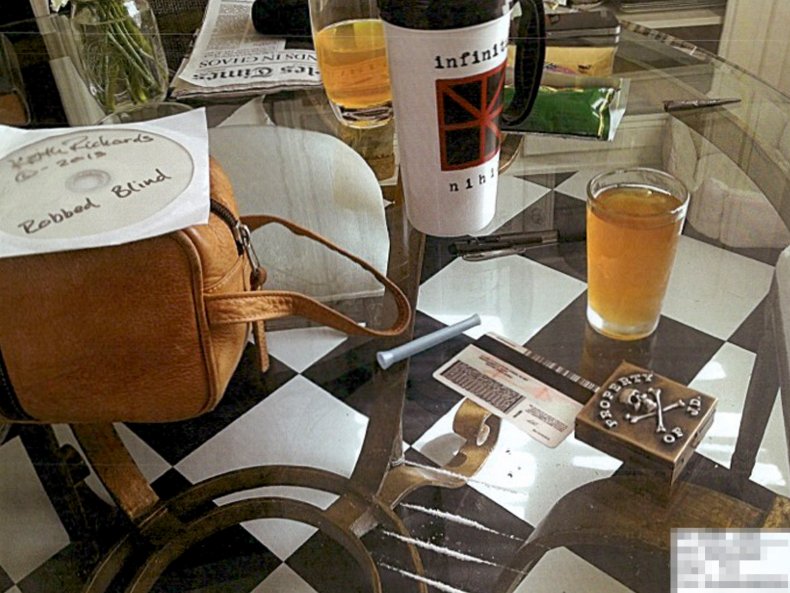 During Depp's 2020 libel trial, Heard's sister, Whitney Henriquez, was asked about the photo as she testified in a London courtroom.
Answering the question of how the applicator related to the cocaine, Henriquez explained: "To get the cocaine up your nose.''
Henriquez further admitted that she had used the method "when [she] did cocaine," while stating that she had given Depp a tampon applicator for the same purpose.
"He was quite fond of that trick," Henriquez testified of her former brother-in-law.
6. Audio of Depp "Howling Like an Animal"
During her testimony, Heard alleged being assaulted by Depp during a flight on a private jet from Boston back in 2014.
She testified that Depp began throwing ice cubes and utensils at Heard and called her "an embarrassment." Heard also alleged that he slapped her in the face and later kicked her to the ground.
Heard then said Depp asked the flight attendant for an oxygen tank, continued to drink alcohol, began "howling like an animal" and "passed out in the bathroom with the door locked."
She began recording him, saying: "I knew Johnny wouldn't remember what he had done."
The audio was played in court.
The trial continues.