Fans Confused by Tampon Applicator's Presence in Johnny Depp Drug Photo
As Johnny Depp's courtroom showdown with Amber Heard continues, photos apparently illustrating the actor's past drug use have sparked confusion online.
The former couple's trial is nearing the conclusion of its fourth week, as they battle it out over Depp's $50 million lawsuit against Heard, whom he has accused of defaming him in an op-ed published by The Washington Post in 2018.
Heard, 36, stated that she was a victim of domestic abuse in the article. While she didn't name Depp, 58, the actor's lawyers have argued that it was obvious she was referring to him.
Heard has countersued for $100 million for nuisance, with her attorneys arguing that the op-ed was a matter of public interest.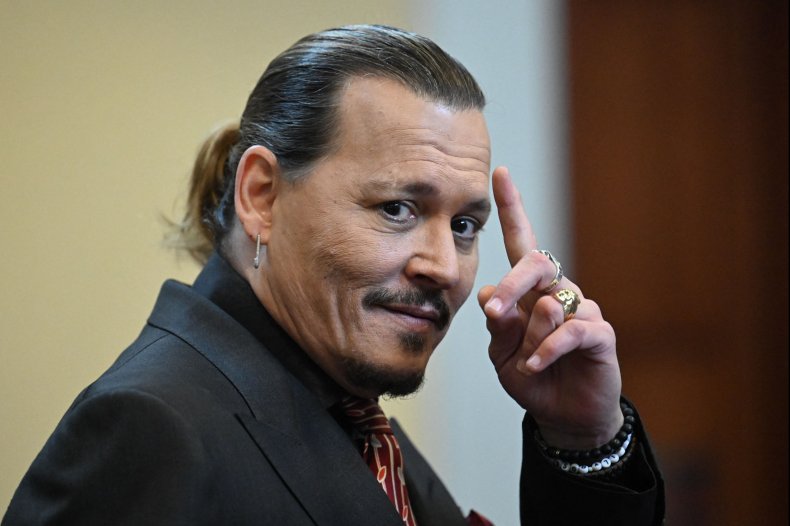 During the trial, multiple allegations of drug use have been put forth by both sides, prompting those following the trial to discuss a photo that had been presented, alleging to show evidence of Depp's drug use.
In the image, a variety of items were shown, including four neat lines of cocaine, an ID card, a pint of whisky, tobacco, a Keith Richards CD, and a skull and crossbones pill box emblazoned with the words "property of J.D."
However, the presence of a tampon applicator on the table has sparked confusion on Twitter.
Amid discussions over the authenticity of the photo, which was said to have been taken in 2013, one Twitter user wrote: "So you're telling me Johnny MF Depp snorts his coke with a tampon plunger?!?! C'mon man!"
Echoing that sentiment, another said: "Wow with all that money, your telling me that Mr. Depp is using a tampon push to snort his [cocaine] with??? Yeah right that looks staged Amber! Hope someone else caught that!!!"
Also sharing their disbelief at the suggestion, another tweeted that the "straw is from a tampon lol. [Heard] really expects people to believe it wasn't hers? Like depp carries around tampons to do drugs."
And another Twitter user commented that they "doubt Depp would use a tampon applicator to snort coke," as they also joined a larger debate in questioning the authenticity of the photo, which many fans stated they believed had been staged.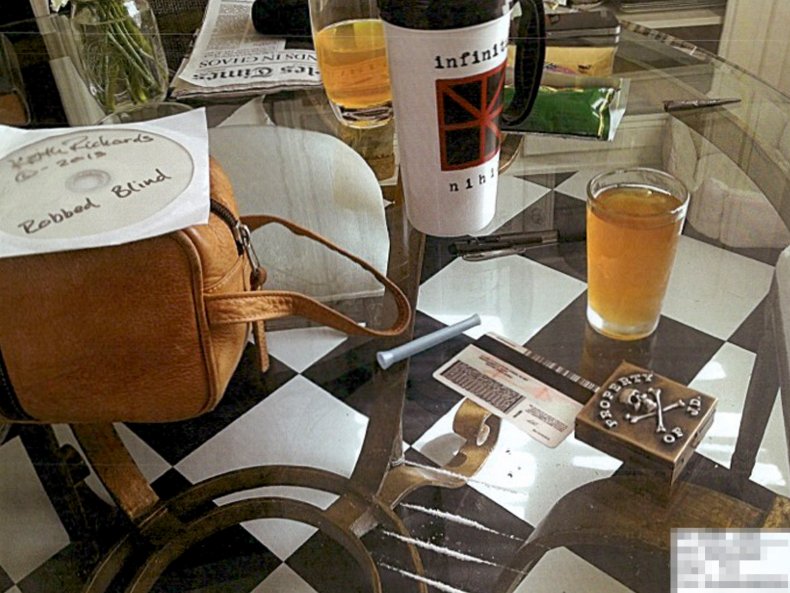 "I've done lots of cocaine and there are ZERO times ANY cocaine is ever left in lines on the table," they shared. "In fact we used to sniff the left overs from the 70s shag rugs it spilled on.. ridiculous."
The commenter further questioned: "Also why is everything so clean, perfectly placed and the glasses are full?"
During Depp's 2020 libel trial, Heard's sister, Whitney Henriquez, was asked about the photo as she testified in a London courtroom.
When asked about what she saw in the image, Henriquez told the court, per The Mirror: "That looks like a tampon applicator to me.''
Answering the question of how the applicator related to the cocaine, Henriquez explained: "To get the cocaine up your nose.''
Henriquez further admitted that she had used the method "when [she] did cocaine," while stating that she had given Depp a tampon applicator for the same purpose.
"He was quite fond of that trick," Henriquez testified of her former brother-in-law.
Depp lost his 2020 libel case against British tabloid The Sun, which had labeled the Charlie and the Chocolate Factory star a "wife-beater," in reference to Heard's allegations of domestic abuse.
Heard accused Depp of domestic abuse during their divorce proceedings in 2016.
While Depp had repeatedly denied ever having been violent to Heard during the three-week trial in London, a judge found that The Sun's claims that the Kentucky-born actor was abusive to Heard were "substantially true."
During her testimony on Wednesday, Heard alleged that Depp performed a "cavity search" for cocaine while they were spending time in Hicksville, New York, in 2013.
Heard said that after they took mushrooms with a group of friends, Depp accused her of hiding his cocaine and he began searching her body for it.
"He ripped my dress. The strap top part of my dress," she said, and then went on to allege that the screen star performed a "cavity search."
"I just stood there staring at the stupid light, I didn't know what to do," Heard testified. "I just stood there while he did that."