Johnny Depp has been accused of altering evidence that was kept secret in his recent legal battle with ex-wife Amber Heard.
More than 6,000 pages of court documents from the former couple's legal battle were unsealed over the weekend which have shed light on various aspects of the trial including Depp's severed finger, his texts to Marilyn Manson, and even allegations that the actor manipulated photos of his injuries.
Heard's legal team argued in the files that metadata from photos and audio submitted by Depp as evidence in the case proved they were manipulated.
Newsweek has contacted Depp's representatives for comment. Newsweek has yet to assess the veracity of the claims.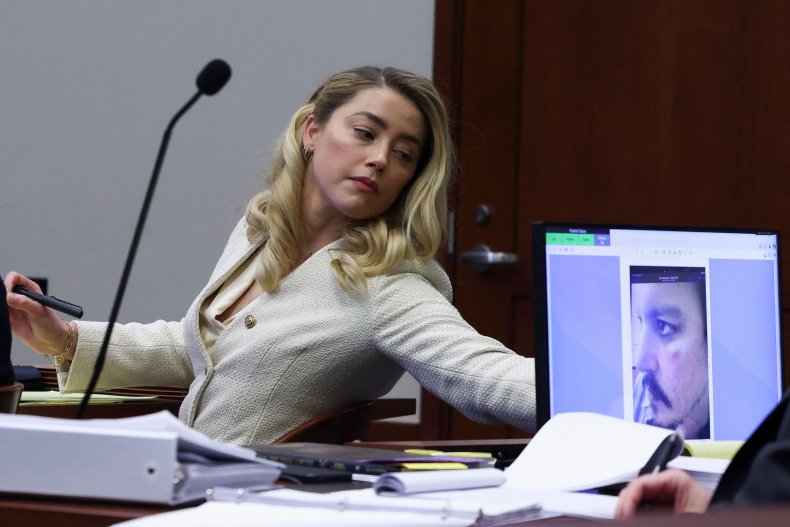 The documents, which were seen by Newsweek, show a filing from Heard's legal team that state that photos of the Pirates of the Caribbean actor's bruises and scratches allegedly from his ex-wife contained "Created and Modified" dates of years after the alleged incidents took place.
They said the data "reveals the items were 'Modified' days before their production in this case" and that Depp "produced multiple partial audio recordings that begin and end in the middle of a sentence."
Heard's attorneys also claim in the documents that metadata "indicates the [audio] recordings were created in September 2015 and then modified in June 2016, and again one day before their production, but Depp only produced the modified version. This raises significant concerns of manipulation, alteration, and deletion."
This information has made it to Twitter where a viral thread outlined the claims in the unsealed documents with Twitter user @cocainecross highlighting a number of details that Depp "tried to keep private" in their opinion.
Following a televised trial in Virginia that concluded in late May, the jury ruled largely in Depp's favor on June 1, awarding him $10 million in compensatory damages and $5 million in punitive damages, while Heard, who had countersued for $100 million for nuisance, was awarded $2 million in compensatory damages by the jury.
The punitive damages against Heard were later reduced from $5 million to $350,000 under a Virginia law that caps such damages.
During the trial, the topic of altered photos was a key element in Heard's testimony, as the Aquaman actress was accused by Depp's lawyers of editing photos of her alleged injuries to make her "face look more red."
Heard denied the claims at the time, stating that she has "never edited a photograph."
These newly unsealed documents however are the first time the public has seen Depp accused of editing photos of alleged injuries.
The filing also quoted forensic expert Julian Ackert who testified on behalf of Heard during the trial who found that Depp's submitted photos contained "anomalies that call into question the authenticity of the multimedia documents."
In a motion to exclude Ackert's findings from the trial, Depp's team said that the forensic expert's potential testimony would "only serve to confuse or mislead the jury."
They also said that the "data is irrelevant in issues in the case and lacking in foundation."
The unsealed documents also showed that Marilyn Manson texted Depp in 2016 to say that his girlfriend "pulled an Amber."
They have also revealed that Depp's team wanted to introduce evidence in that case that Heard previously worked as an "exotic dancer" years before she met Depp.