Depp Fans Accuse Amber Heard of Staging 2020 Black Lives Matter Photo
Johnny Depp fans are accusing Amber Heard of staging a Black Lives Matter photo from 2020.
On Monday, August 15, a Reddit user reposted a Twitter thread from June 28 that read: "Amber Heard's friend Rami Sarabi helped the Aquaman actress fake a #BlackLivesMatter photo. There is very little she hasn't lied about. #TheDefendantIsAnAbuser #JOHNNYDEPPWINS #Aquaman2."
In the side by side photos, Sarabi appeared in a selfie with the actress. In the other image from Instagram dated June 5, 2020, Heard, 36, posed next to a police officer, who many are claiming is Sarabi dressed in a uniform.
At the time of publication, the tweet has garnered more than 2,400 likes, 435 retweets and 52 quote tweets.
"I wonder what other movement she has used and rode on for her own profit and fame. It's obvious to her everything is a PR move. Even having a child she is only used for pictures and advertisements," one person wrote on Twitter of the Texas native, who is a mom to daughter Oonagh Paige Heard, 16 months.
"It's the studio lighting for me," another laughed, while a third asked, "Who thought that pic looked real? It's so obviously staged and even looks like a green screen tbh."
Meanwhile, someone on Reddit pointed out that Sarabi "is the only comment left" on the Black Lives Matter post.
A separate Twitter user agreed, writing: "It's him. He is the only reply on the pic and all other replying is turned off."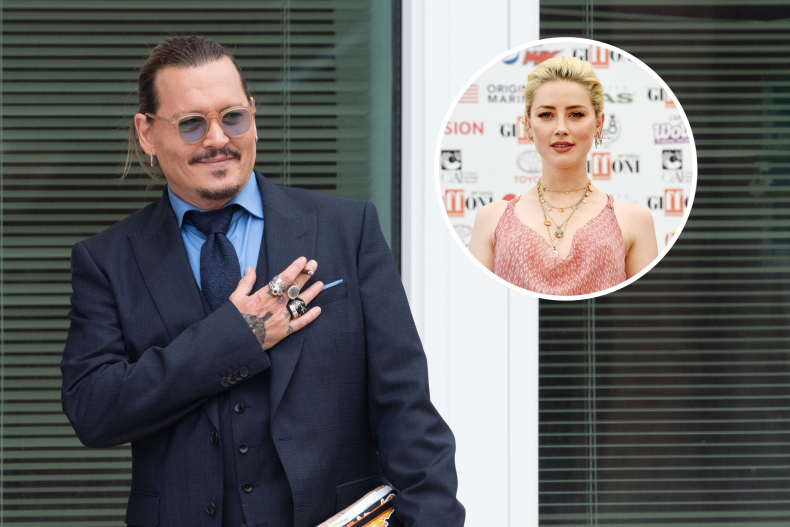 "Couldn't be more proud," Sarabi seemingly wrote at the time.
Others, however, stood up for Heard.
"Nobody can ever confirm ABSOLUTE truth on this—unless one of the involved parties (Amber and Rami in this case) confessed to that being staged—which didn't happen."
The news comes just weeks after a report found that Heard and her supporters were subjected to "one of the worst cases of cyberbullying and cyberstalking by a group of Twitter accounts" her and Depp's high-profile trial in Virginia.
In 2020, the Pirates of the Caribbean actor, 59, sued Heard for $50 million for defamation after she published a 2018 Washington Post op-ed in which she claimed to be a victim of domestic abuse. The Kentucky native was never mentioned by name, though his team argued it was enough to affect his career. Heard later filed a countersuit for $100 million.
On June 1, Depp won the case and was awarded $10 million in compensatory damages and $5 million in punitive damages. That being said, Kentucky state law limits punitive damages to $350,000 in Virginia, so the actor will actually receive a total of $10.35 million. Heard was given $2 million for her counter-suit.
Black Lives Matter was founded in 2013 after George Zimmerman was acquitted of all charges over the fatal shooting of 17-year-old Trayvon Martin in Florida.
According to its website, Black Lives Matter "is a global organization in the U.S., U.K., and Canada, whose mission is to eradicate white supremacy and build local power to intervene in violence inflicted on Black communities by the state and vigilantes. By combating and countering acts of violence, creating space for Black imagination and innovation, and centering Black joy, we are winning immediate improvements in our lives."
Newsweek reached out to Heard's representative for comment.