Ten years ago this week, George Zimmerman made national and international headlines after he shot and killed Trayvon Martin, an unarmed Black teenager.
On February 26th 2012, Zimmerman was working at a local gated community in Sanford, Florida, as a crime-watch volunteer when he encountered 17-year-old Martin as he returned to his father's house from the store, where he'd bought some Skittles and iced tea.
Against the advice of a 911 operator, Zimmerman followed Martin, eventually shooting the teenager dead after an altercation. In July 2013, he was found not guilty and was acquitted of his charges, a decision that sparked national outrage and fuelled the birth of the Black Lives Matter movement.
The Justice Department officially closed its investigation into the killing of Martin in February 2015, after the case was deemed not to meet the standards for hate crime prosecution.
In the last decade, Zimmerman's name has become commonplace, and the now 38-year-old has clung onto the case, seemingly as a means of remaining relevant, and has continued to make headlines.
Defamation Lawsuits
The acquitted killer has not shied away from the courts since the Martin case, and has filed a number of high-profile defamation lawsuits over the past ten years.
In 2019, Zimmerman sued the Martin family, their lawyer and prosecutors for $100 million. In the lawsuit, he claimed he suffered "malicious persecution," and accused Martin's parents and their lawyer of conspiring to impose charges on him.
The lawsuit was tossed by a Florida judge earlier this month.
In 2020 he sued Senator Elizabeth Warren and Pete Buttigieg– now the Secretary of Transportation– for a whopping $265 million.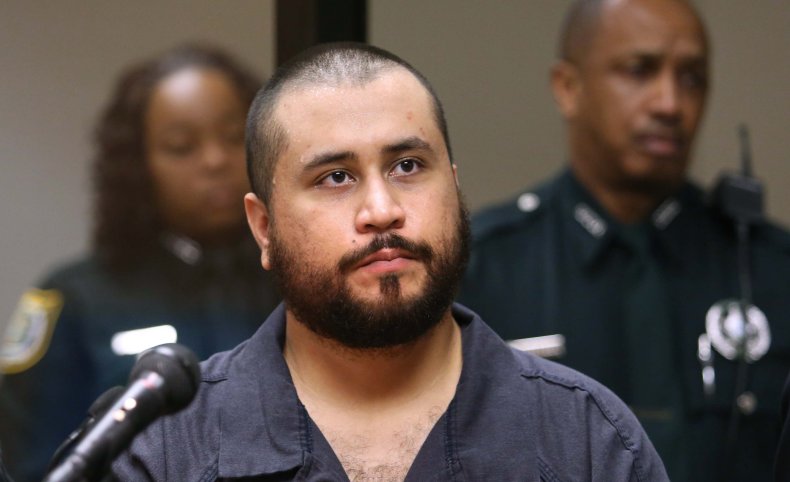 Zimmerman claimed the two politicians separately defamed him on Twitter in tweets posted to commemorate what would have been Martin's 25th birthday, despite neither of the tweets mentioning him.
The lawsuit claimed that Warren and Buttigieg did so "for political gain in misguided and malicious attempts to bolster their standings amongst African-American voters, all at Zimmerman's expense."
He also tried to sue the media, unsuccessfully. In June 2014, a Florida judge dismissed a defamation lawsuit Zimmerman filed against NBC in 2012. Zimmerman claimed the story purported that he'd willingly told a 911 operator that Martin was Black.
Auctions, Art Work & Public Appearances
Besides his lawsuits, Zimmerman has also been involved in a number of efforts over the past ten years designed to profit from his notoriety, from speaking engagements to hundred-thousand dollar auctions.
Perhaps most notable among them was his decision to auction the gun he used to kill Martin with, which sold to an anonymous buyer for $250,000 in 2016.
Zimmerman advertised the firearm as a "piece of American history," though many of his initial listings were removed due to hoax bidders and reticent gun sale sites. UnitedGunGroup.com eventually hosted the auction, with bids starting at $5,000.
In the original auction posting, Zimmerman claimed that "a portion of the proceeds will be used to fight Black Lives Matter violence against Law Enforcement officers, ensure the demise of Angela Corey's persecution career and Hillary Clinton's anti-firearm rhetoric."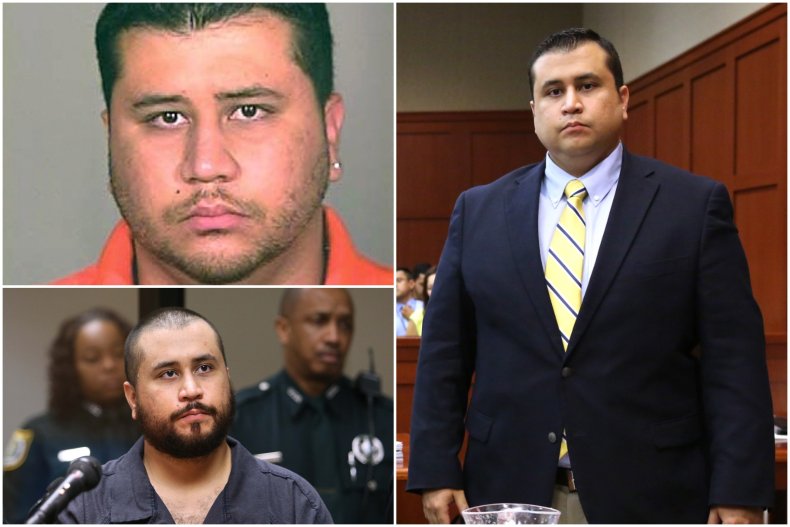 Previously, in 2013, Zimmerman had curiously started selling some of his artwork, with a piece featuring the American flag selling for $100,099.99 on eBay. In 2015, he would go on to sell a painting of the confederate flag to raise funds for a Muslim-free gun shop in Florida.
His last reported public appearance was due to take place last November, as he was scheduled to speak at the Lethal Force Gun Laws 2021: Tactics & Strategies Conference at the Riverside Hotel, Idaho.
However, hotel management canceled the event after learning that Zimmerman was due to speak and give a 'step-by-step narrative' of the shooting that killed Martin.
In a statement, management said: "We recognize the immense pain that George Zimmerman has inflicted on many of our guests, team-members and community. With their respect and safety as our priority, we have canceled the event. We are unequivocally opposed to providing George Zimmerman a platform and he is not welcome at The Riverside Hotel."
Arrests & Altercations
Legal troubles seem to follow Zimmerman, and in the months following his acquittal he was pulled over numerous times for speeding, although he only once received a ticket when he was fined $265 in Lake Mary, Florida.
In 2014 he found himself in hot water when he was involved in a road rage incident. Zimmerman reportedly followed a driver into a gas station after a heated exchange, and as he tried to call 911, Zimmerman threatened to kill him–gun in hand. He then appeared at the man's workplace two days later. No charges were pressed.
In 2016, a man was sentenced to 20 years in prison for shooting into Zimmerman's truck, narrowly missing him. Matthew Apperson was convicted of second-degree attempted murder despite claiming he was acting in self-defense after Zimmerman pointed a gun at him.
His personal life was also riddled with altercations and encounters with law enforcement.
In September 2013, Zimmerman's then-wife filed for divorce. A few days later, she called 911 after Zimmerman allegedly punched her father in the face and threatened to kill her family. He was taken into custody but no charges were filed.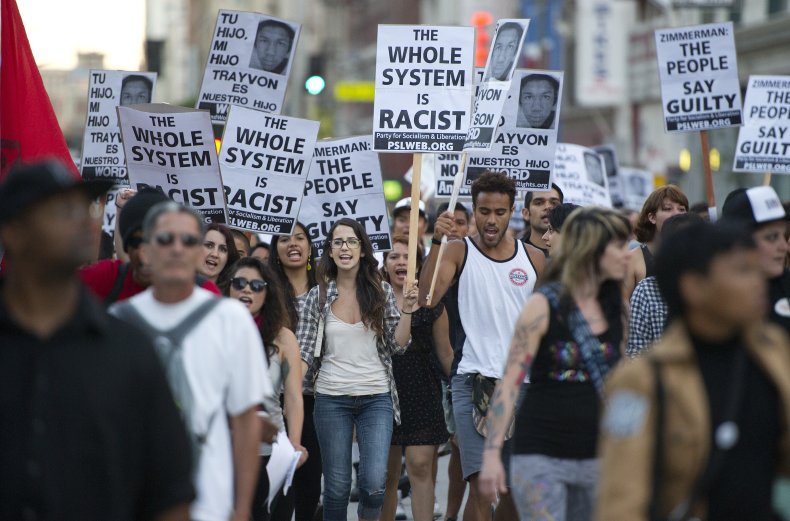 A few months later, in November that year, Zimmerman was charged with aggravated assault after he allegedly pointed a shotgun at his new girlfriend. He was released on bail the following day, and his partner recanted her statement and dropped all domestic violence charges the following month.
The acquitted killer had another run in with the law in January 2015, when he was arrested for aggravated assault after allegedly attacking his then-girlfriend with a bottle of wine. As with many of his prior incidents, no charges were filed.
Zimmerman was also banned from dating apps such as Tinder and Bumble.
Celebrity Run-Ins
He continued to find himself in the limelight, and even agreed to fight the rapper DMX in a celebrity boxing match in 2015. The fight would go on to be canceled.
That was not his only encounter with entertainment heavy-hitters, as he threatened to "beat" rapper Jay-Z and feed him "to an alligator" in 2017, after he learnt that the musician would be producing a documentary and feature film about Martin.
His feud with Jay-Z continued, as a year later he allegedly threatened the rapper and his wife, pop superstar Beyoncé, warning he would be "bringing hell" upon the couple.
In text messages sent to private investigator Dennis Warren, Zimmerman once again threatened to feed the pair to a "13 foot gator," as well as levelling insults at the celebrity duo.
"Oh yea and tell Jay-Z he's a bitch and his wife's a broke whore," one of the messages read.
Zimmerman was also charged with misdemeanor stalking and harassing Warren, who worked on the Jay-Z documentary. Over the course of nine days, he had called Warren 55 times, left 36 voicemails and sent him over 65 texts.
Newsweek approached Zimmerman's family for comment.