Johnny Depp Fans Search For Meaning In His Messy Instagram Picture
Johnny Depp has his fans speculating over potential hidden meanings behind his most recent "messy" Instagram picture.
The actor's popularity online doesn't appear to have waned, despite the recent explosive defamation suit he was involved in.
He ultimately won his case against ex-wife Amber Heard after she wrote a 2018 op-ed stating she was the survivor of domestic abuse, but recent unsealed documents have cast a shadow over the trial and revealed previously hidden details. Both Heard and Depp's legal teams are appealing aspects of the jury's verdict from the Fairfax County, courtroom in Virginia.
Depp took a break from social media during the trial, but since then has been delighting his passionate fans with the occasional Instagram post, as well as his new TikTok account.
On Sunday August 14, he shared an image of him sat in a messy room as he quipped, "Organization has always been my strong suit."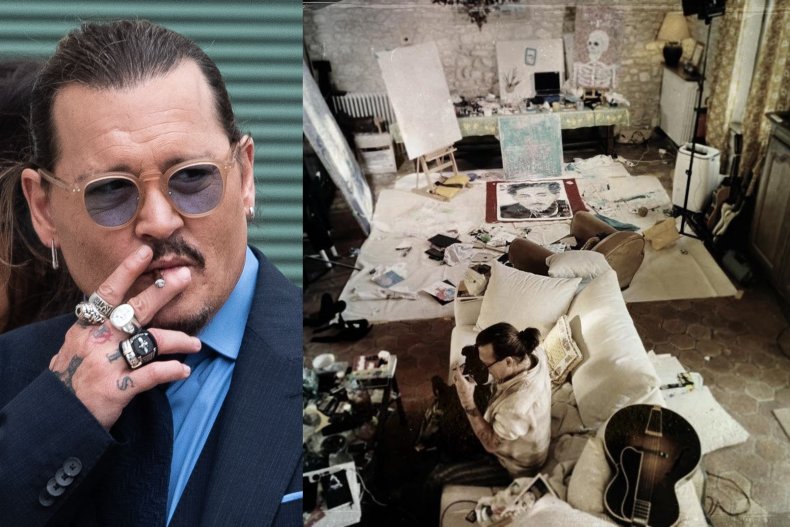 The picture is taken from a high angle as Depp is seen sitting on a couch, while the rest of the room is filled with artistic items. Multiple guitars can be seen, a piano and various pieces of artwork on canvases can be seen spread around the room.
The image and the caption delighted some of Depp's notable supporters including musician Patti Smith and chef Julien Dugourd. Photographer Kirsty Mitchell said her studios looks the same, and British-Irish painter Francis Bacon had the same messy habits.
As well as these blue-ticked Instagram users, thousands of other people commented on the picture that received around 1.2 million likes. "A brilliant mind," "This is the mind of a talented creator," and "love it" were just some of the top rated comments from Depp's fans.
"As a writer, I suddenly feel less alone seeing the organized mess of #JohnnyDepp as an artist of any level," wrote @mg_violette on Twitter as they compared a picture of Depp's work space with their own. Another user @ErikTwan called Depp a "creative genius at work," and shared Depp's Insta post.
Upon closer inspection of the room Depp is sat in, a painting of an unidentified man can be seen on the floor, though he bears a resemblance to Depp, there's a painting of a skeleton and there are various other paintings and books spread around the room.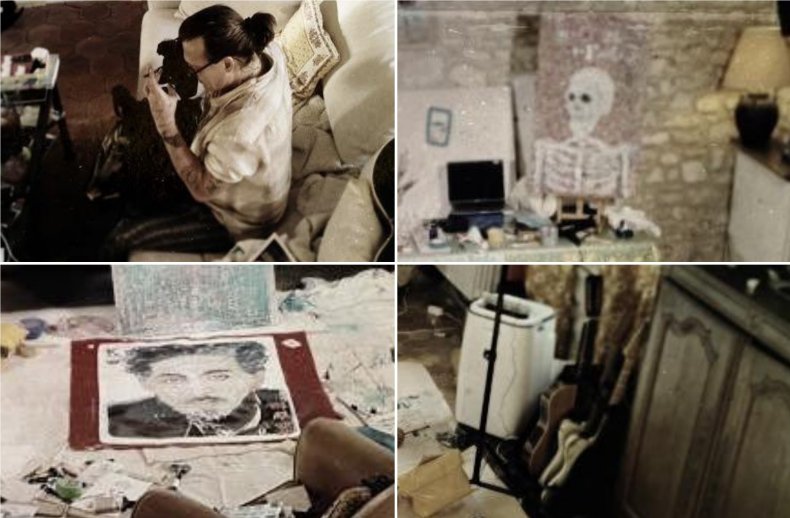 "Portrait of Al Pacino??" asked @aligatorcrockerdile on Instagram, "and a skeleton, dream home decor."
Actor Bernardo Castilla shared his take on the picture and suggested it was either [Bob] Dylan or [Tim] Burton."
Another user weighed in and suggested it was Charlie Chaplin while someone else said it could be Gavrilo Princip, the Bosnian Serb who assassinated Archduke Franz Ferdinand.
The image in question features a king of hearts symbol in the top right corner making it look like a playing card. It could be a link to Alice in Wonderland, which was a movie Depp worked on with director Burton.
Since the trial with Heard ended on June 1, 2022, Depp has been returning to work. He toured with guitarist Jeff Beck in England, and is set to star in the upcoming movie Jeanne du Barry as King Louis XV.
He also starred in his first post-trial ad recently, reclaiming his spot as the face of Dior's fragrance Sauvage.
Newsweek reached out to Depp for further comment.