What We Know About Johnny Depp and Jeff Beck's Rumored New Album
In the aftermath of his bitter court battle with ex-wife Amber Heard, Johnny Depp might be spending his summer promoting a new album with friend and musician Jeff Beck.
Depp recently made international headlines when he won his multi-million dollar defamation suit against Heard, but while the jury were deliberating on the verdict Depp went to England to tour and perform with Beck.
On Wednesday June 1, the jury at the Fairfax County courthouse in Virginia awarded Depp $10 million in compensatory damages (as well as $5 million in punitive damages) after they found that Heard had defamed Depp with her 2018 op-ed stating she was the survivor of domestic violence.
After the verdict, Heard's statement said she seemed to have lost the freedom to speak "freely and openly" while Depp thanked the jury for giving him his life back. Heard was also awarded $2 million compensatory damages, but was given no punitive damages.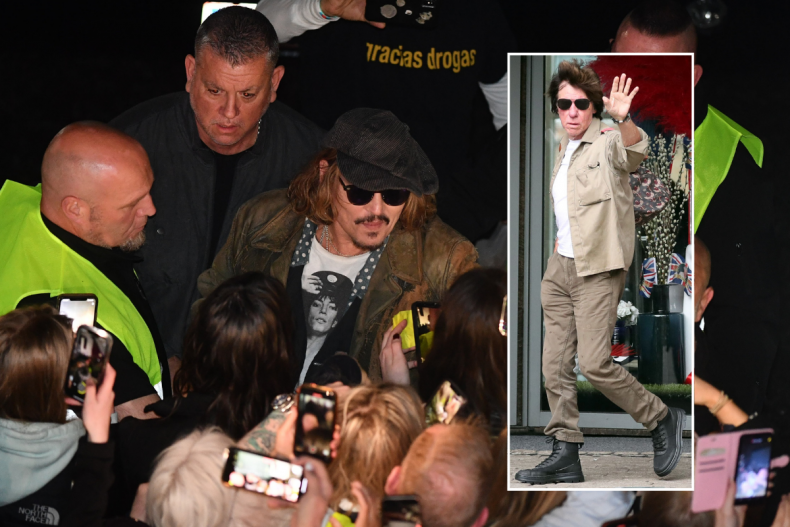 Within his own statement, Depp said he's looking forward to "a new chapter" which appears to include a continuation of his music career.
Whilst onstage with British guitarist Jeff Beck in Gateshead in the northeast of England, it was announced that they had already recorded a new album together.
"I met this guy five years ago and we've never stopped laughing since," Beck told the crowd speaking about Depp. "We actually made an album. I don't know how it happened. It will be out in July."
Depp and Beck have previously collaborated on a number of songs, and have been performing them as part of their UK tour. They released their song "Isolation," a John Lennon cover which features Depp on vocals, in April 2020.
Depp didn't mention the trial or its result during the performance, which was his first since the jury announced their verdict, but Beck seemed to reference it by saying "What a result," according to the BBC.
During the Gateshead show, they covered Dennis Wilson, Marvin Gaye, Jimi Hendrix and Killing Joke.
Depp has joined Beck for a number of shows across England, and it's not clear for how long Depp will tour with Beck with upcoming shows in Birmingham and York to come. Later this month, Beck is beginning his tour of Scandinavian counties.
A recent show at the Royal Albert Hall in London was notable for Depp as reports suggested his ex-partner Kate Moss was in attendance. Moss also went viral during Depp's trial as she testified to deny a rumor that he once threw her down the stairs and she said he had never been violent during their four-year relationship.
Neither party has announced an official release date or title for the upcoming album. Beck's announcement that the album exists and will be released in July is the only mention of it so far.
Newsweek has reached out to Beck and Depp's teams for further comment.