Depp Fans Call U.K. Judge's Neutrality Into Question as Jury Deliberates
Johnny Depp's recently concluded defamation trial against ex-wife Amber Heard has prompted fans to comb over details from another time the former couple faced off in court during a libel lawsuit.
Depp, 58, sued Heard, 36, for $50 million over a 2018 op-ed for The Washington Post, in which she said that she was a domestic abuse survivor. Heard, who has countersued for $100 million, did not name Depp in the article, though his lawyers argued that it was obvious she was referring to the actor. During the trial, Depp and Heard each made allegations of domestic abuse, which they have both denied.
The proceedings at Virginia's Fairfax County Circuit Courthouse, which concluded on May 27, have led to fans looking back on Depp's 2020 libel trial, alleging that a complex web connects the judge who ruled against him.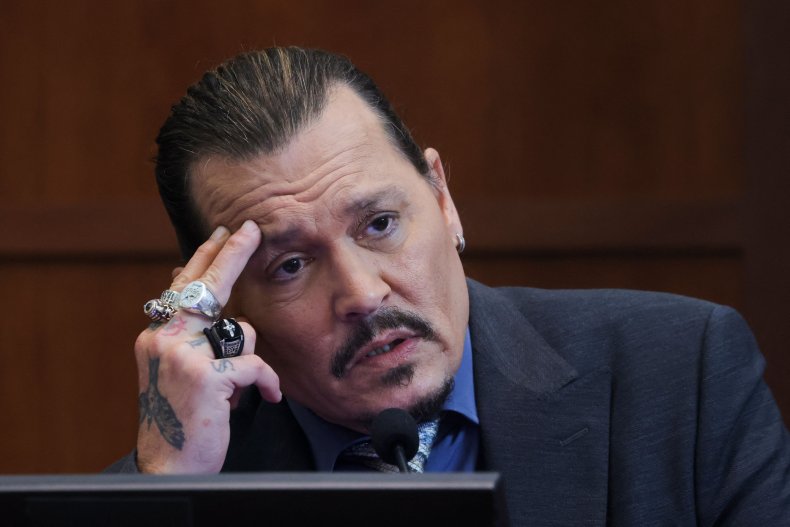 Depp famously lost his 2020 libel case against British tabloid The Sun, which had labeled the actor a "wife beater," in reference to the domestic abuse allegations Heard had made against him during their divorce proceedings in 2016.
Although Depp repeatedly denied ever having been violent to Heard during the three-week trial in London, the overseeing judge found that the newspaper's claims were "substantially true."
On Tuesday, one of the many pro-Depp Instagram accounts that have gained large followings during the most recent trial shared a flowchart that showed what they claim is evidence that now-retired Judge Andrew Nicol had conflicting interests.
The chart shows that Nicol is the father of Robert Palmer, Executive Director of advocacy organization Tax Justice U.K. Palmer has made frequent appearances on TalkRadio, which is owned by Wireless Group, a subsidiary of Rupert Murdoch's News Corp.
Under New Corp's sizable corporate umbrella is British tabloid The Sun, which published the article that prompted Depp's lawsuit. Dan Wooton, who wrote the article, also previously worked at TalkRadio during the time that Nicol's son was a part of the outlet's roster of personalities.
Elsewhere, the chart shows that Nicol is married to judicial mediator Camilla Parker, who is friends with author Kathy Lette. Lette hosted a private dinner party during the U.K. trial that was attended by Heard and was also once married to barrister Geoffrey Robertson, with whom Nicol wrote a book on media law.
Robertson founded the London-based legal firm Doughty Street Chambers, which had previously employed Nicol. Robertson was also named in the chart as an "employer and mentor" of barrister Jennifer Robinson, who was seen in court with Heard during the London trial.
The unveiling of the flowchart has led to several fans asserting that Depp stood "no chance" of a fair trial at the time that he brought his ultimately unsuccessful lawsuit.
Fans also surged Depp supporters to sign a Change.org petition titled: "Officially Review the Judicial misconduct of JUDGE NICOL in the Johnny Depp libel case."
A description on the petition, which has so far garnered more than 10,000 signatures, reads: "Everybody should have the right to ensure the judge sitting on their case doesn't have a conflict. It's absolutely imperative that people have full faith and confidence in the judicial process.
"These links can be social—they may have been law school classmates or share common friends—political, financial or ideological. In some instances the two may have mutual investment interests. They might be in-laws.
"Occasionally they are literally in bed together. While it's unavoidable that such relationships will occur, when they do create a perception of bias, a judge is duty-bound to at the very least disclose that information, and if it is creates an actual bias, allow a different judge to take over."
Nicol delivered his verdict on Depp's case in November 2020. Months later, in May 2021, he retired from London's High Court (Queen's Bench Division) after more than 40 years as a legal professional.
Newsweek reached out to London's Royal Courts of Justice, where the 2020 Depp trial took place, for comment.