Johnny Depp Keeps Promise That Amber Heard 'Would Never See His Eyes Again'
Amber Heard recalled to jurors a key moment in her crumbling relationship with Johnny Depp that also explained her ex-husband's widely noticed refusal to look at the actress as she testified about their fraught history together.
As the trial resumed Monday after an adjournment of more than a week, Heard said that Depp had promised her in 2016 that she would never see his eyes again after she publicly accused him of domestic violence. Her remarks came during the ongoing $50 million trial brought by Depp accusing Heard of defaming him in a 2018 Washington Post op-ed where she wrote she was a victim of domestic violence.
Viewers of the widely watched trial at the Fairfax County Circuit Courthouse in Fairfax, Virginia, have commented online about Depp conspicuously keeping his head down during Heard's testimony.
Heard acknowledged that Depp had not looked at her once during the trial as she took the stand for cross-examination, under questioning by Camille Vasquez, Depp's lawyer.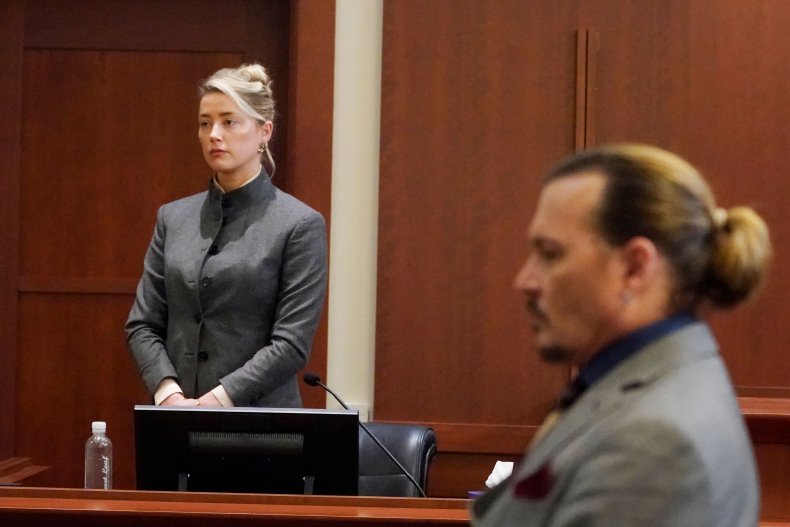 "You know why he won't look at you," Vasquez said. "He told you you would never see his eyes again."
Vasquez played audio of a 2016 meeting between the two in San Francisco after Heard had filed a restraining order against Depp. Earlier in the trial, the jury heard testimony from talent agent Christian Carino who told the jury he helped set up the meeting after Heard wanted to reconcile. Carino told the jury Heard said she would "never" accuse Depp of violating a temporary restraining order.
Audio from the meeting included a terse Depp telling Heard, "I will always be nothing to you." Heard can be made out in the background crying.
"You will not see my eyes again," Depp said angrily.
Vasquez asked Heard if Depp had kept his promise.
"As far as I know, he cannot look at me," said Heard.
Depp has been seen wearing his sunglasses throughout much of the trial and has noticeably kept his head down as Heard has taken the stand.
Earlier in the trial, Julie Grant, a host on Court TV, described Depp's behavior to be "concerning" during an appearance on Good Morning Britain.
"I thought Amber Heard testified as well as she could," said Grant. "Him looking down most of the time was concerning. Sometimes it can be effective to look like you're not paying attention to a jury. That's a trial advocacy trick."
She added, "I'm mindful that these two are actors. It's really hard to know what is authentic and what is an act."
Heard, who is countersuing Depp for $100 million in damages, said earlier during the trial that the last few weeks were "the most painful and difficult thing I've ever gone through." She is arguing in her suit that the op-ed was in the public's interest.
Newsweek has reached out to Depp's representatives for comment.