Fans Think Johnny Depp Quoted 'Pirates of the Caribbean' Scene to Lawyer
The trial of Johnny Depp v. Amber Heard is adjourned this week but the court proceedings are still dominating discourse on social media and fans think that the actor quoted a line from Pirates of the Caribbean during his ex-wife's testimony last week.
Depp is suing Heard for $50 million for defamation over a 2018 op-ed alleging domestic abuse in a trial that has whipped up a social media frenzy over the past weeks.
Heard, who is countersuing for $100 million for nuisance, took the stand last week and has been delivering her testimony detailing allegations of horrific abuse against her ex-husband.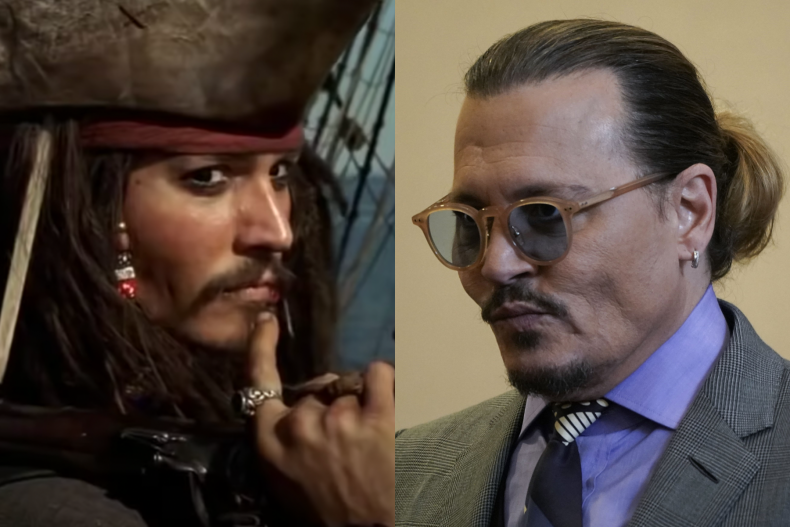 Depp's drug and alcohol misuse has been widely discussed throughout the trial and while delivering testimony on the stand last week, Heard recounted the first time her ex-husband allegedly hit her.
"It's seemingly so stupid, so insignificant. I will never forget it. It changed my life," she said and went on to say that she and Depp were "sitting on the couch... talking ... having a normal conversation.
"There was no fighting, no argument, nothing," she said. "He was drinking and I didn't realize at the time but I think he was using cocaine because there was a jar—a jar of cocaine on the table."
The "jar of cocaine" statement prompted smirks and laughter from Depp who whispered something to his legal team and viral footage shows that he jokingly quoted a line from Pirates of the Caribbean about a "jar of dirt."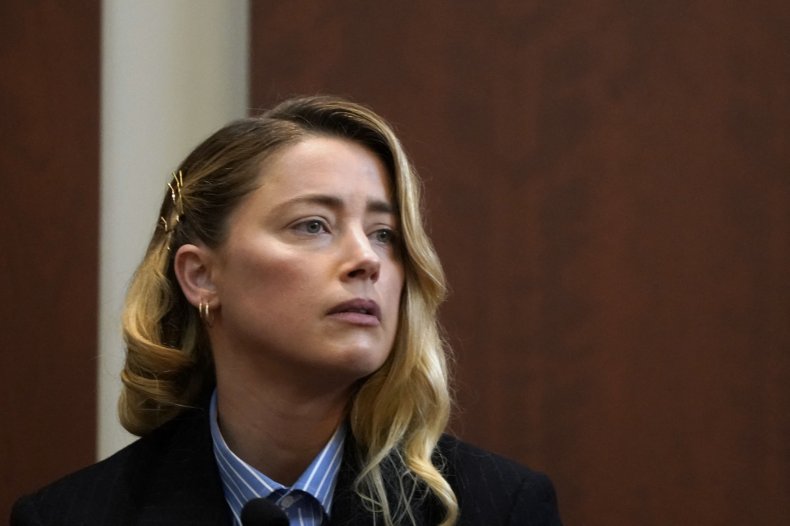 Fans of Depp and his beloved character Captain Jack Sparrow will recognize the line from the film, Pirates of the Caribbean: Dead Man's Chest.
The character of Jack Sparrow famously carries around a jar of dirt on the ship in the second movie of the franchise and proclaimed the line: "I have a jar of dirt!"
A clip of this moment in court, edited alongside the movie clip, has gone viral on TikTok with 1.2 million views at the time of writing.
The TikTok has also been shared to Twitter where it's racking up thousands of views.
Both Heard and Depp's representatives issued statements after the actress finished her testimony for the week.
"While Ms. Heard's stories have continued to grow new and convenient details, Mr. Depp's recollections have remained exactly the same throughout the six painful years since her first allegations were made," Depp's spokesperson said in a statement to People. "His truth—the truth—is the same no matter the environment in which it has been presented."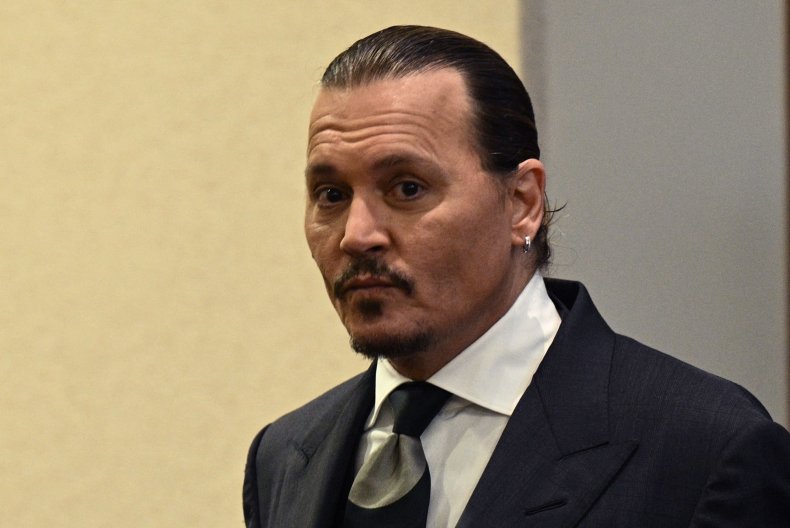 Meanwhile, Heard's team told Newsweek: "One of Ms. Heard's disappointments is Mr. Depp's inability to distinguish fact from fiction—a malady which appears to have spread to his legal team.
"That same team is so panicked they are fighting tooth and nail to prevent compelling evidence and photos from being introduced. Small wonder Mr. Depp does not have the fortitude or courage to even look at Ms. Heard at all throughout the proceedings—as he could not in the U.K. trial—and, instead he doodles and snickers."
The Depp vs. Heard trial will resume at 9 a.m. ET on May 16.