Johnny Depp Suggests Heard Lawyer 'Typed Up' Lewd Texts in Heated Exchange
Johnny Depp suggested that Amber Heard's attorney had fabricated lewd text messages he is alleged to have sent to a former personal assistant about a woman named Molly.
Depp, 58, is approaching the end of his high profile defamation trial with ex-wife Heard, 36, against whom he filed a $50 million lawsuit over a 2018 op-ed for The Washington Post, in which she said she was a domestic abuse survivor.
While Depp was not named in the article, his lawyers have argued it was obvious she was referring to the actor.
Heard is countersuing for $100 million. Both stars have consistently denied one another's allegations of domestic abuse.
As proceedings continued at Virginia's Fairfax County Circuit Court, Depp returned to the stand, where he was questioned by Heard's attorney, Ben Rottenborn, about text messages he had allegedly sent to his former assistant, Stephen Deuters.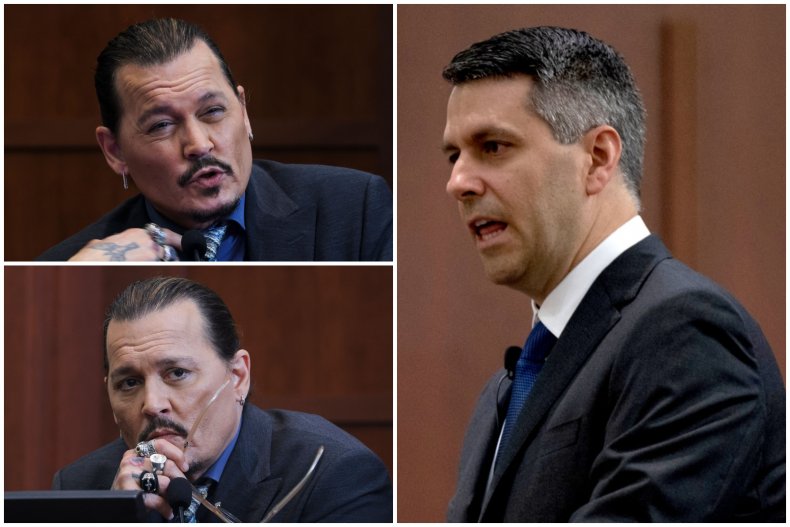 Ahead of presenting the lewd messages, Rottenborn asked Depp: "You've said before that if you want to be with a woman sexually that she is rightfully yours, haven't you?"
After Rottenborn complied with Depp's request to repeat the statement, the actor responded: "That's ludicrous."
Pressing on, the attorney added: "You've also said that with respect to women you want to be with, you've remarked, 'I need, I want, I take,' haven't you?"
"Equally as ludicrous, no," Pirates of the Caribbean star Depp responded.
When Rottenborn asked for evidence to be pulled up, Depp told him: "You can pull up what you like, I never said those words. There's not enough hubris in me to say anything like that."
Depp then put on his spectacles to look at the messages as the lawyer asked him if he was looking at text messages that he had sent to Deuters in February 2017.
The actor paused for several seconds as he looked at the screen, before saying: "No, this looks nothing like me. You might have mistaken."
"Mr. Depp, we can show the full unredacted [evidence]," Rottenborn said. "You looked at a number of text messages in this case, and the word 'him' is the identifier, that's you, correct? In every text message we've seen in this case."
"Yeah, sure," an apparently exasperated Depp responded. "It still doesn't mean that it hasn't been screwed with. That's not anything that I've ever said or written."
"You want to see the whole thing unredacted?" Rottenborn asked. "We can look at that, too."
"No, because you could have typed it up last night. No," Depp shot back.
Rottenborn then exhaled as he said: "I can assure you I didn't type it up last night, Mr. Depp."
The tense exchange continued, as Rottenborn pointed out to Depp that they were viewing text messages that were "produced by you in this litigation."
Heard's attorney then proceeded to read out one of the text messages, in which Depp is alleged to have written: "Right!!! Exactly!!! Molly's p***y is RIGHTFULLY MINE!!!! Should I not just bust in and remove its hinges tonight???"
"I want to change her understanding of what it is like to be thrashed about like a pleading Mackrel [sic]," read another message. "I NEED. I WANT. I TAKE."
When Rottenborn asked if he had read the messages right, Depp said: "You read it right, but I did not write that. Perhaps someone else had my phone."
"You wrote every other text that you produced that came from you in this litigation, didn't you?" Rottenborn asked.
"Not necessarily," said Depp. "Sometimes you give your people your phone to text for you."
He later added: "I don't know who Molly is. I don't know nothing about any of these... Honestly if someone else had borrowed my phone and made this text to Stephen, possibly... I don't write like that."
The Depp v. Heard trial continues Thursday, and Newsweek will be covering all the breaking stories from the Fairfax County courtroom on our live blog.