What Do Alpacas Have to Do With Johnny Depp Trial? 'Pirates' Joke Takes Off
Johnny Depp and his lawyer, Camille Vasquez, were caught on camera bursting into laughter in court on Thursday as a witness was asked if Disney would entertain paying him with "a million alpacas."
The actor, 58, is in the throes of a $50 million lawsuit filed against his ex-wife, Amber Heard, who he has accused of defaming him in a 2018 op-ed for The Washington Post, in which she declared herself to be a domestic abuse survivor.
While Depp wasn't named in the article, his lawyers argued that it was obvious Heard, 36, was referring to the actor. Heard is countersuing for $100 million.
On Thursday, a portion of witness testimony focused on the downturn of Depp's career and how much involvement he may have had in the issue.
Amid proceedings, a pre-recorded deposition presented to the court showed Disney production executive Tina Newman, who works on the Pirates of the Caribbean franchise, being questioned about Depp starring in a potential sixth film.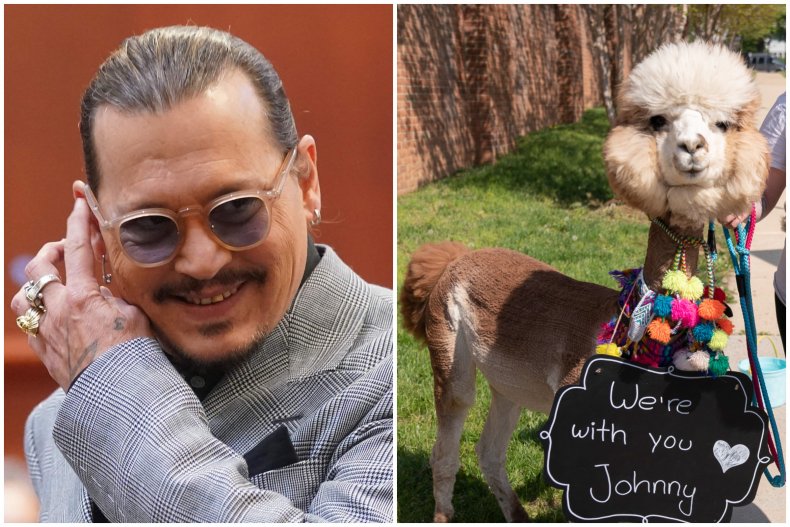 Depp starred as Captain Jack Sparrow in five previous Pirates of the Caribbean movies that span back to 2003. He was dropped from the franchise in 2018.
"Do you know whether Mr Depp is being considered for a role in Pirates 6?" Heard's attorney, Elaine Bredehoft, asked Newman.
"I don't know one way or another," adding that the "decision does not fall within my job responsibilities. It's above my pay grade."
Newman also stated that the project is "possibly in development at the studio."
Bredehoft went on: "Is Disney aware that Mr. Depp has testified under oath that he would not take another Pirates of the Caribbean franchise role for $300 million and a million alpacas?"
After Newman answered "no," Bredehoft further pressed if Disney entertained "paying Mr Depp more than $300 million and providing him with more than a million alpacas to be able to obtain his services for any future Pirates of the Caribbean role."
At that point, Depp could be seen lowering his head and covering his mouth then head as he burst out laughing. Vasquez then leaned in and laughed alongside him.
Depp, who appeared to be using a notepad throughout the broadcast of the deposition, briefly stopped laughing as another of his attorneys, Ben Chew, leaned in to whisper something to him.
As with many other occurrences at Virginia's Fairfax County Circuit Courthouse during the ongoing trial, footage of the moment has gone viral on social media, with clips of the moment shared on TikTok and Twitter.
This is not the first time that the alpaca question has been brought up.
When Depp was on the stand last month, Heard's lawyer, Ben Rottenborn, asked the actor, per Cosmopolitan: "The fact is, Mr. Depp, if Disney came to you with $300 million and a million alpacas, nothing on this earth would get you to go back and work with Disney on a Pirates of the Caribbean film, correct?"
"That is true, Mr. Rottenborn," Depp is quoted as saying in response.
Alpacas have become an unexpected ongoing theme throughout the trial elsewhere, as Depp fan Andrea Diaz has been seen cheering him on from outside the courthouse with a pair of the camelid mammals in tow.
This week, footage was shared on social media of Depp's legal team being greeted by fans as they made their exit from court following a day of testimonies.
At one point, a fan asked Vasquez if she had noticed the pair of alpacas—sporting pirate hats—behind her. The lawyer subsequently posed for photos with the alpacas.
Depp's high profile trial against Heard is scheduled to conclude on May 27. The screen stars have accused one another of domestic abuse during their relationship. Both have denied the allegations.
Screen star Depp previously lost a 2020 libel case against British tabloid The Sun, which had labeled the actor a "wife-beater" in reference to Heard's allegations.
Heard accused Depp of domestic abuse during their divorce proceedings in 2016. The stars, who wed in 2015, had their union officially dissolved in January 2017, months after Heard filed for divorce from Depp.
While Depp had repeatedly denied ever having been violent to Heard during the three-week trial in London, the overseeing judge found that the U.K. publication's claims that the actor was abusive to Heard were "substantially true."
Depp, who was dropped from the Pirates of the Caribbean franchise in 2018, was "asked to resign" from Fantastic Beasts 3 following the 2020 verdict. He was subsequently replaced in his role as Gellert Grindelwald by Mads Mikkelsen.