Justice for Johnny Depp Supporters Demand Amber Heard Be Fired From 'Aquaman 2'
Furious Johnny Depp fans have taken to Twitter in droves, to demand that his ex-wife Amber Heard be removed from her leading role in Aquaman 2.
On Monday, filmmaker James Wan confirmed on Instagram that production is underway on Aquaman and The Lost Kingdom—but a sizable faction of Depp supporters were outraged to learn that Heard is still a part of the project.
Sharing the hashtag #JusticeForJohnnyDepp on Twitter, Depp's supporters contend that Heard should be dismissed from her lucrative film role in the same fashion that her ex-husband did following a controversial libel trial.
Depp was dismissed from his role as dark wizard Gellert Grindelwald in the Fantastic Beasts franchise after he lost his high-profile "wife beater" libel case against The Sun newspaper late in 2020.
Ahead of his defeat in court, Depp and Heard had fired explosive accusations of domestic violence at one another.
While both parties vehemently denied the charges leveled at each other, Depp had claimed that Heard once threw a bottle at him, leading to the top of his finger being severed. He also claimed that she once stubbed a cigarette out on his cheek during their tumultuous union.
And as fans of Depp learned that Heard hadn't also lost her big screen role, they led calls online for the actress to be removed from the highly anticipated film sequel.
Taking to Twitter, @pvt_aks wrote: "Johnny depp has been removed from his upcoming projects but amber heard is still leading actress in aquaman 2. @wbpictures don't be so partial at least respect an actor for his acting skills."
"The reality of the judiciary worldwide, where a woman is always innocent until proven guilty & a man is always guilty until proven innocent," tweeted @Nonantel_bong. "Justice shouldn't be dependant on gender, it's a basic fundamental human right & everyone deserves it."
Depp supporter @AndreaOldfield6 said: "Please let's stop this movie from ever being made with @realamberheard and let's start getting justice for not only Johnny Depp but others regardless of gender who have and who are suffering at the hands of an abuser!!"
"Bro I really wanna see aqua man 2, because that movie was awesome," wrote @TheWarlockq on the microblogging platform. "But if Amber is gonna be in that movie still, I am not gonna see it sadly."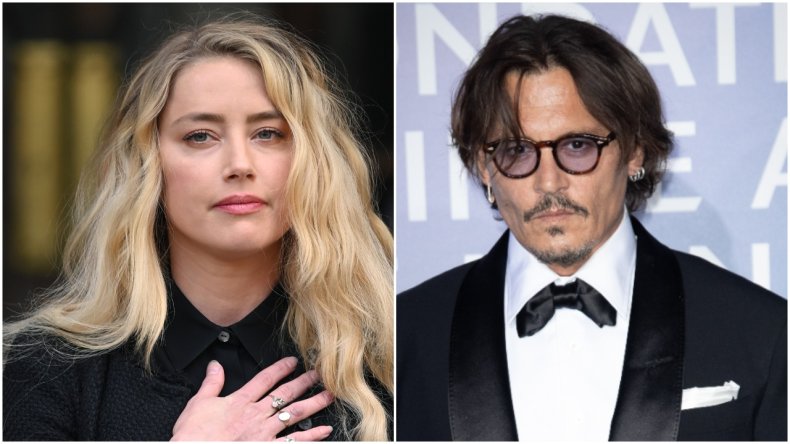 "Hey, @warnerbros, read the room," tweeted @ZFitz8. "Congratulations on ruining Aquaman2, it's exactly what you deserve.👌People aren't stupid. We've heard Amber Heard admit to chronically abusing Johnny Depp."
Meanwhile, @SandysBitxh_ said: "Whilst they keep an ABUSER in Aquaman2 not one bit of my money will go into WarnerBros pocket. Standing by a woman who physically and emotionally abused her partner WHICH IS ON TAPE. Cannot be justified."
A petition to remove Heard from the big budget project has amassed more than 1.8 million signatures on change.org.
The first Aquaman movie, which was released in 2018, saw Heard taking on the role of Mera, the princess of Xebel, and Arthur Curry/Aquaman's love interest. The film raked in more than $1.4 billion at the international box office.
With Jason Momoa returning to take on the titular role, little is known about the sequel, though it is currently slated for a December 2022 release date.
In 2020, a judge ruled that The Sun was correct in labeling Depp a "wife beater" in a headline, after claims of violence and intimate details of his rocky relationship with Heard were publicly aired in court.
In his ruling, the judge, Mr. Justice Nicol, said: "The claimant [Depp] has not succeeded in his action for libel... The defendants [The Sun and News Group Newspapers] have shown that what they published in the meaning which I have held the words to bear was substantially true."
The ruling subsequently led to Depp losing his role in the Fantastic Beasts franchise.
"In light of recent events, I would like to make the following short statement," Depp said in a message shared on Instagram in November 2020. "Firstly, I'd like to thank everybody who has gifted me with their support and loyalty. I have been humbled and moved by your messages of love and concern, particularly over the last few days."
"Secondly, I wish to let you know that I have been asked to resign by Warner Bros. from my role as Grindelwald in Fantastic Beasts and I have respected and agreed to that request," he continued.
The Hollywood star has since been replaced by Danish actor Mads Mikkelsen.
Following his split from long-term partner Vanessa Paradis in 2012, Depp started dating Heard, with whom he worked on the 2011 film The Rum Diary.
They married in a civil ceremony in February 2015, but Heard filed for divorce in May 2016. Their divorce was finalized in January 2017.
Newsweek has contacted representatives for Amber Heard, Johnny Depp, and Warner Bros. for comment.