Johnny Depp Supporters 'Review Bomb' Amber Heard Expert After Testimony
Johnny Depp supporters have bombarded a psychiatrist's WebMD page with negative reviews after he testified as an expert witness for Amber Heard in her defamation trial.
NBC News reporter Kat Tenbarge tweeted that people have been engaging in something called "review-bombing," essentially flooding a particular page with bad reviews.
Psychiatrist Dr. David R. Spiegel told Newsweek on Tuesday that he was "sorry these people have to leave their frustrations or anger out on someone who is bound by knowledge and academia and scholarly activity."
"I reported the facts, I reported the actual information...his fans are responding based on what they know about him as a celebrity. And I think the fact that they didn't like what they hear about someone who they admire and the manner in which they left their dissatisfaction is inappropriate," he said, adding later, "I don't think it's going to affect my business."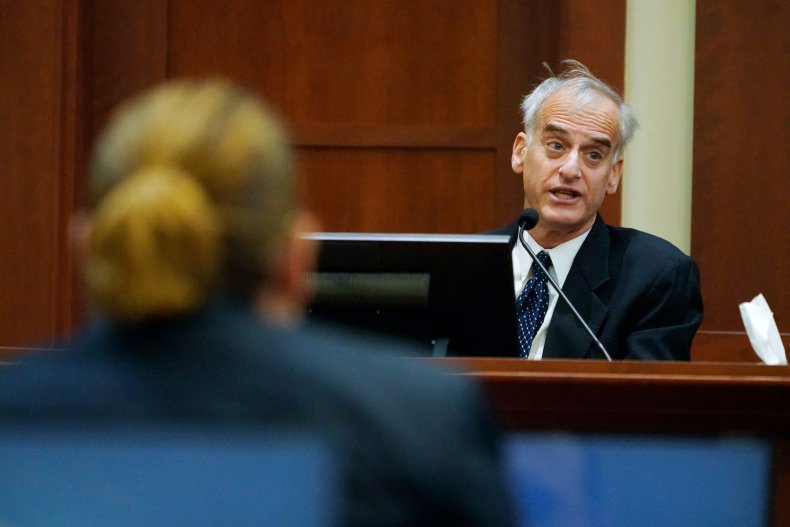 Depp is suing Heard for $50 million for defamation after Heard wrote an op-ed stating she was a victim of domestic violence, without directly naming him. Heard is countersuing for $100 million for nuisance.
After testifying on Monday, Spiegel's personal page on WebMD was filled with one-star reviews.
One reviewer wrote: "The medical board and ethics committee needs to review this doctors cases. You should never render medical advise if you have not personally examined and interviewed the patient. 'The things you said in open court was scary[.]"
"Ethics are not his strong suit," another reviewer said. "Wouldn't want my shrink calling me an idiot. Wouldn't want a shrink that gets paid to cast a professional opinion of someone he hasn't personally evaluated. If you looking for a Dr. that will vouch whatever you need under oath based on his titles, without asking many questions, and also waste court time with his "professional expert witness" experience: THIS IS YOUR GUY!"
Another said: "APA rules forbid the rendering of a psychiatric opinion without having directly evaluated the patient. This is completely unethical and should be grounds for loss of license."
Another wrote: "Seems like you just wanted to be on TV. Rambled nonsense the entire time, dodged every question, extremely aggressive, ignorant, diagnosing people without even meeting them.. not to be mention calling Mr. Depp an 'idiot' in your depo is astounding/disgusting behavior."
Some, however, used the reviews to comment on the number of negative ones. One reviewer wrote: "I do not know Dr. Spiegel personally, but it really makes me sad to see all these negative reviews because of the Depp vs. Heard case. If you have negative things to say about Spiegel, and you haven't actually seen him as a psychiatrist, just text a friend. Or if you must, throw it in the comments. But coming on here to ruin this man's reputation because of it... that's pretty low."
During his cross-examination on Monday, Spiegel was asked why he called Depp "an idiot" in his deposition. Spiegel said he did not call Depp an idiot but was referring to Depp's planning when he used the word "idiot," as Depp had taken an overnight flight from Europe before giving his deposition.
Some internet users also compared Spiegel to a movie villain, with social media user Ozzy Man Reviews sharing on YouTube: "He could be in a horror movie set in the 1940's about a psychiatrist that gets off on issuing lobotomies or something bloody sinister."
Follow Newsweek's live blog of the trial.
Update 5/24/22, 3:40 p.m. ET: This story was updated with comment from Spiegel.