Johnny Depp Supporters Take Aim at Women's March for Supporting Amber Heard
The official Twitter account of the Women's March has been the subject of online criticism from fans of Johnny Depp after the organization recently voiced its support for Amber Heard.
Depp and his ex-wife Heard were embroiled in a multi-million dollar defamation lawsuit in earlier this year, and the trail caught the attention of millions of social media users. Depp sued Heard for defamation over a Washington Post op-ed where she named herself as a victim of abuse. A jury awarded Depp $10 million in compensatory damages, as well as $5 million in punitive damages.
The punitive damage award was reduced to $350,000 due to a Virginia law that caps punitive damage awards.
Now, some are claiming that Depp fans have gone too far with their latest campaign against Heard after the term "#ShutDownWomensMarch" started trending.
On Tuesday the official Women's March Twitter account posted a lengthy thread that looked into celebrities including Depp and the "pervasive culture of misogyny and sexism that puts women in danger every single day." The post was spotted by Depp fans who commented and retweeted the post with harsh criticism for the movement.
The post within the thread that gained the most retweets was one addressing Depp and Heard. "Sexism & misogyny are the reasons so much of the internet believes Johnny Depp - not his victim, Amber Heard - despite ALL the evidence of his abuse," the Women's March account wrote.
"Wokeness will truly be one of the factors to our society falling," @Twisty_Tie1 wrote when retweeting the message, "People who run these organizations are morons through and through. #ShutDownWomensMarch."
"False accusations, against men, are as evil as silencing woman from speaking out," @wondermomwic wrote, "Do still support Amber [Heard] after it is clear that she is a liar is disgusting."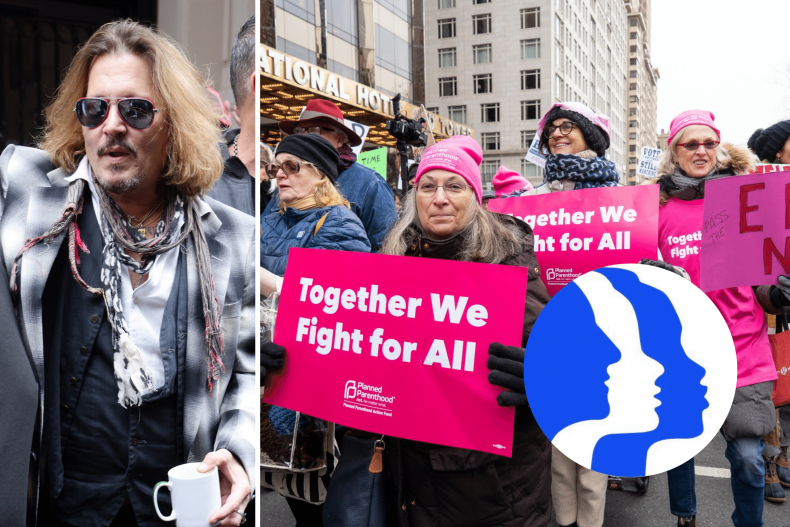 "Your entire march is a lie," wrote the account of @Eliz_Norisse who said they were "all for" shutting down the Women's March. "They believe in [Amber Heard] after abusing Johnny Depp for years and turn a blind eye to all the evidence and allegations against her," they wrote. Another user @Breck_Worsham wrote about their personal achievements as a woman and claimed she "never asked for specialist treatment" before calling the people on the Women's March "feminazis."
Twitter user @AnnSilvers said, "There's lots of reasons to not #ShutDownWomensMarch, BUT re-victimizing a male abuse survivor taints your cause as anti-male sexism (misandry)."
There were many more tweets criticizing the Women's March account, many of which openly voiced support for Depp with foul language directed at the organization.
Highlighting the verbal abuse being directed at the Women's March account, Stanford University professor Michele Dauber shared screenshots of some of the extreme reactions. She implied it was a "countdown until the Depp Men's Rights lunatics harass them." Dauber also tagged Twitter and called on them to take action.
Dauber herself has been subject to abuse from Depp fans in the past. She predicted that the team at the Women's March is in for the same treatment now.
"I am sure on the Depp lunatic discords and subreddits right now they are figuring out who works at Women's March, who their kids are, where they live, where they work," she tweeted. "[And] if they are lawyers and if so which bar committees to send false reports to, etc. Buckle up," Dauber wrote.
In response to Dauber's tweets, Depp fans once again directed criticism towards her for her comments via retweets.
After the hashtag #ShutDownWOmensMarch gained traction online, people criticizing the stance weighed in.
"Imagine actually tweeting #ShutDownWomensMarch the same year Roe V Wade was overturned because you decided Amber Heard wasn't an abuse victim based off TikTok clips," wrote @Seizethebeanz.