TikToker Films Inside Unfinished Mansion Wrongly Linked to Johnny Depp
A unfinished multimillion-dollar mansion wrongly linked to Johnny Depp has gained viral attention after urban explorers went inside.
The sprawling 22,000-square-foot estate was built with its own escape tunnel, a man-made lake, a swimming pool and jacuzzi, and has 12 bedrooms, 17 bathrooms and seven kitchens.
Construction started in 2004 by A&B Homes, yet the building—which also boasts a "nuclear shelter / panic room" with 3-feet-thick concrete walls—has yet to attract a buyer.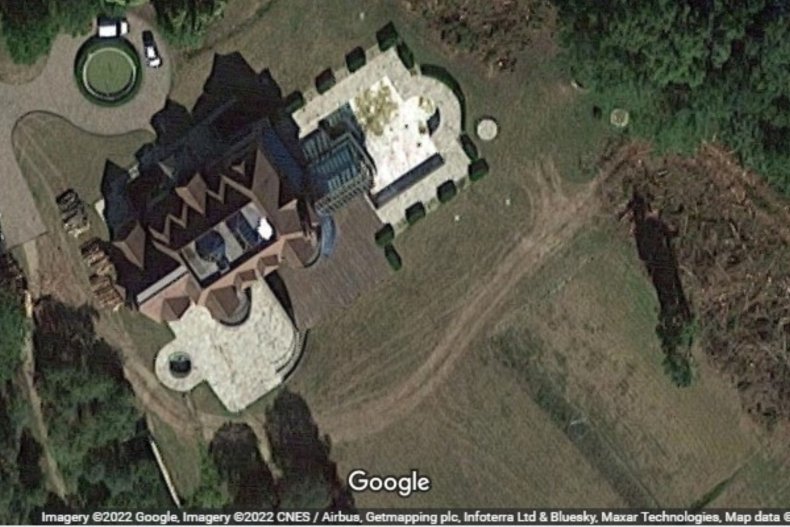 Located in Hampshire, England, the home was on sale for £7.5 million ($9 million), where it's said to have caught the attention of celebrities.
Local paper The Hampshire Chronicle reported on the latest planning application in March, noting: "The house was also rumoured to have been considered by Johnny Depp when a neighbour thought she saw him in the back of a passing car."
A representative for Depp told Newsweek that "Johnny doesn't have any ties to the property."
Once described as "the crowning jewel" in A&B Homes' portfolio, a glossy brochure, computer-generated images, panoramic tour and a concept video are in stark contrast to the building that remains on the 11-acre site.
"The property known as Golden Hill started construction in 2004 but has never been fully completed and remains uninhabited," A&B Homes said in a recent planning application.
The current application submitted by A&B Homes to Test Valley Borough Council is now looking to turn the location into 10 units, three two-bed homes and seven three-bedroom apartments.
A press release on the developers' website previously raved about the planned features, saying the focal point would be a "100 metre long lake overflowing onto a water wheel within a lower pond."
"The beautiful grounds will also benefit from six ponds, two fountains and has a footpath leading all the way to 'The Old Romsey Canal' at the bottom of the garden," it said.
The house and outbuildings, including a two-story summerhouse with views into an aquarium, amount to around 22,000-square-feet of space, with plans including 14 reception rooms, a double-height ballroom with vaulted ceiling, tennis court, and a 52-foot indoor and outdoor swimming pool.
There was also a billiards room, 34-seat cinema, gym and a staff apartment planned out, along with room for 10 cars underground.
The company said: "For those who are security conscious A&B Homes have thought of everything including a nuclear shelter/panic room with sleeping quarters, kitchen and bathroom within 3ft thick concrete walls, 'grade 9 bank vault doors' and access to a secret underground tunnel."
A far cry from the CGI images, a TikTok clip from urban explorer, @thebeardedexplorer_, revealed its current state, amassing more than 3 million views since being uploaded last week.
In the video, which can be viewed here, overgrown foliage, weeds, a broken window, warped decking, fallen guttering and an unfinished interior greeted the urban explorers.
"The place is pretty much going to be like a building site, unfortunately, as it was never finished," the TikToker said. The group managed to gain entry and tour the home, which they still describe as "stunning."
The pair found what appeared to be building materials left inside, along with part of a car, and they also discovered a scale model and photos for how the building was intended to look.
"Such a shame this was never finished," the TikToker noted while touring the interior.
A longer YouTube video, which can be seen here, was entitled "Exploring Johnny Depp's Unfinished UK Million Pound Mansion!!" and shares 30 minutes of footage of the troupe walking around the property.
The description on the video says: "Today we're exploring A LUXURIOUS £8 Million Mansion that was rumoured to be linked to a Hollywood megastar Johnny Depp and former England football captain John Terry!!
"The 22,000 sq mansion, which is set in 11 acres of beautiful English countryside began construction in 2004 but was never fully completed or occupied. It was only ever lived in when squatters took over temporarily in 2012.
"Unfortunately as we were leaving the boys In blue turned up as the alarm we set off was linked directly to the local police station!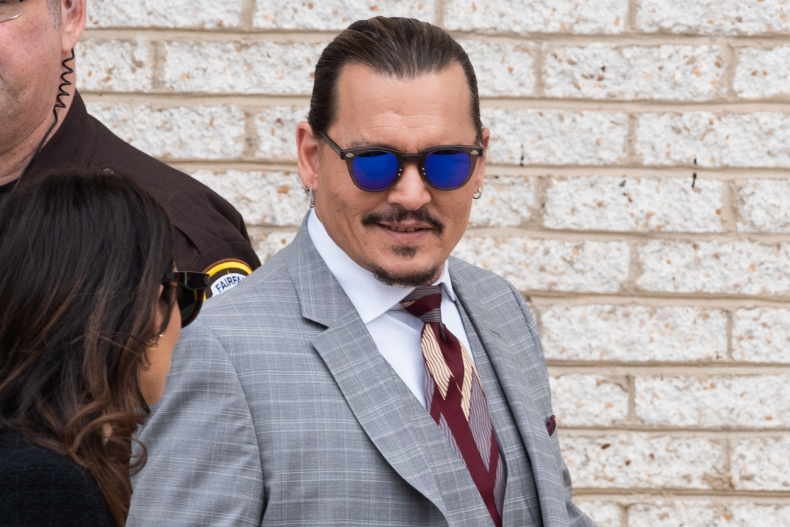 "Luckily we always stay legal so we were let go. But a word If [of] warning guys please don't visit this place now! It's been completely sealed up by the owner!"
Commenting on the clip, Kreisti Kingery wrote: "If I ever win the lottery I am buying and finishing this. And living my best life."
Curvaliciouskate wrote: "Omg this is lush it's what dreams are made of. If I won't the lottery I would love to adopt 2 kids and move somewhere like this."
NateFM90 commented: "I wonder why he never finished it. But I don't think he'd appreciate the secret passage and bunker shown."
Permission to turn the site into apartments was initially granted in 2019, but work was delayed due to COVID-19, so the application has been resubmitted to extend the planning period.
A clip on British show Meridian Tonight, from 2009, claimed it was "months from completion," and interviewed three members of the "family firm."
"Nobody could have foresaw the economic climate at the moment," said Stephen Bernandez of A&B Homes.
Described as the architect, he was filmed alongside his brother and dad, saying: "We think if the economy was booming it would be significantly more than we're asking at the moment."
Bernandez is referring to the global economic crash in 2008, characterized by a housing market bubble which went bust, seeing banks like Lehman Brothers close in the U.S., and British institution Northern Rock nationalized.
"The headlines of 2008 were dominated by falling housing prices, rising default and foreclosure rates, failure of large investment banks, and huge bailouts arranged by both the Federal Reserve and the U.S. Treasury," The National Council for the Social Studies explained.
Newsweek reached out to A&B Homes, Test Council, and @thebeardedexplorer_ for comment.