Johnny Depp Warns Fans About Fake Accounts Impersonating Him
Johnny Depp has issued a warning via Instagram on Thursday for his fans to be aware of fake accounts purporting to be the actor on social media.
"We have been made aware that there continue to be fraudulent imposters pretending to be Johnny or those in his teams, offering meetings and promising time with him, often for payment," Depp's team wrote in a statement posted to the Pirates of The Caribbean star's Instagram Story.
"Some of these attempts appear to be quite convincing, for example, by digitally mimicking his voice and using other forms of communication that appear to be authentic," Depp's team added.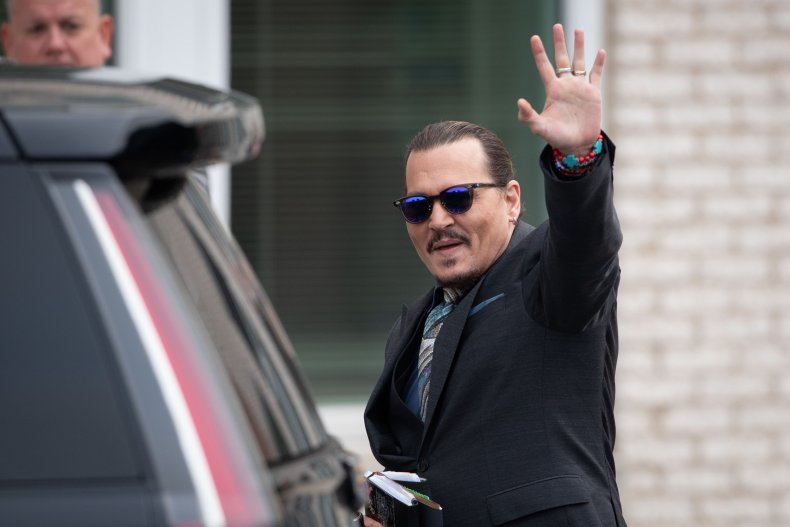 "Please be aware that these are scams. It is not Johnny or anyone from his team. These people are criminals trying to make money off of vulnerable, kind people."
Depp, 59, issued a similar warning on Instagram in June. The actor's popularity online among fans has soared following his high-profile court battle against ex-wife Amber Heard.
Depp ultimately won his case against Heard after she wrote a 2018 op-ed stating she was the survivor of domestic abuse, but recent unsealed documents have cast a shadow over the trial and revealed previously hidden details.
Both Heard and Depp's legal teams are appealing aspects of the jury's verdict from the Fairfax County courtroom in Virginia.
The trial was televised daily and received an overwhelming response on social media throughout.
A documentary even explored how the unprecedented involvement of social media in this trial will now serve as a "playbook" for future high-profile legal battles.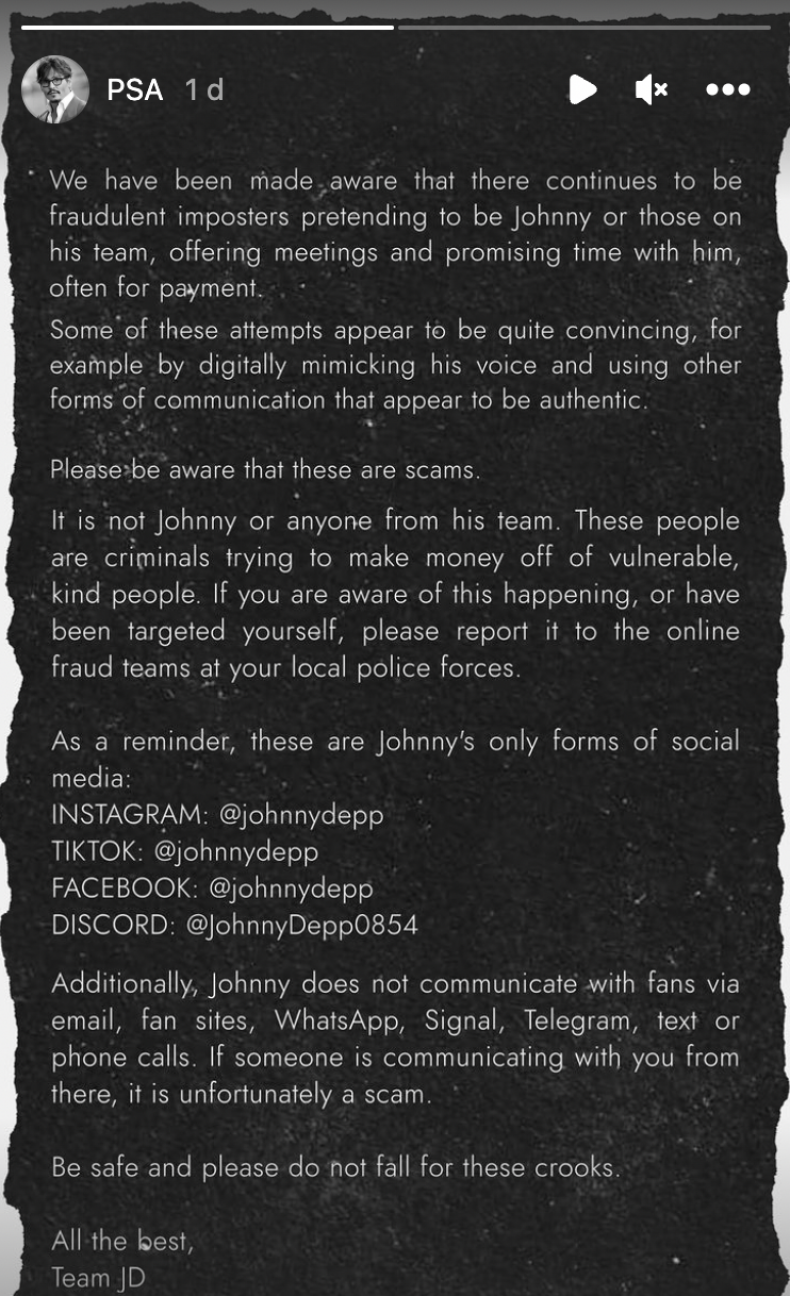 The actor urged his fans to only engage with the following, legitimate accounts:
INSTAGRAM @johnnydepp TIKTOK @johnnydepp FACEBOOK @johnnydepp DISCORD @JohnnyDepp0854
His team has made it clear that Depp does not communicate with his fans via email, fan sites, Whatsapp, Signal, Telegram, texts or phone calls.
"If someone is communicating with you from there, it is, unfortunately, a scam," his team added. "Be safe and please do not fall for these crooks."
Depp's Instagram warning comes as his love life is back in the spotlight with the actor reportedly dating one of his lawyers, Joelle Rich.
Rich, a lawyer from Schillings Partners in the United Kingdom, represented Depp in his libel trial against the British newspaper The Sun.