The rivalry between NXT superstars Johnny Gargano and Tommaso Ciampa has been the heart and soul of the brand for more than four years.
What started with their 2016 matchup in the Cruiserweight Classic, later led to their unlikely team up as #DIY and them becoming tag team champions—and eventually resulted in Ciampa's heel turn on Gargano and three classic bouts between them, which Tommaso would win two. However, before the duo could have their "blow off," Ciampa would need neck surgery, putting their plans on pause.
Now that both men are healthy, Gargano wants to finally finish their rivalry. But what was supposed to be the culmination of their years-long feud has now had to change, thanks to the ongoing coronavirus pandemic.
NXT Takeover: Tampa was supposed to be the setting for this final encounter, but now the two will have an empty-arena match that will air on Wednesday.
"It's a bit of a bummer. You have high hopes, aspirations for this match, or the culmination of this feud that has been going on for over four years at this point," Gargano told Newsweek on Tuesday. "You were hoping for that dream ending, that dream scenario. That packed house, that amazing atmosphere of a Takeover, but things happen, man. You can't predict these things."
Gargano has passed the time these past few weeks watching a lot of Netflix and Disney+. WrestleMania 36 gave "Johnny Wrestling" something to watch over this weekend and now he'll be home watching his bout with Ciampa air on NXT television. While not ideal, Gargano is excited and nervous to see how it turns out and how the fans react. He guarantees, though, that his match with Ciampa will be something fans won't want to miss.
Newsweek caught up with the former NXT Champion to talk about his final chapter with Ciampa, his journey from winning the title a year ago and what's next.
This interview has been edited for clarity and length.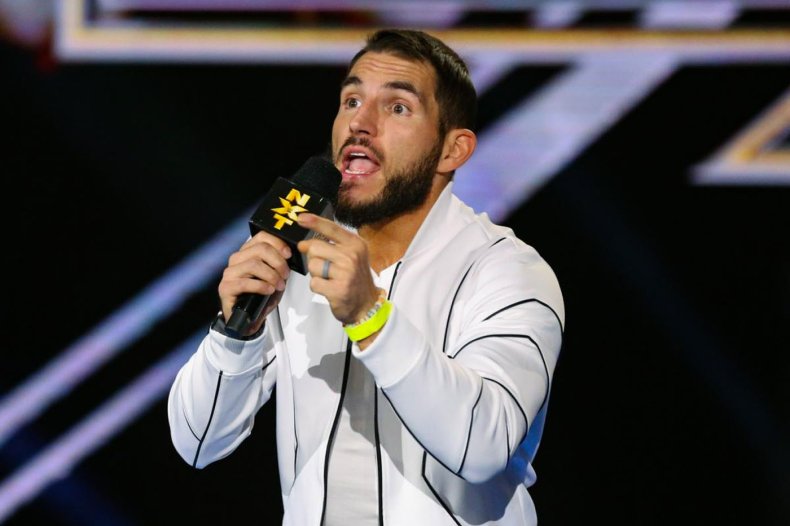 Since you watched WrestleMania 36 this weekend, what was your favorite match?
Man, that's tough. I think Rhea and Charlotte had the best possible match in that environment. I think that's the prototype for all empty-arena in-ring matches going forward. It's so physical and so intense it kept you in as a viewer.
Obviously, I loved the Firefly Fun House. I thought it was super-unique and as a long-time viewer, [if it's about] repaying loyal viewers, I pick that. If you're a deep-dive fan, you love that match. And of course the Boneyard match, you can't go without mentioning that. They all live by themselves and they are all different.
We live in a different world now, where you can have different types of matches and those three in those categories are the best.
I can't argue with that. If you were in the Firefly Fun House would you be concerned by what would be brought up about your life and career?
Oh man. If I was in a Firefly Fun House match with Bray [Wyatt], if we're talking the past, you would bring up me working in WWE without a contract with Tommaso and having my old body when I was a little chubby too. I'll just put on some weight.
It'll be the opposite of John Cena. Cena got more ripped playing the Prototype, I'll just get less ripped as "Beginning in NXT Johnny Gargano." [laughs]
They're advertising your match with Ciampa as the "Final Chapter," but there's no real final to anything in wrestling. What can you say about this match?
Like you said, there's no real finality. I compare it to Triple H and Shawn Michaels, whenever they are around each other it always seems to go a certain way. The term "forever" is thrown around a lot, but I don't know how long, with Tommaso's history of neck surgery and things like that. I don't know how much longer he's going to be doing this, I don't know how much longer I'm going to be doing this, so right now I will say that this is the "final chapter" between Johnny Gargano and Tommaso Ciampa and we're treating it as such. We're treating it like it's the end.
I think this is really the perfect ending for our story. I know people are going to be surprised by that, seeing how it's not in front of a packed audience in a crazy atmosphere of a Takeover, but that's not Tommaso and I's story, we didn't start that way. We started as two guys who were on their own, who didn't have contracts, who were thrown together in a makeshift tag team. We were never handed anything. So it's very appropriate that it's just the two of us in an empty warehouse to see who is the better man.
I will say this: It's going to be something very unique, something very special. It's definitely one of the most interesting and unique things I've ever been a part of. And as a fan, I think everyone is going to enjoy it.
Your feud with Ciampa has spanned years. Do you think we'll see something like that again?
It's tough. In this day and age with people having such short-term attention spans they want things now. As soon as they get a match, they want the next one. They are very much so a generation of not telling [long-term] stories. I'm part of that generation too, so I'm watching a YouTube video and there's a 10-second commercial and I don't want to watch the commercial. I want to watch the video now. So I think our circumstances made this thing last so long, with Tommaso tearing his ACL when he turned on me. With Tommaso breaking his neck last year, or having our final match during a pandemic this year. We can't predict these things. These things are not things you can write.
But my and Tommaso's story is making something out of a bad situation. And we're going to do it again. I know a lot of people are wondering why this is happening now. Well, because it has to. It has to end for us to move on and I think the "Final Chapter'' is one that people will remember for a long time.
How does it feel to have this culmination of your feud happen in front of nobody, instead of a hot crowd at a Takeover?
It's a bit of a bummer. You have high hopes, aspirations for this match. For the culmination of this feud that has been going on for over four years at this point. You were hoping for that dream ending, that dream scenario. That packed house, that amazing atmosphere of a Takeover. But things happen, man. You can't predict these things.
We may look back at this thing years from now and say, "You know what, that match Johnny and Tommaso had on Wednesday on the USA Network, the fifth and final match of their feud—the "Final Chapter"—that thing was special. That thing was unique."
And me and Tommaso have done so much together—we had so many crazy matches that people remember, but this one is going to be unique. It's going to stand on its own for what it is, how it's shot, what it's done. I say everything happens for a reason and I believe that, and I think we made the best of this one.
A year ago, you finally won the NXT Championship. How has the journey to this point been for you?
It's crazy with everything going on. Winning the title last year, it's also been a rocky year for me. I've had a few injuries that derailed me a bit. I had a problem with my foot, my neck. Just the wear and tear over the years that built up. And then NXT being on the USA Network. It's been something that I feel I haven't had the chance to be a part of yet. I was so excited for NXT to get on the USA Network and to get the stage I think it deserves. And due to injuries and things like that, I haven't really been able to put my foot all the way into that territory yet.
I've been doing the same thing since the beginning here at NXT, so I'm excited for something new. I'm excited for something fresh, excited to try on a new character and get my foot in this new realm that we're playing with here. I think that's a big important reason why this Tommaso thing needs to end. We need to move on so I can move on and do a new thing and my own thing that I'm very excited for. That's where I'm at personally, and I can't wait to see what the future holds because it's going to be fresh and totally new for me.
When you say a new character, are you talking about what fans have seen in recent weeks? A more intense, no-nonsense Gargano? Or is it something we'll have to wait and see?
I think we may have to wait and see with that one. [laughs] I will say that I've thought about it for a very long time. I've said I've done kind of the same thing for a big part of my career and I've been sort of pigeonholed, which as a performer you don't want to be pigeonholed. So I know a lot of people are really adamant that Johnny Gargano is a "baby face of a generation" or this "great underdog." It's kind of hard to be an underdog when you've had the most championships in NXT history and main event-ed more Takeovers than anyone. So it's kind of hard. I'm not the underdog anymore—I'm really not. I've been the underdog for a very long time.
I'm just excited to try something new. If you think you know Johnny Gargano you have no idea.
You mention not being able to dive into this "USA Network Era" of NXT, but the brand is so deep that it keeps on chugging. Was there any fear of it moving forward without you? Or are you happy that you don't have to lift the brand by yourself?
That's the best thing about NXT: its talented roster. I'll put our roster against any roster in the world. And that's men and women.
Talent-wise, it's incredible. A lot of people are talking about my and Tommaso's match but you can't forget there's this friggin' ladder match going down that's going to be amazing. With Candice [LeRae], Tegan [Nox], Dakota [Kai], Mia [Yim], Chelsea [Green], and Io [Shirai].
They are so talented and those girls are going to put on a crazy ladder match, I guarantee that. So people are talking about me and Tommaso but they should be talking about that ladder match. It's going to be next level and that speaks to what NXT is all about.
It's not about just me and Tommaso—it's about those ladies in the ladder match, it's about the Undisputed Era, Keith Lee, Dream, Matt Riddle. I can literally go on and on talking about these guys because we have such a deep, talented roster.
I know John Cena talks about this a lot. It's not just about one guy any more. We reach all these different demographics and there's all these different places and people are going to like different things.
People aren't gravitating to one guy, that time is done. With the internet and how fans are nowadays, people aren't all-in on just one person. There was a time where underdog Johnny Gargano was top babyface in the world, but that time is long gone. It's ok for viewers to like what they like, enjoy what they enjoy, hate what they hate—I guess—and NXT has something for everyone. And speaking as what some people consider the "face of NXT," we have so many people that can carry this brand and main event any show in the world.
What I found interesting about the stipulation of your match with Ciampa is how Triple H said that if you two fight again after Wednesday, you'll both be kicked out of NXT. Why was that a sticking point in this match?
I want to be in NXT. I know Tommaso is on record saying he wants to be in NXT. A lot of people on record say they want to be in NXT. People who aren't in NXT say they want to be in NXT. That speaks to what the brand is—that speaks for the freedom and stability and the rep that NXT has that you go out there and give it your all and put your heart out there.
NXT is about passion, man. We're all passionate here and it's not just about passionate about our work; we're passionate about the brand. We are all a team and want to build this thing.
This is not where we want NXT. We have higher aspirations and goals and all of us are going to continue working towards that. [Triple H] said that if me and Tommaso clash again we're both out of NXT. We love NXT and we don't want to go anywhere. If that tells you anything, that tells you you want to tune into NXT on Wednesday night because it will be the final match between me and Tommaso Ciampa and you're going to want to watch it live because you don't want to be spoiled, I promise you that. Don't be one of those guys who are on your phone on Twitter and you're spoiled. You don't want to be that guy. You're going to want to watch it live.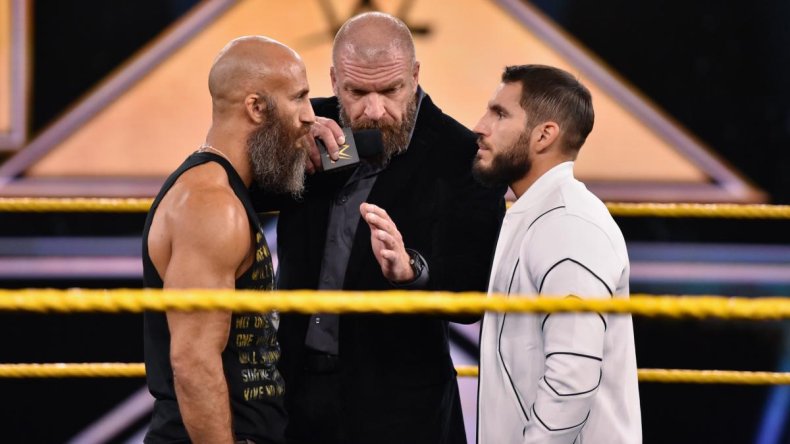 Are you open to not being NXT? You've had matches on SmackDown and RAW in the past—are you open to doing that again?
I mean... it would all depend on right place, right time for me. It also depends on where I'm at physically and mentally. I know a lot of people want to see that. They talk about that a lot. Maybe people are getting sick of me in NXT, I don't know. [laughs]
NXT is everything I want out of wrestling and that's just speaking from the heart. That's the real me talking to you right now. I love NXT and it doesn't get any better than that for me. I didn't get into this for the crazy bright lights and fame—I got into this because I love wrestling, and telling good stories. I love having a hand in things and being able to tell the stories I want to tell and having people trust me. I love having people trust me. Let people trust me and give me the ball, I want the ball.
So, it would take a lot. [laughs] It would take a lot for me to leave. Right now, I'd say no. I said I was NXT for life and I don't lie. It's on a shirt, so it must be true.
I'll end with this then: Your match with Ciampa and feud has been well-documented, but what do you and the fans get from it?
I'm very excited. People are going to see it and, as an artist, when you put yourself out there, it takes a lot. I think me and Tommaso's story, the way it's been told over four years, it all culminates [Wednesday] night in a very unique and special way. In a way you won't want to miss. I think when everything is said and done, Tommaso Ciampa will know who the better man is. And all of you at home will know who the better man is as well. I'm excited and nervous, but it's going to be a very cool night.
Johnny Gargano will face Tommaso Ciampa on NXT on Wednesday, at 8 p.m. ET on USA Network.
About the writer
Phillip Martinez is a game and culture reporter for Newsweek. Prior to joining Newsweek in 2018, he was a reporter and editor for iDigitalTimes and Player.One. A Bronx native, he graduated with his Bachelor's degree in Journalism from St. John's University in 2010. An avid Nintendo fan and wrestling mark, he's always looking to become a Pokémon Master while fantasy booking this year's WrestleMania. You can contact him at p.martinez@newsweek.com