Johnny Gargano Talks Halftime Heat and Why NXT is His Main Roster
NXT is becoming one of the most talked about brands in professional wrestling. From its independent wrestling atmosphere, to the storytelling, personalities, and certainly the match quality that continues to wow audiences and viewers, it's become the hottest promotion in WWE.
One of the faces on the forefront of this NXT takeover of professional wrestling is Johnny Gargano. The 31-year-old joined NXT in 2015 as a part of DIY, teaming with Tommaso Ciampa, and in the three years since has put on some of the best matches in recent company history, and now has the NXT North American Championship.
There are still WWE fans who don't know what NXT is, but during the Super Bowl halftime the best and brightest of NXT will take the spotlight for the return of Halftime Heat.
Gargano will team with NXT Champion Tommaso Ciampa and Adam Cole to take on the Velveteen Dream, Aleister Black, and Ricochet, in what will be a showcase of the talent that's currently in NXT.
Newsweek caught up with Gargano to talk this Sunday's upcoming match, his win at NXT Takeover: Phoenix, the Royal Rumble and NXT as a whole.
Halftime Heat will air on Sunday, February 3 on wwe.com and its social media sites.
This interview has been lightly edited for length and clarity.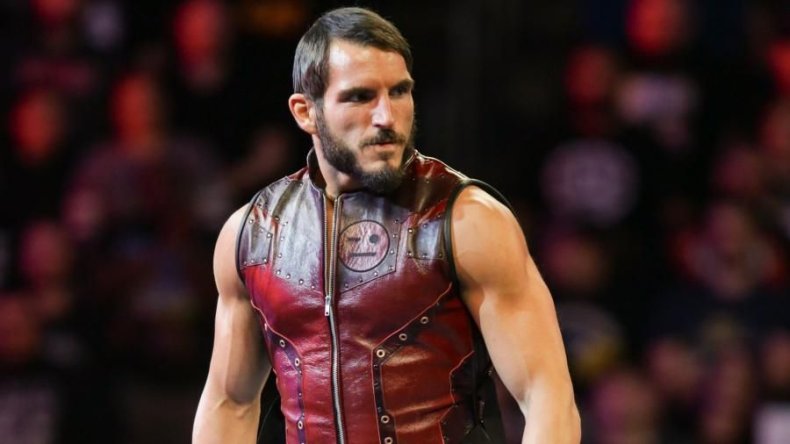 What are your feelings on having that spotlight at Halftime Heat?
I'm extremely honored, number one, because I'm a huge wrestling fan. I remember Halftime Heat 20 years ago, Rock vs Mankind in the empty arena match. I was super excited to watch it! I can't believe it's been 20 years, I was 11 years-old at the time. To be able to perform at Halftime Heat, it's such a cool concept and I'm so excited not just because I'm in it but because NXT is in it. The world gets to see what NXT is all about. That's the coolest thing about all of this.
Is the Performance Center going to be empty to commemorate that original match? [Laughs]
No it will not be empty. [Laughs] As fun as that may be, I joke all the time how awesome it would be that have an empty arena match at the Performance Center with so many different rings and things you can do. But, no, it will not be empty.
Triple H always talks about NXT as the WWE's third brand. Do you feel it's on par with SmackDown and RAW?
Absolutely. I think for a long time people said NXT was the future of wrestling but I think it's right now. I think it's the hottest thing going in wrestling today. We have some of the best talent in the world, I'll put our locker room against anyone's locker room. It's a viable third brand and I'm excited to see where things head. Because, in my mind, my goal is to take NXT higher and higher and I think we can go even further. Sunday is going to be proof of that. Sunday is the beginning of when the rest of the world takes notice that NXT is the now of professional wrestling.
And you have the best six guys in this match. Was there ever a better class of NXT wrestlers?
I don't think there is. These six guys, I've known for over 10 years. We've scrapped and clawed in this industry and now is our time. The only difference between us and everyone else is that we're hungry. Very, very hungry. And we want more and we love NXT. And we're very proud of where NXT is. That is the perfect combination of excitement, electricity and Sunday is just going to be the perfect storm for all of that.
NXT consistently puts on the best shows, especially on Takeovers. Are you guys aware of how great these shows are even on weekends where you're up against the Rumble or WrestleMania?
There's a sense of pride, but we always want to top ourselves. Like I said, we're hungry to show the world what we're about. Takeover, man, there's nothing like it. That environment and atmosphere is untouchable. We're really proud of that. We say all the time "nothing is going to top this Takeover." And yet we always seem to top the previous one. It's an amazing ride to be on, and I'm happy to be a part of it.
We are coming off the heels of Takeover: Phoenix where people are already calling your match with Ricochet the match of the year. You were awarded 2018's NXT match of the year. Is there a pressure to consistently put on the best matches?
Honestly I love the pressure. I wouldn't call myself "Johnny Takeover" if I didn't believe it. If I call myself that, I'm asking myself to deliver double, and people come to expect something of me every Takeover. Like Shawn Michaels calls himself "Mr. WrestleMania," I'm Mr. Takeover. I had a great match with Ricochet. Last year with Almas won match of the year. I guess I do really good work in January! [laughs]. This is my second match of the year honor, and I'm looking for a third already. [Laughs] I'm coming in guns blazing and ready to go.
You've captured the North American title, and it may not have the legacy yet but how does it feel to have that singles belt?
It's an honor, man.,to have a title in NXT with the amount of talent we have in that locker room. To be considered the best is an extreme honor. That title still has so much room to grow. Just look at the last two champions, Adam Cole and Ricochet. Those two are at the top of their class, they're amazing. To be considered among them as peers at the top of NXT is amazing to me.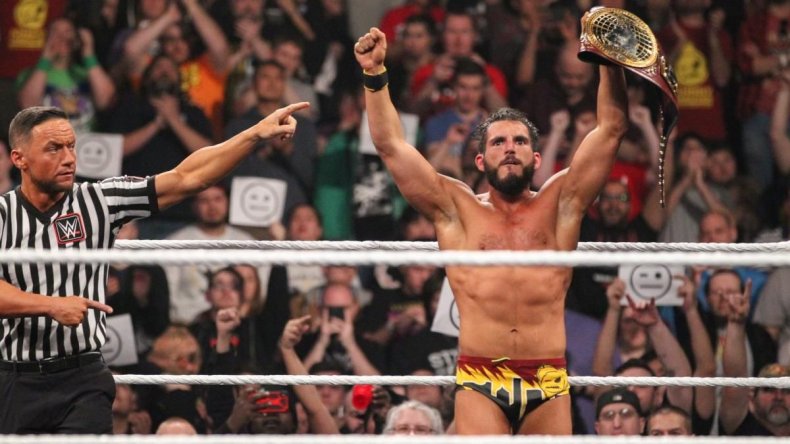 The storytelling in NXT is vastly different than what goes on on the main roster. Can you comment about the liberties that are taken, and the inspirations toward your storytelling?
It's very unique. I think the difference between my story with Ciampa is that it's organic. People watch us come up as DIY, two kids who didn't have contracts with the company and you rooted for us and became attached to us and our friendship. And when Ciampa came and took that away, I think you felt it and it was very real. We've been able to do some unique things in NXT, and what we do is kind of like a movie. We're going beyond wrestling, we're making movies. That's really what it is. It's fun, it's a comic book come to life, it's a TV show.
There's so many different ways to express and tell different stories. It doesn't have to be the norm, cut and dry, copy and paste. And that's the fun thing we get to do in NXT, we get to expand those horizons and see what works and what doesn't. Our fanbase is very passionate and hungry, and likes the details and intricacies of storytelling. They like the strings that get strung along for a year and a half. That's the fun stuff. To be able to tie a string, and take people on a rollercoaster with all the ups and downs, twists and turns, and get to ride along for the whole thing. And at the end they're going to be happy.
Regarding your story with Ciampa, plans change like when Aleister Black got injured . What's the process of changing things up, seemingly on the fly?
We're lucky. We have some of the best minds in the world. Triple H's mind speaks for itself, his track record with NXT speaks for itself. And Shawn Michaels. So many brilliant minds work at the Performance Center so to be able to adjust on the fly and make changes, we've been extremely lucky to be around those sort of minds and work with them. If any issues arise, they're there. And I always say things work out for the best. I believe things work out the way they were supposed to.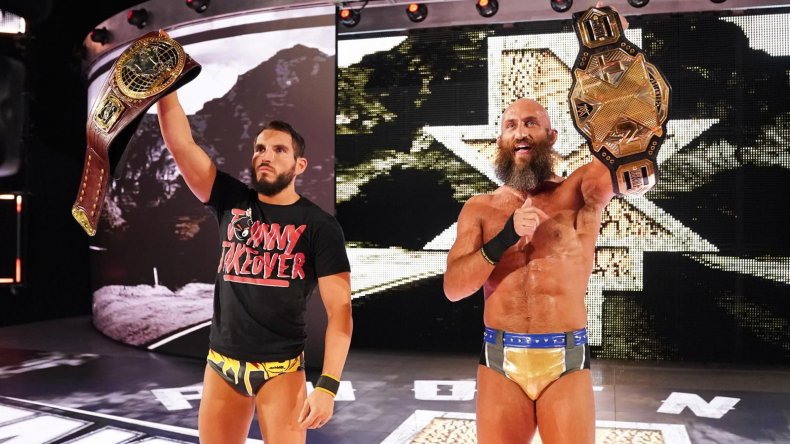 Another big part of your weekend was participating in this year's Rumble. How was that?
Words can't really express how it is to be a part of the Rumble. Like I said, I'm a wrestling fan. Just like being a part of Halftime Heat is a big deal, it's that way with the Rumble. It was amazing when I found out because no one really knew. And to do it with [my wife] Candice who was in the women's rumble, to be able to share that together with her was amazing. My mom was there for Takeover and I told her "hey, maybe you'll want to stay an extra day" [laughs]. And Candice's parents were there and got to see her in the Rumble. It's super cool. I'm still a wrestling fan and the Royal Rumble is my favorite event. To be a small part of it and have people get surprised and react to it, chant NXT, Johnny Wrestling. This is why I do what I do. To get a moment like that is unforgettable.
Which is your favorite Rumble?
I'm going to go with 1996. For the simple fact that Shawn Michaels was coming back from his match with Owen Hart. And it was his big retribution story and I knew he was going to win, and he did and he went on to win the title. That was the year I was like, "come on Shawn you can do it!" so that year always sticks out in my mind.
Getting to be in the ring at the Rumble with the likes of Shinsuke Nakamura and Seth Rollins?
It's very cool. Thinking about it, now that you said it, I squared off with Big E, Shinsuke, Seth Rollins, Samoa Joe, who were all former NXT Champions [laughs]. It's pretty wild the way that worked out. But it was cool, man. I know a lot of people want me and Seth Rollins to mix it up , I would like to see that as well. That's the cool part of the Rumble, as you get a small taste of what may happen in the future.
It's become a yearly thing where NXT guys show up at the Rumble. Will will ever see an NXT guy win it?
You never know man. I got a little taste of it this year, if I'm in it again next year I'm coming for it [laughs]
While NXT is becoming bigger and bigger, there's still the moniker of it being a "developmental brand." What will it take to have that go away?
I'd love for it to go away and for people not to see NXT as a downgrade. I definitely don't think it is. If you look at our shows, Takeovers, live events it's definitely not a downgrade, ok? People want to be in NXT, people on the main roster want to be in NXT. NXT is the hottest thing going today.
In some circumstances there is still a developmental side of the Performance Center. We do sign people from different backgrounds who are learning how to wrestle, and learn to do what we do. But you look at the TV show, those guys on television are TV stars. They are main event players and that's where the developmental kind of goes away. In a way, you're constantly changing and evolving. Even the main roster is developmental because you're learning all the time. NXT is looked upon as "a lower brand," but it should be like how when you move to RAW or Smackdown. Instead of "moving up" it's moving over to a different brand. You never know, guys can come back here, things can obviously change in the future. But how I see it, RAW, SmackDown, NXT. Those are the big three.
A lot of people say they aspire to get to WWE on the main roster. How do you feel about being an NXT "lifer"?
I'm extremely proud of NXT. I did an interview today where I said NXT is my life, and it is. Just because I'm so proud of what I've done here, winning the North American Championship being a former tag team champion, having matches of the year, being a part of the most Takeovers. That is my legacy. I'm extremely happy and I don't look at it as a road I'm on. I look at it as this is my main roster. NXT in my head is something I'm trying to help build, get it to its peak. I will do whatever I have to, I will strap NXT to my back and carry it up a cliff if I have to. I love its fanbase and everything about it. For me, if it means I stay in NXT I'm always fine with that.
I know you own a Nintendo Switch. What are you playing?
I'm playing Pokémon Let's Go Pikachu. That's what I'm on right now. I just paid $3000 for my Pikachu, so that's where I'm at. I tweeted that as well and people were like "you paid real money for that?" and I'm like guys, it's not real money, its Pokémon money.
What's your team?
I have Pikachu, Charizard, Venusaur, Blastoise, Mew and Clefable. Clefable is just taking a spot until I get Mewtwo, honestly [laughs]
You don't have Smash yet?
Not yet, I'm one of those people that can only play one game at a time. I play my Switch a lot when I'm traveling, when I'm on the bus or things like that. So when I'm done with Pokémon I'll go on a different adventure.