Who is Jon Grissom? Actor Accused of Sexual Abuse by Corey Feldman in Documentary '(My) Truth: The Rape of Two Coreys'
Corey Feldman, who was known as one of "The Two Coreys" along with the late Corey Haim, is an actor who starred in movies including The Goonies (1985) and Stand by Me (1986). But while working as a child actor in the 1980s, Feldman alleges that he and Haim were victims of sexual abuse and rape.
Feldman's documentary, (My) Truth: The Rape of Two Coreys, premiered last night (March 9) and details the alleged abuse he and Haim faced, by multiple men, including Jon Grissom.
Who is Jon Grissom?
Jon Grissom is an actor whose only credits include License to Drive (1988) and Dream A Little Dream (1989) which both starred Corey Haim and Corey Feldman.
In Feldman's memoir, Coreyography, which was published in 2013, he writes about Ron Crimson, but later revealed that he was referring to Jon Grissom, whose name had to be changed due to legal reasons.
Feldman explains that in late 1986 or 1987, Feldman's father hired Jon Grissom as Corey Feldman's personal assistant.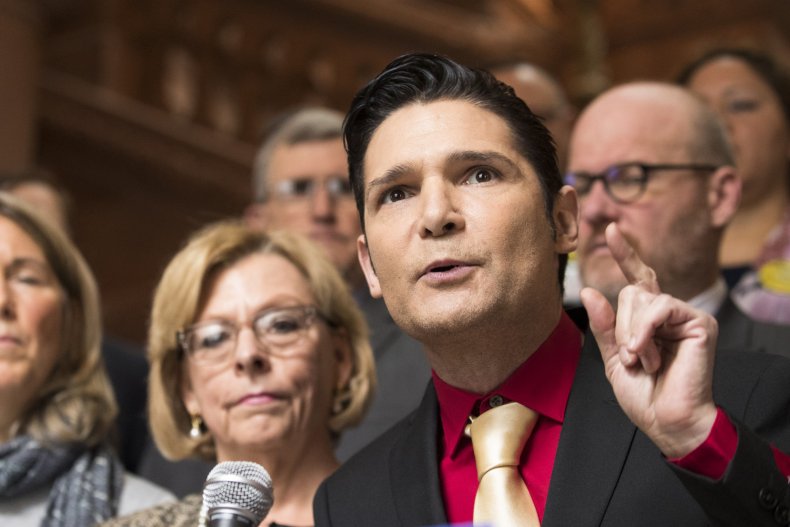 In the memoir, Feldman writes: "Every time I walked across the street to talk business with my father, Ron would saunter over and manage to say something outrageously funny. We hit it off immediately. It was almost eerie how similar we were. It was as if he had studied me and was copying my every move."
Feldman then writes about how he found a bag of drugs and how Grissom would give him pills, and how he started using cocaine and would go out with Grissom multiple times a week.
Feldman explained that he was high the first time Grissom assaulted him, as he wrote in his memoir: "I froze. Felt my breath catch in the back of my throat. 'Is this okay?' he whispered in my ear.
"I had so many hazy thoughts rolling around in my drug-addled brain, floating across my eyelids like clouds... It wasn't okay. I was petrified. But I didn't want a confrontation with my new, close friend."
Grissom was publicly named as Feldman's alleged abuser in a 2017 interview with Dr. Oz. In the interview, when referring to Jon Grissom, Corey Feldman says: "This guy on his Myspace page and on his Facebook page has got pictures of me and Corey Haim. He still taunts it and flaunts it."
According to Dr. Oz, Jon Grissom had been arrested in 2001 and found guilty of child molestation in 2003 and had served prison time. Dr. Oz's legal team said that Grissom currently resides in California and is considered a fugitive as he did not register as a sex offender and that he is also on probation for drug charges.
Dr. Oz's team also said that Grissom has an extensive arrest record for crimes including assault and theft and that the authorities have not been able to locate Grissom since 2014.