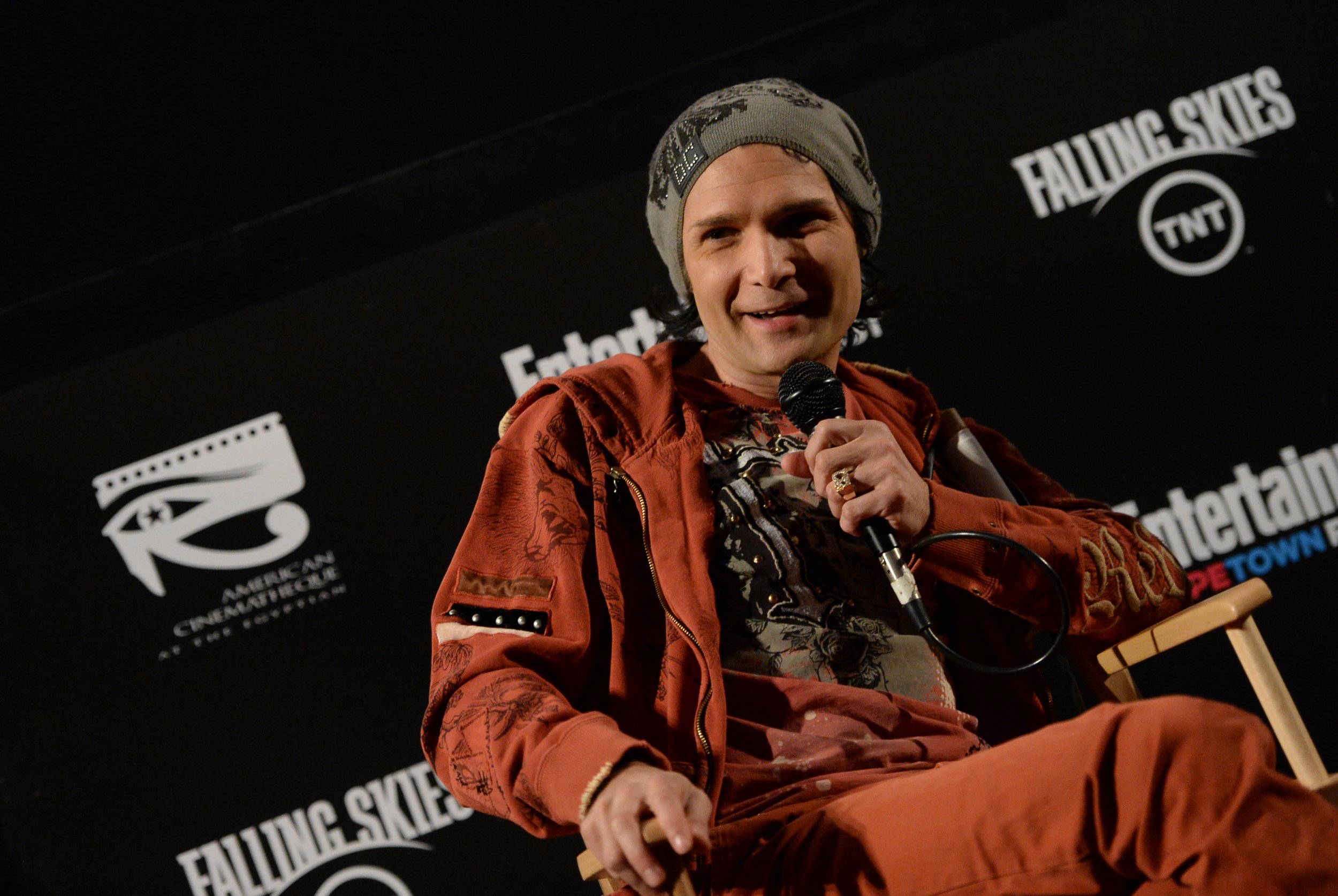 Actor Corey Feldman said he was frightened for his life after coming forward with details of Hollywood pedophilia and abuse he experienced as a child actor in the eighties.
In a long TwitLonger post Wednesday, Feldman claimed that one of the six men he wanted to expose was an "A-lister" who has threatened "his victims with death."
"The man at the end of this bread crumb trail, the coveted name A lister everybody wants to know about has, & does continue to threaten his victims with death," Feldman wrote. "It's actually his go to statement. Anyone that knows who I am talking about can find multiple court records in which defendants have claimed that they feared for their safety after confronting him. Point blank, he threatens people's lives and has a history of violent behavior."
Feldman said he also fears for the life of his 13-year-old son, Zen Scott Feldman, and his wife, Courtney Anne Mitchell.
In an interview with HLN's Carol Costello that aired Thursday, Feldman said that the high-profile individual "didn't abuse me...it's a very tricky situation." The actor said he had "information" about abuse by this high-powered person but reiterated that he was not personally victimized.
Feldman told Costello that his "nerves are shot...I'm living in fear, not a good place to be."
Historic abuse
Feldman, who is best known for his roles in The Goonies and The Lost Boys, came forward with claims of child sex abuse in his 2013 autobiography, Coreyography. He claimed that powerful men in Hollywood molested him and his best friend and sometimes co-star Corey Haim, who died in 2010 at the age of 38. (Haim's mother on Friday denied that he was raped by Charlie Sheen when he was 13.)
Emboldened by the movie producer Harvey Weinstein's alleged sexual transgressions becoming public, Feldman, now 46, is again pursuing the men he says abused him as a child.
Feldman is hoping to raise $10 million in crowdfunding to make a film exposing Hollywood pedophilia and name his alleged abusers.
The actor already named two of his abusers publicly in television interviews with NBC's Megyn Kelly on the Today show and Dr. Mehmet Oz on his series, The Dr. Oz Show, last week.
During his Dr. Oz appearance, Feldman was shown calling the Santa Barbara police to report the abuse for the first time. On Thursday, the Los Angeles Police Department (LAPD) said it would not investigate Feldman's allegations because the alleged incidents he described had passed the statute of limitations.
"In the case of Corey Feldman, unfortunately according to California law the alleged occurrence is out of statute, and Robbery Homicide detectives have no other avenues to pursue this case," the LAPD said in a statement obtained by CBS. "However, the LAPD applauds Mr. Feldman for coming forward, as an out-of-statute assault report could potentially bolster any current and forthcoming case as it creates a pattern of behavior."
Feldman reacted to the news on Twitter, writing:
Named and shamed
Feldman named former child talent manager and convicted sex offender Marty Weiss as one of his abusers in his October 30 interview with Kelly.
In his November 2 appearance on The Dr. Oz Show, the actor named a second abuser: Jon Grissom, his former assistant and co-star. Grissom had bit parts in 1988's License to Drive and 1989's Dream a Little Dream, which starred Feldman and Haim.
Dr. Oz showed a photo of Grissom to Feldman, who responded, "That's the guy.
"This guy, on his MySpace page and his Facebook page, has pictures of me and Corey Haim. He still taunts it and flaunts it," the actor said.
Dr. Oz said his show's legal counsel learned that Grissom was found guilty of child molestation in 2003 and served prison time. Grissom resides in California and is considered a fugitive because he did not register as a sex offender, the legal team claimed.
Feldman had written about Grissom, using the pseudonym "Ron Crimson," in his autobiography. In the book, he said he was sexually exploited by Grissom for years and plied with drugs.
The actor has not identified the other four names, including the A-list abuser. In his Kelly interview, Feldman said that three of the men were still working in Hollywood.
Feldman taped a second interview with Dr. Oz Thursday, in which he will name another abuser. The interview is set to air Monday.