Jon Schaffer, Heavy Metal Guitarist from Iced Earth, Arrested after Capitol Riot
Well-known heavy metal guitarist Jon Schaffer from the band Iced Earth has been arrested for participating in the Capitol riot on January 6, as confirmed by the FBI.
The Indiana musician, 52, is now in federal custody and faces six charges.
The FBI has publicly confirmed that Schaffer was allegedly in a group of rioters that used bear spray on law enforcement officials in Washington D.C. during the insurrection.
The Indianapolis branch of the FBI confirmed the arrest via Twitter: "Jon Schaffer, Columbus, IN, has been arrested in connection to Jan 6 incident at the U.S. Capitol. Schaffer faces 6 charges including engaging in an act of physical violence in a Capitol building. Schaffer was allegedly among rioters who sprayed Capitol police with 'bear spray.'"
In a widely circulated photo, the musician was seen wearing an Oath Keepers hat while pointing and shouting at someone out of frame.
Oath Keepers is a far-right anti-government militia organization that describes itself as a nonpartisan association made up of former military and police.
The FBI has previously solicited the help of the public to help identify individuals photographed participating in the violence at the Capitol. Schaffer was identified my numerous social media users as part of the call out.
Schaffer is said to have turned himself into authorities on Sunday afternoon.
FBI spokesperson Chris Bavender confirmed to local publication, Indy Star, that Schaffer is facing a charge of engaging in an act of physical violence in a Capitol building. The other charges have not yet been made public.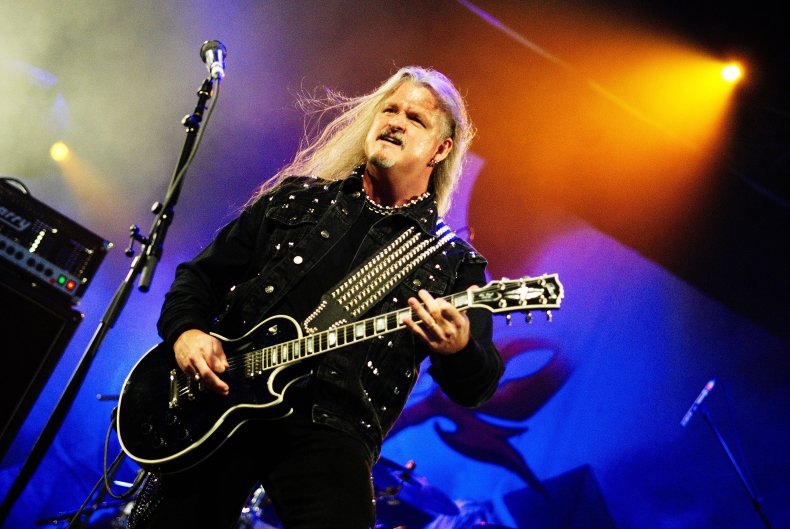 As arrests continue to be made following the riot, 16 police officers are being investigated for their alleged involvement or behavior on January 6.
Two of the off-duty police officers are facing criminal charges over allegations they joined the riot at the Capitol and two other officers have reportedly been suspended pending investigations into their alleged involvement.
The behavior of at least 12 Capitol officers who were on duty at the time are being investigated, according to Rep. Tim Ryan (D-OH).
One Capitol Police officer Brian Sicknick died during the violence. Another high profile arrest made is that of internet personality Baked Alaska.
Tim Gionet, his given name, was arrested by the FBI in Houston, Texas on Friday and charged with participating in the violent riot on Capitol Hill.
An arrest warrant was issued for Gionet after he livestreamed himself and others participating in the riot after he did not show up at a Thursday hearing in connection with a separate incident.
He has been labeled a white supremacist by the Southern Poverty Law Center and banned from several social media platforms including Twitter and YouTube.