At least four off-duty officers and 12 on-duty officers are reportedly under investigation for their alleged involvement or behavior in the U.S. Capitol riot.
Two of the off-duty police officers are facing criminal charges over allegations they joined the January 6 disorder. Two other officers have reportedly been suspended pending investigations into their alleged involvement.
Meanwhile, the behavior of at least 12 Capitol officers in policing the riot are also being scrutinized, according to Rep. Tim Ryan (D-OH).
Capitol officers are being probed for possible dereliction of duty, or aiding or abetting rioters, news agency Reuters reports, in the disorder that left five people—including Capitol Police officer Brian Sicknick—dead.
Here's what we know about those officers facing internal or criminal investigations.
Two Virginia police officers
Two officers based in Rocky Mount, Virginia, are facing federal charges over the riot after a photograph of them at the Capitol building was widely circulated on social media.
In the image, Sergeant Thomas Robertson and Officer Jacob Fracker can be seen in front of a statue of Revolutionary War officer John Stark, who is known for coining the slogan, "Live free or die."
Robertson appears to hold up his middle finger to the camera as the pair pose.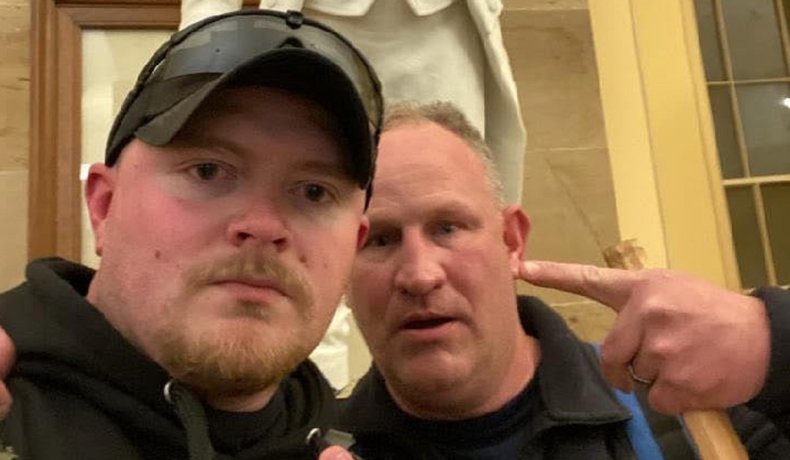 According to a criminal complaint, Robertson posted the image on social media with the caption: "CNN and the Left are just mad because we actually attacked the government who is the problem and not some random small business ... The right IN ONE DAY took the f***** U.S. Capitol. Keep poking us."
Fracker, police said, posted a comment on Facebook that read, "Lol to anyone who's possibly concerned about the picture of me going around... Sorry I hate freedom? Not like I did anything illegal... y'all do what you feel you need to."
Both posts have since been deleted.
They are charged with one count of knowingly entering or remaining in any restricted building or grounds without lawful authority and one count of violent entry and disorderly conduct on Capitol ground.
Speaking before the charges were filed, Robertson said he and Fracker had acted lawfully and the picture had been "taken totally out of context."
He added that neither were involved or aware of any violence. "For it to go like that is absolutely ridiculous," he told the Richmond Times-Dispatch newspaper.
The officers have been placed on leave, according to local TV station WDBJ.
At least 12 Capitol Police officers
Suspensions have been issued to two Capitol Police officers and at least 10 more are under investigation over their behavior during the riot.
The officer responsible for fatally shooting Ashli Babbitt during the riot has been placed on administrative leave, it was announced the following day.
Another officer wore a "Make America Great Again" hat and directed people around the building, according to Rep. Tim Ryan (D-OH).
In another scene, a different officer appeared to pose for a selfie with rioters. Crime novelist Don Winslow offered a $20,000 reward to anyone who can identify the officer.
In a virtual news conference on Monday, Ryan said between 10 and 15 more Capitol officers were being scrutinized over their behavior during the riot.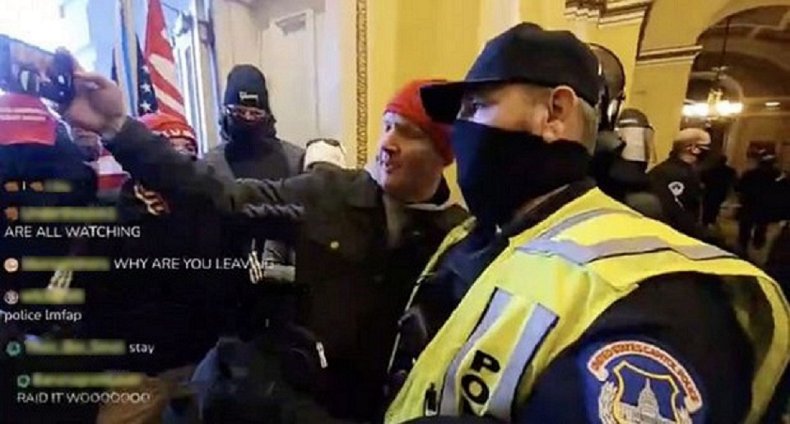 Capitol Police acting Chief Yogananda Pittman said in a statement on Monday night that several officers were suspended and the department "has been actively reviewing video and other open source materials of some USCP officers and officials that appear to be in violation of Department regulations and policies.
"Our Office of Professional Responsibility will investigate these behaviors for disciplinary action, up to, and including, termination."
Pittman replaced former Capitol Police chief Steven Sund last week, after Sund resigned amid mounting criticism of the police response to the assault.
Most officers involved in policing the rally and disorder have been praised for their involvement.
Texas police officer
A Houston police officer has been relieved of duty pending a disciplinary hearing over his alleged role in the riot, according to CBS News.
Houston Police Chief Art Acevedo told CBS affiliate KHOU there was "a high probability this person will be charged with federal charges."
Local police had thought the unnamed 18-year-old had attended the pro-Trump rally but not joined the rioting. However, a joint investigation with FBI agents found the officer had been among those who stormed the Capitol, KHOU reported.
Texas jail lieutenant
A Texas law enforcement officer is facing an internal affairs investigation and has been reported to the FBI in a bid to establish her role in events on January 6.
Jail lieutenant Roxanne Mathai, who has served eight years with Bexar County Sheriff's Office, posted pictures from the pro-Trump rally outside the Capitol building. She denies any involvement in the riot.
In a statement issued to local TV station KENS via her attorney, Hector Cortes, Mathai said she did not breach the Capitol building and was compliant with officers.
Coates said his client "was an excited Trump supporter at a historical rally," who had posted pictures on social media "as everybody does these days."
"She's unaware of the bedlam that's going on inside," Cortes said. "She's unaware people are being assaulted, people are being shot. At that moment, she was just wrapped up in the emotion of her participation in a historical event."
The attorney confirmed Mathai was on administrative leave, but said that was in relation to allegations of "inappropriate communication" with an inmate, rather than over the rally.