Cop Placed On Leave For Attending Capitol Riot Says He Did Nothing Illegal
One of two Virginia police officers thought to have been put on administrative leave for attending the Capitol Hill riot has reportedly said he did nothing wrong or illegal.
A photo circulating on social media and local news outlets shows Thomas Robertson and Jacob Fracker, both Rocky Mount Police Department officers, posing together inside Capitol Hill.
The police department later released a statement saying two of its officers "were present at an event in Washington, D.C." on January 6 and have been put on administrative leave. The force did not reveal the identity of the officers and Newsweek has contacted it for comment.
It comes as swathes of Donald Trump supporters who stormed Capitol Hill on Wednesday are now being outed or arrested. Five people died during the violence, which erupted after the president spoke to crowds at the "Stop the Steal" rally.
Robertson appeared to first share the now-deleted photo. Local Black Lives Matter activist Bridgette Craighead captured the picture and shared it to call out the officers for playing a part in the riot. Local broadcaster 10News also captured the photo and a series of now-deleted posts shared by the two officers.
In the picture, Robertson can be seen pointing at Fracker who is holding up his middle finger to the camera as they stand in front of John Stark's statue. Stark was a Revolutionary War officer from New Hampshire who is famous for coining the slogan, "Live free or die."
Another simage shared by 10News shows Robertson's post of the picture with the caption: "CNN and the Left are just mad because we actually attacked the government who is the problem and not some random small business ... The right IN ONE DAY took the f***** U.S. Capitol. Keep poking us." In another captured Facebook comment, Robertson also wrote that he was "f***** proud" of the photo.
A captured post by Jacob Fracker also read: "Lol to anyone who's possibly concerned about the picture of me going around... Sorry I hate freedom? Not like I did anything illegal, way too much to lost to go there, but y'all do what you feel you need to do."
Newsweek has been unable to verify the photo and screenshots.
Robertson has now reportedly said that he and Fracker did nothing illegal, telling Richmond Times-Dispatch: "I don't have anything to hide."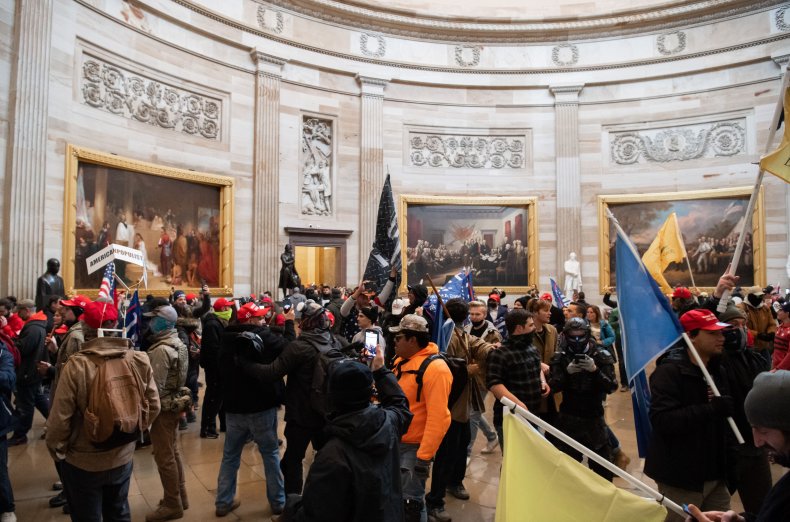 The officer, who told the paper that he and Fracker had been put on paid leave, said the photo was originally sent only to other employees in the police department but after it was leaked to social media he reposted it on his own Facebook page.
He said: "I wasn't trying to keep it a secret. It's being taken totally out of context. I'm not afraid of this being posted, because I've done nothing wrong."
Robertson also told the publication that he did not support the violence that broke out at the Capitol and that neither he nor Fracker were involved or aware it was going on. "For it to go like that is absolutely ridiculous," he said.
He insisted that they broke no laws and stayed in cordoned areas, saying: "We were escorted in by the Capitol Police, shown around and told, 'As long as you stay here, you're fine.'"
He said: "The Capitol building is as big as our town. Where I was at there was no violence. There was no fighting with police officers. The door was wide open and police officers were actually handing bottles of water out to people that came in."
Robertson also told the publication: "I'm not even a big Trump supporter," adding that the pair only went to the rally in D.C. in protest of what they consider numerous irregularities in the November election vote count.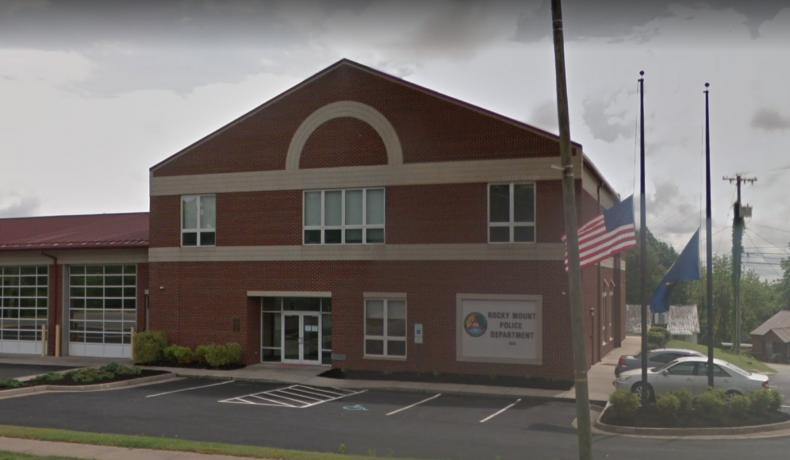 In their statement, the Rocky Mount Police Department said the town "fully supports all lawful expressions of freedom of speech and assembly by its employees but does not condone the unlawful acts that occurred that day.
It added: "Based on the available information, the Police Department has notified federal authorities and the individuals that were present at the event are on administrative leave pending review."