Larry Rendall Brock, Capitol Rioter Holding Zip Ties, Arrested In Texas
Larry Rendall Brock Jr., a decorated Air Force combat veteran who was photographed holding zip ties in the Senate chamber during the riot at the U.S. Capitol this week, has been arrested and charged.
Brock, was arrested in Texas on Sunday and charged in federal court in the District of Columbia with one count of knowingly entering or remaining in any restricted building or grounds without lawful authority and one count of violent entry and disorderly conduct on Capitol grounds, according to the Department of Justice (DOJ).
Brock was allegedly identified as one of the individuals who unlawfully entered the Capitol building on Wednesday "wearing a green helmet, green tactical vest with patches, black and camo jacket, and beige pants holding a white flex cuff, which is used by law enforcement to restrain and/or detain subjects," the DOJ said in a news release.
The Dallas Morning News reported that an arrest warrant affidavit said a caller who identified herself as Brock's ex-wife identified him in photos taken during Wednesday's riot. The affidavit said she had recognized his helmet, pants and patches from his military service.
Brock confirmed his involvement in breaching the Capitol to The New Yorker on Friday.
The magazine identified him thanks to the efforts of John Scott-Railton, a senior researcher at Citizen Lab at the University of Toronto's Munk School. Brock, a retired Air Force lieutenant colonel, told journalist Ronan Farrow that he regretted holding the zip ties, claiming he picked them off the floor and intended to give them to a police officer, but forgot.
According to the report, Brock graduated from the Air Force Academy in 1989 and was was attached to the 706th Fighter Squadron.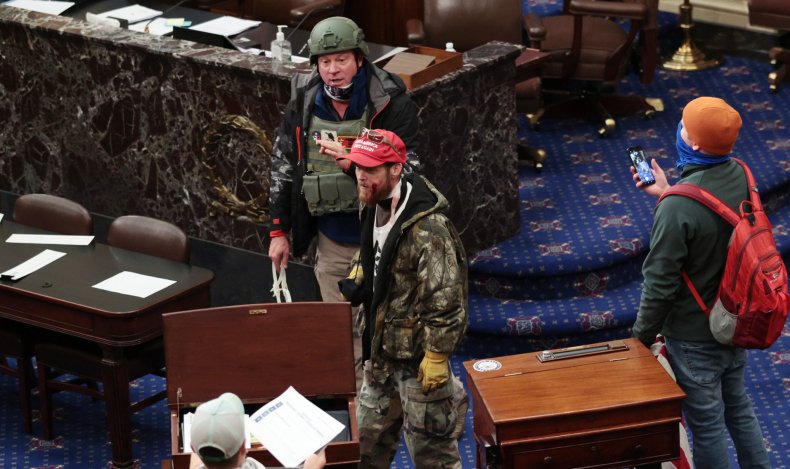 He retired in 2014 and worked for Hillwood Airways, a Texas-based luxury charter airline launched by businessman Ross Perot Jr.
Hillwood Airways confirmed to the Dallas Morning News that Brock no longer works at the company, but declined to elaborate on why he was no longer employed. The company has been contacted for additional comment.
In his interview with The New Yorker, Brock cited baseless claims of voter fraud in the 2020 election and told Farrow he went to Washington, D.C. to protest peacefully because "the President asked for his supporters to be there to attend, and I felt like it was important, because of how much I love this country, to actually be there."
He claimed he wore tactical gear because he "didn't want to get stabbed or hurt" by "BLM or Antifa."
Brock also claimed he had found the zip ties he was pictured holding on the floor, and said he regretting holding them.
"I wish I had not picked those up," he told Farrow. "My thought process there was I would pick them up and give them to an officer when I see one."
He added: "I didn't do that because I had put them in my coat, and I honestly forgot about them."
Brock denied entering House Speaker Nancy Pelosi's office. Footage from U.K. broadcaster ITV News showed Brock standing by a wall near Pelosi's office and also captured a moment where he appeared to exit her office.
But he said he had "stopped five to ten feet ahead of the sign" showing Pelosi's name.
Eric Gavelek Munchel, of Tennessee, photographed with plastic restraints inside the Capitol, was also arrested by the FBI on Sunday.