Larry Rendall Brock Jr., Senate Rioter in Tactical Gear, Says He Regrets Holding Zip Ties
A man who was photographed carrying zip ties during the riot at the U.S. Capitol has said he regrets holding them and claimed he picked them up off the floor and intended to give them to law enforcement.
The rioter—identified as retired Air Force lieutenant colonel Larry Rendall Brock Jr. by The New Yorker in collaboration with John Scott-Railton, a senior researcher at Citizen Lab at the University of Toronto's Munk School—also said he wore tactical gear because he "didn't want to get stabbed or hurt."
Brock is based in Texas and a graduate of the state's Air Force Academy. He was attached to the 706th Fighter Squadron.
Photographs appear show the man wearing tactical gear, including a helmet, and at one point holding zip ties. Other images appear to show another individual holding cable ties.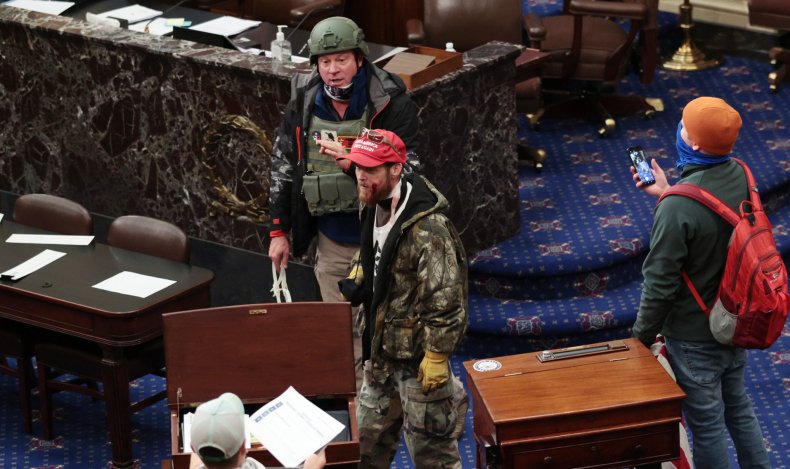 In an interview with The New Yorker's Ronan Farrow on Friday, Brock said: "The president asked for his supporters to be there to attend, and I felt like it was important, because of how much I love this country, to actually be there."
Brock repeated unfounded claims of voter fraud in the 2020 presidential election during the interview and told Farrow he had learned this information mainly from social media.
Footage from UK-based broadcaster ITV News appeared to capture the moment Brock exited an entrance way to Speaker Nancy Pelosi's office. He denied entering the office.
He said he was not a member of any specific group and denied entering Pelosi's office, saying he "stopped five to ten feet ahead of the sign" showing Pelosi's name.
Brock told The New Yorker he had worn tactical gear because of his concerns about BLM and Antifa, saying: "I didn't want to get stabbed or hurt." He also claimed he found the zip ties on the floor.
"I wish I had not picked those up," Brock said. "My thought process there was I would pick them up and give them to an officer when I see one."
"I didn't do that because I had put them in my coat, and I honestly forgot about them," he said.
Brock said he was dismayed at the vandalism done to the Capitol. He added: "I know it looks menacing," he told me. "That was not my intent.
It remains to be seen if Brock, a decorated combat veteran, will face charges.
Law enforcement had arrested 82 people as of Friday, according to the Los Angeles Times and authorities are seeking to identify as many of the rioters as possible, including through public appeals for information.