Jon Stewart's Heartfelt 'Daily Show' Sign-Off: 'Bulls*** Is Everywhere'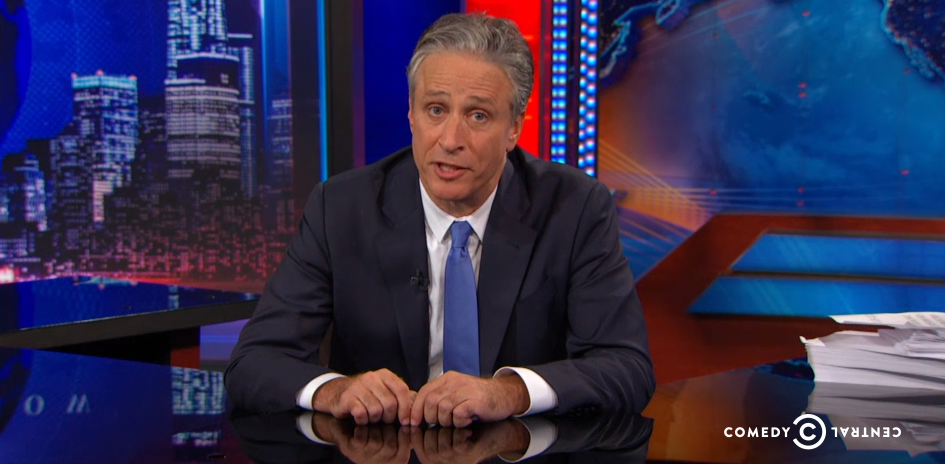 Could Jon Stewart's long, strange trip behind the Daily Show desk have ended any other way?
Stewart, who came to the job in 1999 a youthful, relatively unknown comedian, devoted much of his lengthy tenure to calling out lies and distortions, whether the sins of Fox News or the calculated doublespeak of politicians and others in power. Incredibly, his final night hosting the show coincided with a peak night for political show and manipulation: the first Republican presidential debate.
So on Thursday, Stewart closed his final episode with a rousing plea for vigilance against "bullshit." Like the best of Stewart's work, it was both funny and imbued with genuine rage and pathos.
"Bullshit is everywhere," Stewart declared. "There is very little that you will encounter in life that has not been, in some ways, infused with bullshit."
Moments later, he signed off with a plea for viewers to resist political manipulation. "So I say to you tonight, friends," Stewart urged, "the best defense against bullshit is vigilance. So if you smell something, say something." On Twitter, New York Times writer Dave Itzkoff shared a loose transcription of the long send-off:
There was more, of course—much more. Like David Letterman several months before him, Jon Stewart ended his long and illustrious run with pomp and circumstance, surprise guests and rock performances. But The Daily Show's finale was filled with the more scathing brand of satire that's been Stewart's trademark; at one point, Darth Vader appeared to complain that Stewart had been comparing him to Dick Cheney.
Throughout the show, Stewart welcomed a slew of past and present Daily Show contributors. Some were "in Cleveland" (typical of the show's gags with correspondents, who were actually off to the side of Stewart's desk) to recap the debate, including Lewis Black, who joked that he was assigned to cover Chris Christie because they're both "angry assholes," and Kristen Schaal, who said she thought Stewart had been replaced by now.
Other special guests returning to the show included Ed Helms, Olivia Munn (70th birthday cake in tow), Jason Jones and Steve Carell, who joked that "becoming a superstar was just something I did while waiting for my next assignment." Larry Wilmore told Stewart that he was stopping by because he had "nothing else to do, [because] The Nightly Show" got bumped by Stewart's one-hour finale. One by one, more and more past stars of the show emerged to rib Stewart and joke at the expense of their current gigs. Wyatt Cenac appeared from afar for a brief moment during which he and the host shared a friendly nod, subtly alluding to having patched up their rocky relationship.
Even some heavily mocked politicians and pundits appeared in pre-filmed tributes. The segment was ornery, with a theme that only could have worked for The Daily Show: objects of Stewart's mockery and scorn showing up to say good riddance. Among the herd were Governor Chris Christie ("I'll never forget you, Jon, but I will be trying"), Representative Charles Rangel ("Good riddance, smartass"), Chicago Mayor Rahm Emanuel ("What has nine and a half fingers and won't miss you at all?") and Senator John McCain with a puppet ("So long, jackass").
The highlight, aside from McCain muttering the word "jackass," was something altogether more predictable: an appearance by one of Stewart's most high-achieving alumni, long-departed Daily Show correspondent (1997–2005) Stephen Colbert. Freshly groomed for his upcoming Late Show debut, Colbert regaled Stewart with a long-winded Lord of the Rings analogy and then went off-script for a more candid farewell as Stewart visibly squirmed and tried to cut to a commercial break.
"We owe you, and not just what you did for our career.... We owe you because we learned from you," Colbert told his old boss, explaining that former Daily Show contributors are both better comedians and better people for having known Stewart: "You are infuriatingly good at your job!" In a rant that was both eloquent and seemingly unrehearsed, Colbert thanked Stewart and made the host uncomfortable by expressing the gratitude shared by all correspondents (read: not politicians). The two men shared a tearful hug before cutting to an actual commercial break.
This was tough to top, so instead the show took a classy turn by delving behind the scenes and touring the show's staff of writers and producers. (The long tracking shot and Motown soundtrack was a nod to Goodfellas, made even more meta by including a cameo from Martin Scorsese himself.)
Then came the already-iconic "Bullshit is everywhere" speech. Watch it here, because reading it is not sufficient:
Stewart closed by downplaying the finality of the evening: "I'm going to just say, 'I'm going to get a drink, and I'm sure I'll see you guys before I leave.'" Oh, right, there was another special guest, this time leading Stewart's "Moment of Zen": Bruce Springsteen and the E Street Band. Generation gap aside, the pick made some sense—Springsteen shares Stewart's home state of New Jersey, which the host pays tribute to frequently (most notably while covering corruption in the Christie administration).
Springsteen wished Stewart "happy and safe travels" before launching into the wistful "Land of Hope and Dreams" and the more recognizable "Born to Run."
The episode finally came to an end with a tear-studded full-cast dance and singalong set to "Born to Run"—because that's just how late-night shows end now and because fading to black after the bullshit-is-everywhere speech would be too bleak, even for Jon Stewart's Daily Show.