You might call it a filmography. Jonah Hill calls it an education.
"I was privileged enough to have this 15-year film school from some of my favorite directors," Hill says, sitting on a couch in the Manhattan offices of A24, the film distribution company that's picked up his first movie, Mid90s. He lists the filmmakers who've taught him about the craft: Martin Scorsese, who turned him into a sleazy pump-and-dump stock broker and directed him to an Oscar nomination in The Wolf of Wall Street, and Bennett Miller and Spike Jonze, whom he calls his "closest mentors."
Actually, Jonze's screenwriting wisdom helped shape the entire narrative of Mid90s, which Hill directed and spent three full years writing, amounting to 20 drafts. It's a warm and nostalgic coming-of-age film, set against the Los Angeles skater scene of Hill's youth. Stevie (Sunny Suljic), the film's 13-year-old protagonist, struggles with a troubled home life and finds escape with an older and savvier band of skater teens.
Hill is quick to state it's not an autobiographical story. But it is, he says, "my heart."
It's been 11 years since he catapulted to fame in the hyper-raunchy high school classic Superbad, and seven since he starred in Miller's Moneyball—the movie that forced the film establishment to take him seriously as an actor. All the while he fantasized about becoming a director. Now, at 34, he is one.
Hill spoke to Newsweek about moving from acting-to-directing, Mid90s's glorious hip-hop soundtrack and what it was like to attend "Jonah Hill Day" as, well, Jonah Hill. This interview has been slightly condensed for clarity.
You describe this movie as your heart. What do you mean?
I just put a lot of my heart into it. I looked at my heroes—people like Mike Nichols or Barry Levinson, people who started in comedy and became great filmmakers. You look at their first films and you go, Wow, those films clearly meant something to them.
All the years you were acting in films, were you secretly fantasizing about being on the other side of the camera?
Yes!
Was it scary to make the leap?
Terrifying. But it was what I've wanted my whole life. A mistake I often saw was people doing it just to do it, you know? If I wanted this to be a career I'll be privileged enough to continue—to make another film—I knew I had to wait until I had the skills, confidence and maturity to lead. All these directors I worked for were like professors. I got to just... learn. And you learn as much from people's mistakes as their triumphs.
What did you learn from Scorsese on Wolf of Wall Street?
I mean...do you have a few days? I think he's the greatest living filmmaker. To watch someone on that level run a film set, tell a story, fix problems—the highest level of directing skills I've seen are high-end problem-fixing. I've seen master directors take an hour to fix a problem that it would take Scorsese 30 seconds.
You snuck a Scorsese tribute into Mid90s, when Goodfellas is playing on a TV in Stevie's house.
A tip of my hat to someone I adore and respect and look up to in my first film.
I loved all the '90s hip-hop in the film, like the Pharcyde and GZA. Did you handpick that music? Are you an old-school hip-hop fan?
Yeah, I was the music supervisor on the film, and I'd written the scenes to those songs. Skateboarding is often butchered in film, which was a big reason I made Mid90s. But so is hip-hop. Often in films it's used to show "hood stuff" or, like, "balling." To me, it was the emotional backbone of my youth. A Tribe Called Quest is to me what The Beatles were to my parents. It was important to show that elegantly and to show that art form respect, because it's given me so much.
Who else were you into?
Souls of Mischief, Mobb Deep—still am. Tonight we're having a party [after screening the film] with Prince Paul and Q-Tip. It's a movie celebrating certain cultures, but also in the super-elegant film world. To bring hip-hop up to that level is important because it is high art. To me, it is as much high art as any other art form to me.
The film is called Mid90s. Could the story be set in 2018?
The only reason to set it in the mid-'90s was because there were no [cell] phones. At it's core, it's a movie about this group of friends at a time when it's you and your friends versus the world. The reason why those close friendships were able to form, in my perspective, was because we didn't have phones. We were skating around and waiting for the bus or just talking—we didn't have gadgets to break away from that connection. But I [also wasn't interested in] nostalgia porn or skate porn. If you made it today, it works just as well as a character and emotional story.
There have been a few films set in the mid-'90s recently, like Landline and Adam Sandler's Sandy Wexler. What draws filmmakers to that era?
I didn't see either of those films, but Mid90s was a story that meant something to me in the time period I grew up, which I had 20 years to reflect on. If I look at movies like Dazed and Confused or Diner, there's usually a 20-year kind of clock where people have the time and perspective to look back.
Is Mid90s autobiographical?
The film is in no way an autobiography. But there are things that are highly personal—mostly just the emotions of growing up, what things felt like.
Did you feel like a misfit when you were Steve's age?
I really connected with skateboarding because of the "anti" ethic—the island of misfit toys, the group of outsiders, that come together to form a family. That's a beautiful thing skateboarding provides.
Did your parents disapprove, the way the mom does in the film?
They were supportive of me skateboarding. They were less enthused once they found out it was illegal to skateboard in a lot of the places we skated, which we represent in the film—how exciting it is when you're 12 and you're skating at an illegal place and you have to run from the cops. Probably the most thrilling moment of my life, still, is when we ran from the cops at the court house.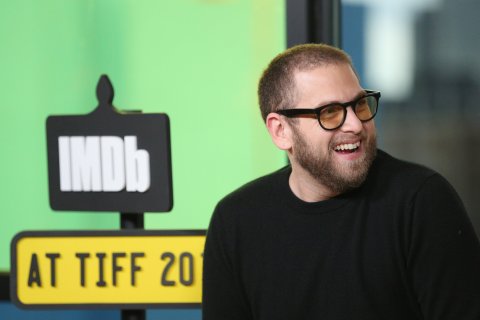 Do you worry that people will see the words "A film by Jonah Hill" and expect something raunchier, in the vein of, say, Superbad?
I can't manage people's expectations. For me, this is my first album, my first painting. As an actor, you're a color in someone else's painting. I've been a green for a while, and I like being a green, but if the filmmaker wants to make it purple, that's what they're going to do. For me, this is my first expression.
You're still acting, of course. In October, Netflix released the series Maniac, which co-stars Emma Stone, who worked with you on Superbad. What's it like to work with her again?
Amazing. I love her. She's remained a very close friend since Superbad. I just wanted to have her contractually obligated to spend four months with me. Honestly, I just signed the dotted line when I heard Emma was going to be there. She is, as an artist and a person, as great as it gets.
James Haris, Lawrence Schlossman and Jeremy Robinson-Leon, hosts of the podcast Failing Upwards, inaugurated Jonah Hill Day in 2017, in part because they love your style. I hear you attended this summer. What did you make of it?
[laughs] It's amazing! I mean, it's a total blast. I love that they are into how I dress. I really am into fashion and think that that's a cool form of personal expression.
What did you think when you found out about it?
I didn't go the first year. I went the second, when I found out how much these people actually are coming from a place of love and celebration. Who wouldn't be flattered by something like that?
Do you like being an Instagram icon?
I don't know if I'd refer to myself as that. I just like to live my life and make things that matter to me.
Are you already planning to direct another film?
Right now all I want is get the word out about Mid90s. If I'm lucky enough to make another film, then I feel like I won.