'Landline' is a Sweetly Nostalgic Indie Comedy Starring Jenny Slate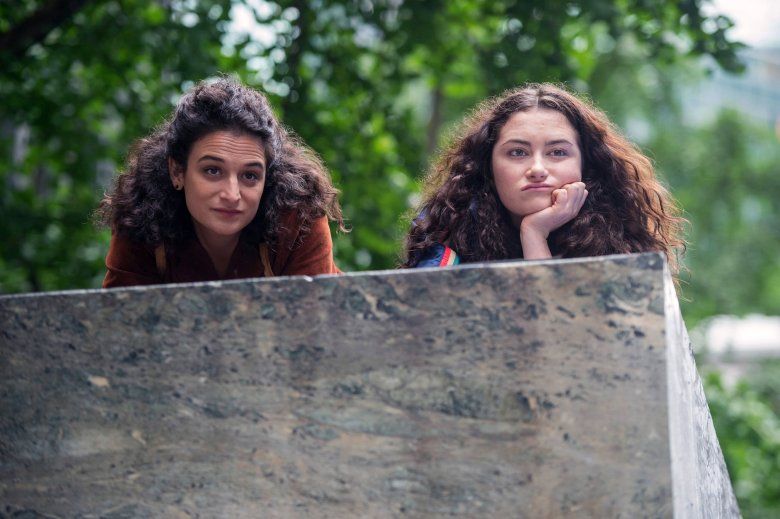 Landline, the new film from writer/director Gillian Robespierre and screenwriter Elisabeth Holm, is one of those sweet, delightfully messy films where every character is going through their own internal crisis. Basked in the warm glow of '90s nostalgia, the movie is set in Manhattan between Labor Day and late fall, 1995. It's a more innocent time: Pavement and PJ Harvey classics blare from the cassette decks, Blockbuster rentals are everywhere and a 20-years-younger Hillary Clinton is on TV delivering her 1995 Beijing speech.
Jenny Slate, the talented star of Robespierre's last film, Obvious Child, plays Dana Jacobs, a sharp-witted twenty-something woman who is a handful of years out of college and, in her own words, "flailing." Dana, clad in faded jeans and brown corduroy jackets, does layouts for some unspecified magazine that barely knows she exists. She's pretty sure she loves her fiancé, a lovable dork named Ben (Jay Duplass) who's too vanilla to say the word "pussy" during sex. But the thought of settling in for a lifetime of marriage seems terrifying, especially when Dana starts cheating on Ben with a hunky, slightly sociopathic college acquaintance who's unafraid to go down on her in a movie theater (Finn Wittrock, of The Big Short/La La Land fame).
Meanwhile, Dana's 17-year-old sister, Ali, experiments with hard drugs and feuds with her parents by sneaking out to have awkward sex with her sort-of-boyfriend. (Abby Quinn, a young actress not yet born in 1995, plays Ali with the right mix of angst and curiosity, stewing in a bedroom outfitted with Winona Ryder glamor shots and Sonic Youth posters.) The family monogamy crisis grows a generation wider when Ali and Dana discover that their father, a frustrated copywriter who wants to be a playwright, is having an affair. (Ali stumbles upon the awful erotic poetry he writes to his mysterious mistress; the sisters pore over it in some of Landline's most uncomfortably hilarious scenes.) A goateed John Turturro gives a convincing performance as the dad (I was instantly reminded of Barton Fink, where Turturro played an actual playwright), while Edie Falco spends much of the film frowning as the sisters' mom, though her character gets added depth during the final 20 minutes. (The only character left a bit underdeveloped is Ben, the scorned boyfriend.)
The plot can feel pretty familiar if you've seen other dysfunctional-family indie flicks, like Noah Baumbach's Squid and The Whale, but Landline's screenplay is fast, honest and unrelentingly funny. And the performances—especially those from the younger actresses, with their frank sisterly chemistry—carry the project. Slate is wonderful as Dana. It's a part that's so perfect for the actress, with her roaring, infectious laugh and ability to modulate between physical comedy and sudden vulnerability, that you wonder how the filmmakers could have considered anyone else for the role. Slate's character spends much of the movie meditating on tough questions about monogamy and what it means to stay in love, and it's a curious coincidence that Slate played this role while herself going through a divorce.
The film's title, it seems, is an affectionate nod to the mid-'90s world the characters inhabit—a bygone era when landline telephones had a place in every teenage bedroom and forbidden flirtations took place in grungy record stores instead of late-night texts. (In fact, Other Music, the beloved, recently shuttered Manhattan store, makes a surprise appearance as the setting for a pivotal scene.)
Related: Mistress America review: Noah Baumbach's wry, charming sister comedy
Robespierre seems to eschew one-dimensional titles—Obvious Child, her last film, took its unusual name from a Paul Simon song. This title isn't quite so ambiguous, but it does signify how much Landline's charm is boosted by a nostalgic sensibility that's gentle and genuine and not cheaply feigned. Nineties nostalgia is everywhere these days, from Sandy Wexler to Twin Peaks to the "I Love the '90s" cruise spectacle, but Landline doesn't exploit the retro setting for gimmicky punchlines. Amidst the turmoil of 2017, 1995 feels like a comfortable and quaint world to step back into.
Plus, many of the film's most affecting scenes prominently feature that now-archaic instrument of connection and conversation, the landline telephone. There's the excellent scene where Dana crankily negotiates her phone messages from an old-school phone booth; then there's the part where she cries on the phone to her confused boyfriend, and—OK, let's not spoil it all. Go see the film. Or wait for it to come out on VHS.