All the Glaring Period Errors We Could Find in Adam Sandler's New Netflix Movie, 'Sandy Wexler'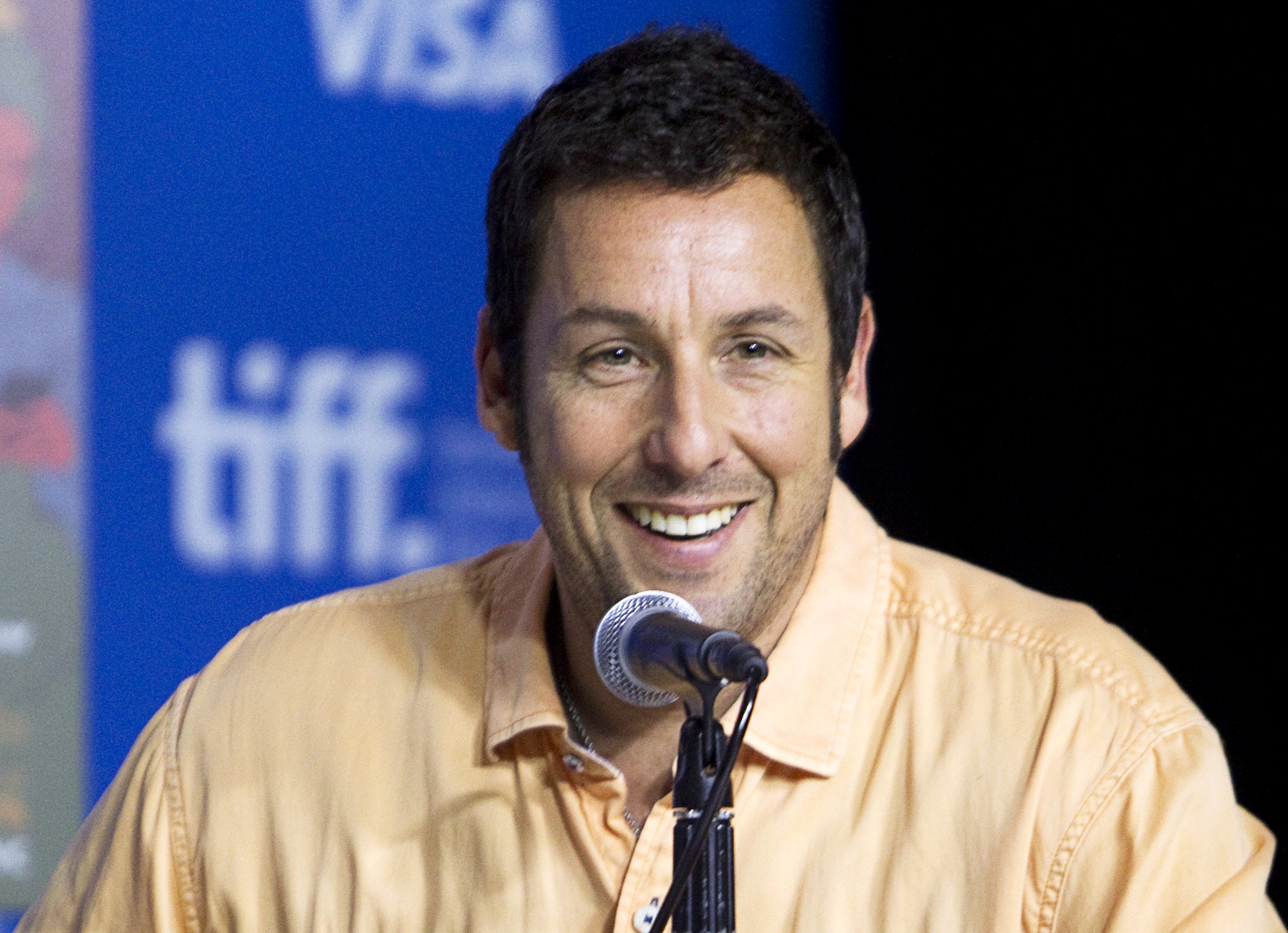 Last night, while watching the new Adam Sandler movie, Sandy Wexler, I became enraged during the first five minutes.
Not because it wasn't very funny (I expected that) or because Sandler spends the entirety of the film speaking in his squeaky Jewish-grandma voice (I didn't expect that). I was alarmed by a particular shot of Tower Records during the opening five minutes. The scene, you see, takes place in 1994. The Tower Records is advertising Smashing Pumpkins' double-disc opus Mellon Collie and the Infinite Sadness, which wasn't even recorded until the spring of 1995.
Sandy Wexler—in which Sandler plays a bumbling, incompetent talent manager who stumbles upon a way-too-talented singer (Jennifer Hudson)—is the latest entry in the comedian's absurdly lucrative deal with Netflix. It's OK. To its credit, it is not The Ridiculous 6. There are some laughs (one of which involves the phrase "vaginal discharge") and dozens of cameos, spread across a familiar plotline and inexplicably lengthy runtime. (Who needs a 130-minute Adam Sandler movie?)
What's curious is that the film takes place in a distant-but-not-too-distant past: mid-1990s Los Angeles. In this way, it's a tribute to the culture that birthed Sandler's fame. (The Wexler character is loosely based on Sandler's own manager, Sandy Wernick.) The movie is also rife with easily correctable period errors, which are fairly indicative of the laziness of the filmmaking. We tried to count them all.
(This post contains some very minor spoilers.)
1. 'Mellon Collie' and the infinite sloppiness.
So, here's the offending shot: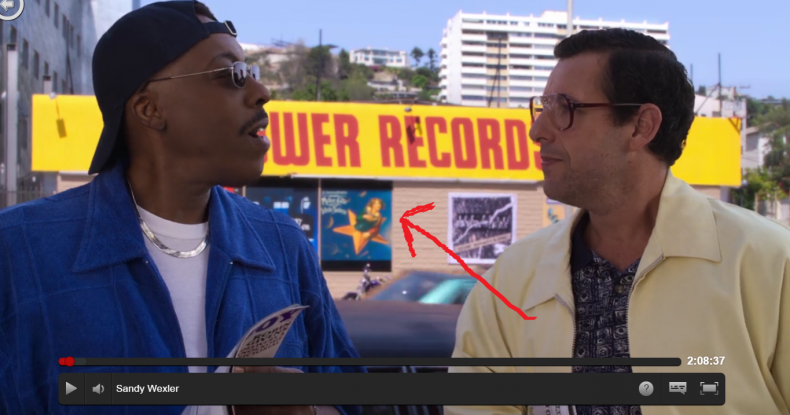 The other album covers that are visible in this scene are all 1994 staples: Oasis's Definitely Maybe, Boyz II Men's II, Ice Cube's Bootlegs & B-Sides and some country CD I can't quite identify (help?). Which makes it all the more baffling that they decided to make Mellon Collie the most prominent one.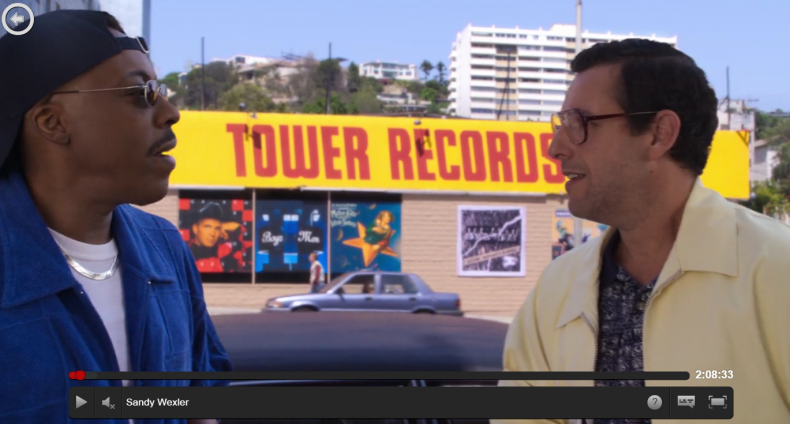 2. Apparently, lots of CDs from 1995 were on sale in 1994.
Here's what it looks like when the Sandy Wexler character goes into Tower Records: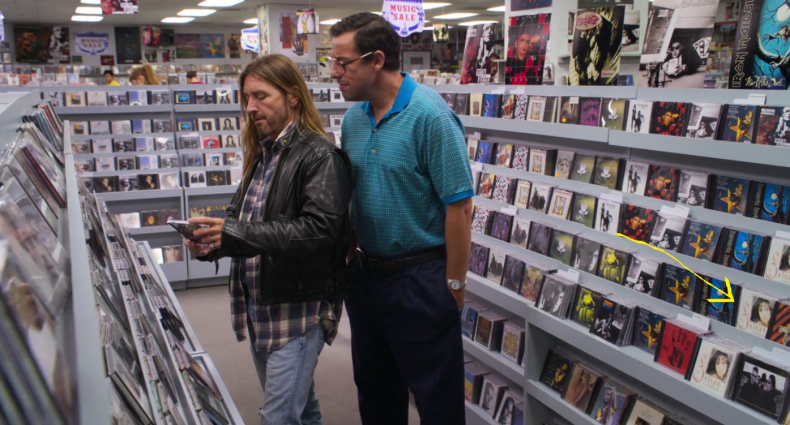 This scene takes place in 1994. The producers did a pretty good job of approximating what a music store would look like in 1994. Here are some of the CDs for sale behind Sandler: U2's The Joshua Tree, the Beastie Boys' Ill Communication, Guns N' Roses' Use Your Illusion II, Mazzy Star's So Tonight That I Might See (great album), Red Hot Chili Peppers' Blood Sugar Sex Magik, Fleetwood Mac's Rumours, Tom Waits's Franks Wild Years, Fleetwood Mac's Greatest Hits and Iron Maiden's Fear of the Dark. Those albums all existed in 1994 or earlier.
However, on the far right, we see Smashing Pumpkins' Mellon Collie (again), Joan Osborne's Relish and Selena's Dreaming of You, all of which were released in 1995. Also, is this supposed to be the rock section or the new releases section? If the former, why isn't it in alphabetical order? And if the latter, what are those old Fleetwood Mac and U2 CDs doing there? What a lazily designed set!
3. The way-too-famous Whisky a Go Go lineup.
In this same early scene, we see a shot of the Whisky a Go Go, the famous West Hollywood nightclub. The building is plastered with then-recent album covers (The Offspring's Smash, Hole's Live Through This, R.E.M.'s dollar-bin classic Monster). The marquee says: "FRIDAY NIGHT: GREEN DAY."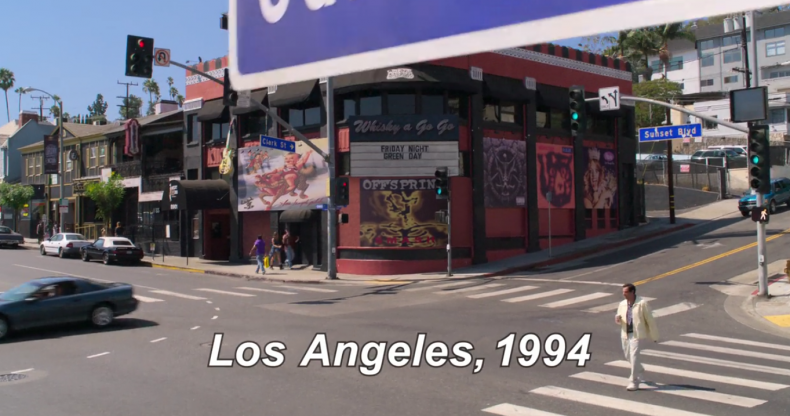 This scene evidently takes place in the summer or fall of 1994, since Arsenio Hall is seen reading the September 1994 issue of Playboy. The problem, of course, is that by mid or late 1994, Green Day was way too famous to be playing the Whisky a Go Go, which has a capacity of only 500. The pop-punk band might have been headlining the Whisky the prior year. (In fact, they did play there, with Rancid, on June 2, 1993.) But Dookie came out in February of '94, and soon Green Day was touring "arenas and theaters," according to a Rolling Stone profile. When the trio played Hollywood that year, they played the Palladium, which has a capacity of 3,700.
4. Contradictory movie posters
This shot is, again, from the place-setting sequence near the beginning of the film: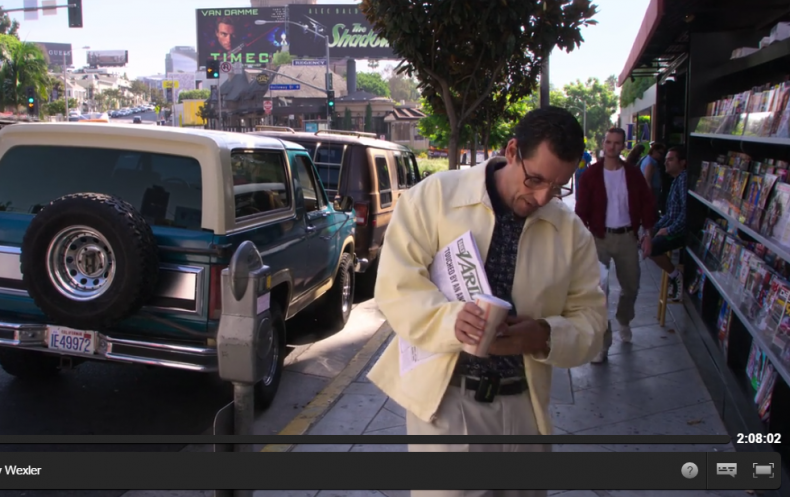 There are two movies being advertised on the billboards in the background: Timecop and The Shadow. These are both big-budget releases from 1994. But The Shadow was released on July 1, 1994, while Timecop was released a full two-and-a-half months later, on September 16. Why were they being advertised on two adjacent billboards on the same day??
Related: Netflix users have spent half a billion hours watching Adam Sandler movies
5. George magazine? No thanks!
In this shot, also from 1994, Sandler's character is browsing a newsstand and clutching an issue of Variety with the headline "Touched by an Angel renewed." Close, but not quite: Touched by an Angel, the CBS drama, premiered in September of 1994, which means it would not have been renewed until sometime in 1995.
But there is another issue with the newsstand. Look to the far right.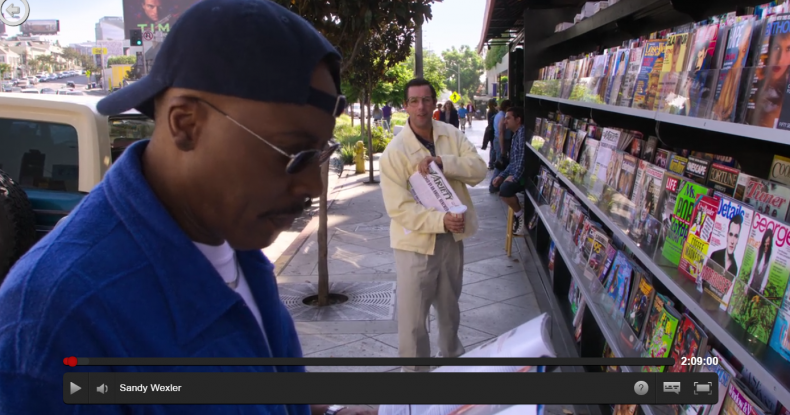 There's an issue of Details with Morrissey on the cover (that's real), and next to it is an issue of George magazine, the long-defunct monthly mag founded by John F. Kennedy Jr. The trouble is, this is supposed to be 1994 and the first issue of George didn't arrive until September 1995. Woof!
6. And yet another newsstand error!
Midway through the film, Sandler's character returns to the newsstand, where he sees his pop star protégé, Courtney Clarke, on the cover of Rolling Stone. This scene takes place some time in 1995 or 1996. George and Details once again make an appearance.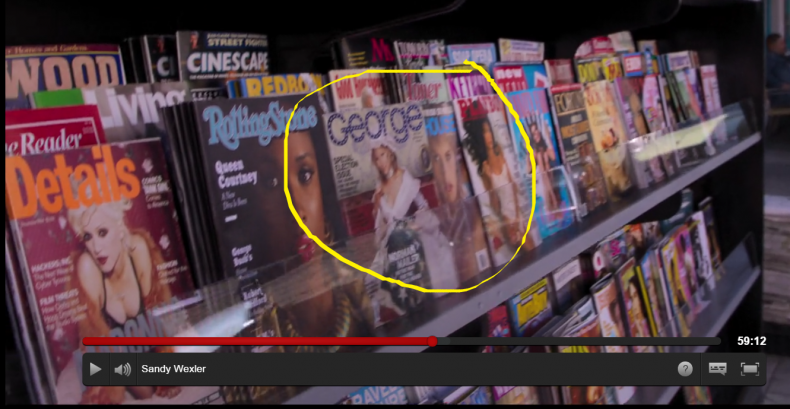 But the props director can't seem to get the year straight. That issue of George, with Barbra Streisand on the cover, is from November 1996 (it was a "Special Election Issue"). But that issue of Details, with Madonna on the cover, is from December, 1994. What are they doing on the same newsstand at the same time?
7. The curious case of the Mountain Dew can.
This scene takes place in a recording studio. Next to Sandler, there's a coke can and a Mountain Dew can.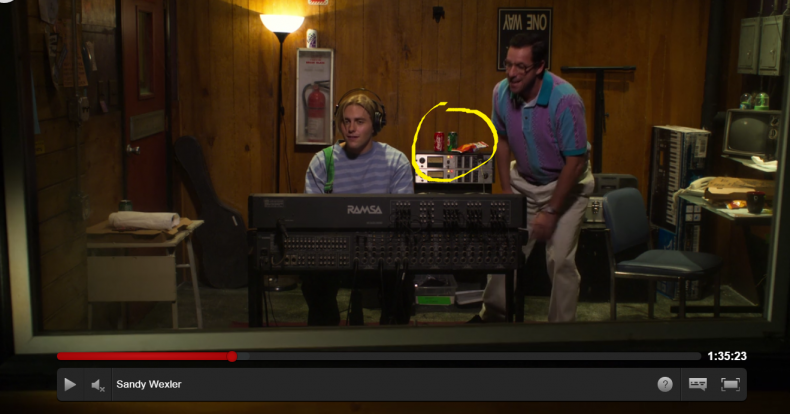 I spent way too much time studying the logo on the Mountain Dew can to try to determine whether it's what a Mountain Dew can would have looked like in 1994. I even consulted this website that shows the evolving Mountain Dew logo through the years.
I only definitively concluded that (1) I really need a new hobby and (2) the person who made a website about the history of Mountain Dew really needs a new hobby.
8. I wish you would step back from that Third Eye Blind song, my friend.
There's a later scene involving the 1995 Grammys. As the words "1995 GRAMMY Awards" flash across the screen, the song that starts playing is… "Never Let You Go" by Third Eye Blind. Which wasn't released until 1999.
OK, so maybe the song is playing on the soundtrack but not in the cinematic universe of the movie. (Like how Kill Your Darlings is set in the 1940s but still uses a TV on the Radio track.) But when the scene revolves around the 1995 Grammys, why not use a song that might have been heard at the '95 Grammys? When your movie is aiming to evoke a specific year, it generally makes sense to follow the Goodfellas rule, whereby any song that plays is a song that the character might have been listening to at the time. (No offense, Third Eye Blind. "Never Let You Go" is really good.)
9. Overanalyzing a funny reference to Prince's love life.
Near the end of the film, Sandler's character is listing all the famous people Courtney Clarke has dated: Lenny Kravitz, Prince, Apollonia.… It's a funny line, and obviously a joke. But we feel compelled to rise in defense of the Purple One. While Prince dated lots of women in the 1980s, he would not have dated Courtney Clarke in 1995 or 1996 because he was engaged (and then married) to Mayte Garcia at the time.
OK, how about five things the movie actually gets right about 1994 or 1995?
Here we go:
1. The ubiquity of Adam Sandler.
Adam Sandler is everywhere in Sandy Wexler. In fact, he stars in the movie! This is historically accurate. Adam Sandler was basically inescapable in the mid-'90s, too. Remember Billy Madison (1995) and Happy Gilmore (1996)? Then, in 1998, The Waterboy came out and earned more than $120 million at the box office.
2. These three TV posters: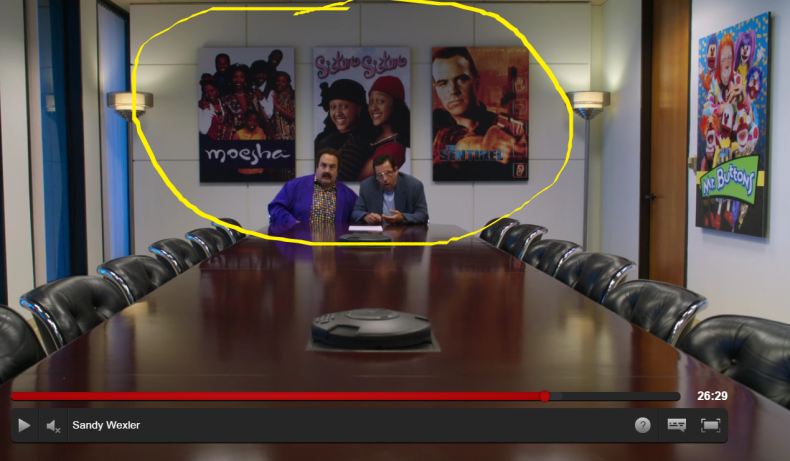 The scene takes place in 1996. Those posters might be inscrutable to a modern viewer, but Moesha, Sister, Sister and The Sentinel were all successful TV shows in the mid-'90s.
3. The R&B singer.
Jennifer Hudson, one of the movie's best assets, co-stars as a young and talented R&B singer who becomes enormously popular after being taken under Sandy Wexler's wing. Her songs are bright and peppy, and they sound impressively reminiscent of the '90s R&B boom: Mariah Carey, Boyz II Men, TLC etc. (I don't know whether the character was modeled after Mariah Carey, but the fictional singer has a song called "Butterfly"—like Carey—and another catchy hit that sounds unmistakably similar to Carey's 1995 smash "Fantasy.")
4. The Great Western Forum.
The film has a brief exterior shot of The Forum, the indoor arena in Inglewood. Except it has a different name: the Great Western Forum. That's accurate. The venue was called the Great Western Forum from 1988 until 2003.
5. But the emails…
There's a funny scene in which Lamorne Morris's character offers to send Sandy Wexler a list, then he says: "Better yet, I'll email it to you!" (It's 1995.) Wexler gets flustered, so the Morris character attempts to explain email and dial-up internet.
The whole exchange is pretty 1995. (Remember, 1995 was the year Newsweek published our famously wrong column, "The Internet? Bah!")
6. Weird Al's look.
"Weird Al" Yankovic has a pretty good cameo in Sandy Wexler. (Tons of other celebrities have cameos, too.) What impressive is that he doesn't look like Weird Al in 2017. He looks like Weird Al did in 1996, with a mustache and dorky glasses. Very historically accurate!
For context, Yankovic got laser surgery in 1998 and ditched the glasses. ("He decided to get rid of the facial hair about the same time," the singer's website notes, "although he sometimes grows it back when nobody's looking.") By the time Running With Scissors came out in 1999, Yankovic had a very new look.
Here's what Yankovic actually looked like in 1996. And here's what he looks like in Sandy Wexler: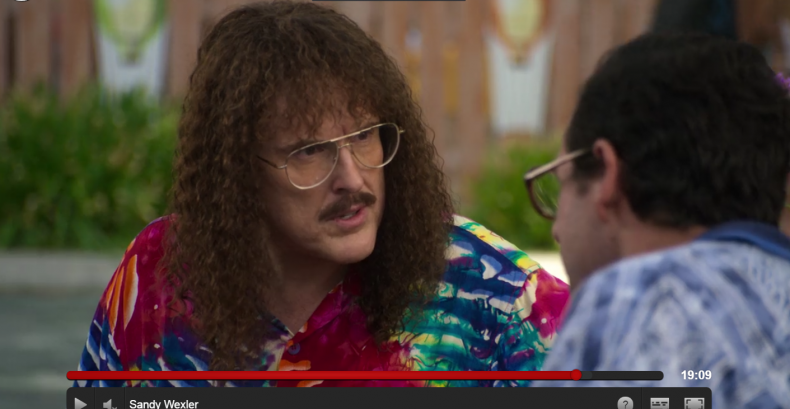 Sandy Wexler is available to stream for free on Netflix, which definitely did not exist in 1994.