'AGT: Extreme' Stuntman Jonathan Goodwin Paralyzed in Rehearsal Accident
Six months after British escapologist and daredevil Jonathan Goodwin sustained serious injuries following an accident on the set of America's Got Talent: Extreme, a big update has been announced regarding his condition.
Goodwin's fiancée, Sherlock actress Amanda Abbington, has revealed Goodwin nearly died twice after the accident, and has now been left paralyzed as a result.
In October 2021 Goodwin was rehearsing for a performance America's Got Talent: Extreme which involved him escaping from a straight jacket while upside down in the air, in between two suspended cars which burst into flames.
Instead, the stunt went horribly wrong and Goodwin became trapped between the two cars, falling 30 feet to the ground.
According to People, he missed the air mattress that was supposed to break his fall.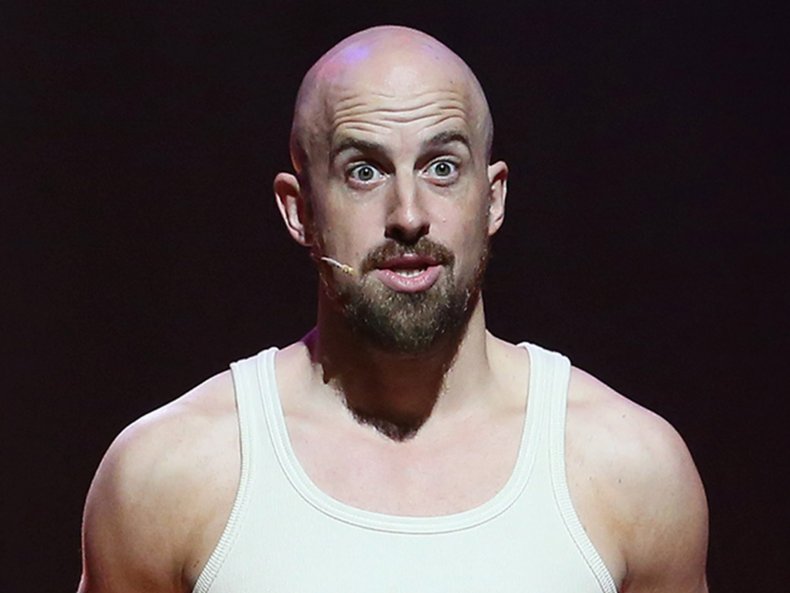 Speaking on Jay Rayner's Out to Lunch Podcast, Abbington shared some of the horrific injuries Goodwin sustained, including losing a kidney, breaking both shoulder blades, and shattering both legs.
Abbington also detailed how Goodwin nearly died twice.
She shared: "Third-degree burns, broke his spine and severed his spinal cord and nearly died. And then on the operating table, he nearly died again."
"He's paralyzed now he's in a wheelchair. Unless there's a kind of stem cell surgery or that thing that Elon Musk is designing with the little chip, he'll be like that forever."
Abbington also spoke candidly on the podcast about Goodwin's positivity since the accident, describing him as "liquid sunshine."
She said: "His courage and his strength is something that I just aspire to be like.
"He's just incredible, honestly, like so happy, just like a very happy, positive human being, just liquid sunshine. He's amazing."
Goodwin first appeared as a finalist on Britain's Got Talent in 2019, impressing audiences with escapes, illusions, and being buried alive.
He then went on to star in the American series in 2020, making it to the semifinals. He was then set to star in America's Got Talent: Extreme which focused on jaw-dropping stunt performances.
On his personal Instagram, Goodwin has been sharing several updates on his condition. In the aftermath of the accident, on October 20, 2021, Goodwin made an emotional statement on Instagram from his hospital bed, thanking his family and fans for their support.
He added: "I have been to the very brink and dodged the worst that a human being can, without fear...because I was protected by love. Love is all you need, so make sure you get some, cos its good s***. To death I say nananana boo boo... and to the rest of you... watch this space."
On Tuesday, May 3, Goodwin shared an image of him for the first time in a wheelchair holding his pet dog on his lap.
He was released from the hospital in February.
Goodwin wrote: "Six months ago I went to rehearse something and left this little hairy monkey waiting patiently for me...he didn't see his dad again until just a couple of weeks ago and when he finally did, dad had new cool wheels. A lot has changed in the last six months, but love is a constant, and I'm very very loved. Looking forward to my next chapters and being a roll model."
At the time of the accident, America's Got Talent: Extreme released the following statement and production was temporarily shut down.
"During a rehearsal last evening for America's Got Talent: Extreme, an accident occurred in which escape artist Jonathan Goodwin was injured while performing his act.
"He was responsive and was immediately taken to the hospital where he is continuing to receive medical care. Our thoughts and prayers go out to him and his family as we await further updates on his condition."
Newsweek has contacted America's Got Talent: Extreme representatives for comment.
America's Got Talent Season 17 begins Tuesday, May 31 on NBC