Former stockbroker and the subject of the 2013 biopic The Wolf of Wall Street Jordan Belfort said Friday that complaints from hedge funds about stock market actions that caused them to lose millions of dollars were "laughable."
Retail traders, many of whom were part of the Reddit stock trading forum r/WallStreetBets, bought large amounts of shares of GameStop stock this week. Some hedge fund managers had procured GameStop stock in the hopes that it would decrease in value, part of a practice known as "shorting" or "short selling."
When the stock in GameStop rose, hedge funds suffered financial loss. On Thursday, the commission-free trading app Robinhood halted purchases of GameStop stock, causing some observers to believe external pressure led the company to announce the restrictions.
In an interview with Fox News host Sean Hannity, Belfort said hedge funds engage in short selling on a regular basis.
"I think it's laughable for the hedge funds to cry foul after they do this every single day on a daily basis," Belfort said, "Manipulate stocks, box out the small investor."
Short selling is "a healthy part of the normal stock market," Belfort said. However, he viewed how some people short-sold GameStop stock as a way of "manipulating the stock downward to drive it out of business. That happens all the time."
Belfort said that Robinhood's decision to halt the trading of GameStop stock on Thursday could cause people to "go to jail."
"If it turns out that they shut down trading at the behest of funds saying 'you need to slow down the buying,' the level of criminality there would be unprecedented," Belfort said.
Robinhood founder Vladimir Tenev said Thursday that the transactions were restricted "in order to protect our firm and our customers."
"We absolutely did not do this at the direction of any market maker or hedge fund or anyone we route to or any other market participants," Tenev told CNBC.
Newsweek reached out to GameStop for comment.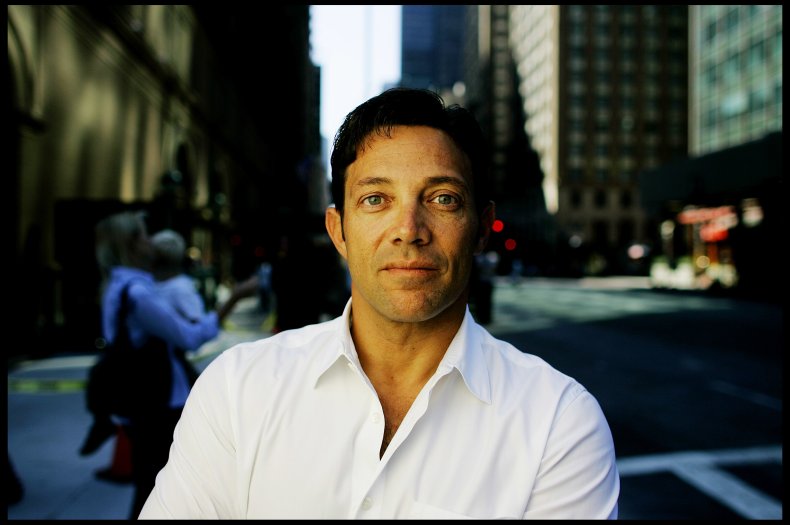 A "short squeeze" indicates a high amount of interest in a company's stock over a short window of time. When a stock that analysts had been hoping would drop generates interest, hopeful investors often purchase stock in that company, increasing the stock's value.
Investors that had shorted that company's stocks find themselves with shares they can only divest themselves of at a financial loss. If a broker initiates a margin call against a stock that has been shorted, investors either need to cover their investment with more money or sell their stock at a reduced rate, effectively squeezing them out of stock ownership in that company.
Robinhood allowed limited purchases of GameStop stock on Friday driving GameStop's shares up by approximately 65 percent. However, Robinhood's temporary block on the purchase of GameStop stock by retail traders has drawn negative attention.
On Thursday, a class-action lawsuit was filed against Robinhood in a Manhattan federal court alleging that the trading app "deprived their customers of the ability to use their service" when it "abruptly, purposefully, willfully, and knowingly" blocked transactions on GameStop stocks.
New York Democratic Representative Alexandria Ocasio-Cortez called Robinhood's temporary transaction blockage "unacceptable" on Thursday, adding in a tweet that as a member of the House Finance Committee, she would "support a hearing if necessary."