Jordan Peterson Mocked for Complaining About Toilet Paper—'Tyranny'
Jordan Peterson has been relentlessly mocked on Twitter after he complained of the "tyranny" regarding a sign posted on a paper towel dispenser that asked users to recycle and be mindful of excessive use.
The Canadian psychologist and media personality, 60, took to the social media platform earlier this week to post a photo of the sign from the City of Vancouver that had infuriated him.
"Remember, you don't need an arm's length of paper towel to dry your hands," read the sign. "Use less and place what you use in the paper towel receptacle provided—it's compostable. Place all other waste in the garbage can."
Posting the image on Twitter, Peterson vented his frustration over the advisory, writing: "Up yours, woke moralists. Tyranny is always petty—and petty tyranny will not save the planet."
"Why does this bother me?" Peterson said in a follow-up tweet. "Because (1) it's celebrated (2) it's everywhere and (3) people are wilfully blind to it."
Unfortunately for Peterson, his take on the issue was met with widespread derision on the platform, as his tweet went viral.
"This guy has become a peculiar and rather sad case—he picks the stupidest fights, seems riven by unmodulated rage, and has lost his ability to articulate anything beyond a regurgitation of his earlier hits," said one Twitter user.
Activist Charlotte Clymer responded: "Sir, you don't need paper towels. You seem pretty self-absorbed."
"When everything just seems too hard and the world is piling on, remember that it could be worse," another tweeted. "Put yourself in someone else's shoes. You could be Jordan Peterson faced with a sign asking you not to waste paper towel. That's true hardship."
"I hope you've been able to stop crying by now. Good luck with the long road to healing," said historian Kevin Kruse, while journalist Josh Marshall asked Peterson: "You have no capacity to feel embarrassed do you?"
"Imagine being as well-educated on culture and history as Jordan Peterson clearly is, and thinking this mumbled request not to waste paper is 'tyranny,'" comedian Mark Watson commented.
"There's a lot to unpack here, but my main takeaway, over and above 'Jordan Peterson is a threat to plumbing everywhere,' is that this man genuinely seems to think 'Up yours, woke moralists' is a compelling catch phrase," said another.
"At this point 'woke' means being politely asked to do something innocuous that benefits other people," Bleacher Report writer Adam Herman tweeted.
Another shared a photo of Peterson crying, alongside the caption: "Jordan Peterson when he sees a 'please don't litter' sign."
While the large majority of those commenting mocked and criticized Peterson for his fury at the sign, a minority spoke out in support.
Questioning the logic of the advisory sticker, one person wrote: "They printed a bunch of paper telling people to use less paper."
Another argued with their fellow Twitter users about the necessity of the sign, responding: "Maybe when they only allow 2 squares of toilet paper to be dispensed per visit, you'll get it."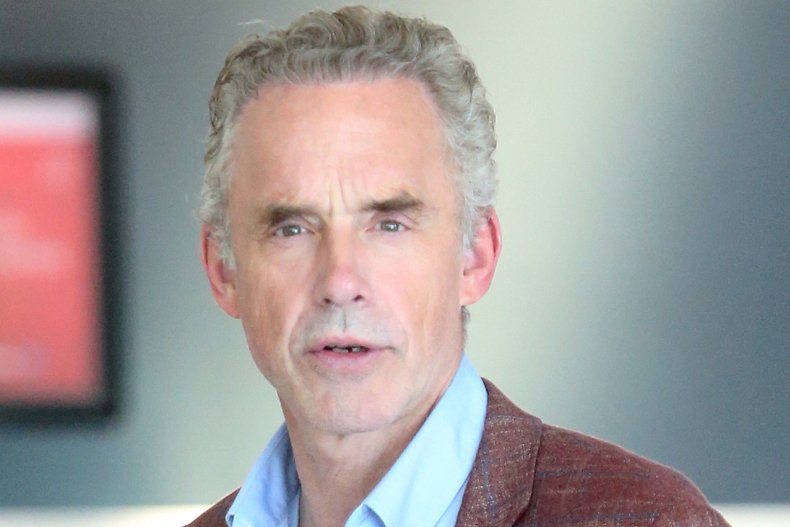 Peterson has faced backlash for his views in the past. In July 2022, his Twitter account was suspended indefinitely after he refused to apologize for comments he made about trans actor Elliot Page. He was later reinstated when Elon Musk took over the social media platform.
Last year, Don't Worry Darling director Olivia Wilde described Peterson as a "pseudo-intellectual hero to the incel community" in Interview magazine,
"Incels," short for involuntary celibates, refers to an online subculture of men who express extreme resentment and hostility to women in their online discussion groups.
When asked about Wilde's comment during an interview with Piers Morgan in September, Peterson got emotional as he responded: "You know, people have been after me for a long time because I've been speaking to disaffected young men."