Josh Hawley's 2024 Election Chances Halved With Bookmakers After Capitol Riot
Missouri Senator Josh Hawley—considered a rising star of the Republican Party and a potential contender for president in 2024—has seen his White House chances ebb away following the violence in Washington D.C., a leading bookmaker said.
Hawley was highly regarded within the GOP, but has been tarnished by his support for President Donald Trump's unsubstantiated claims of election fraud.
The 41-year-old has also drawn criticism for his apparent backing of the rioters who stormed the U.S. Capitol on Wednesday afternoon—a siege that left five people dead and America's global reputation for democratic stability in tatters.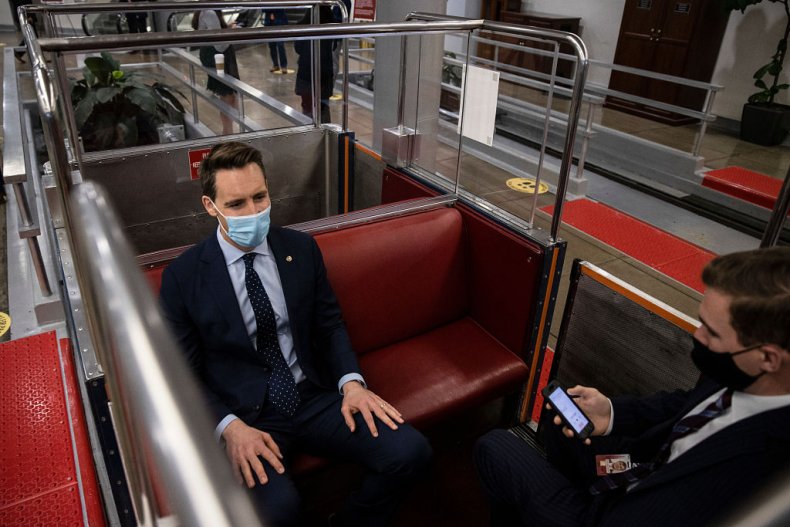 UK-based bookmaker Betfair said Hawley, while "always an outsider," had drifted further in the 2024 presidential betting market, to 80-1 on Friday from 50-1 in the days before the riot.
Those odds gave Hawley just a 1 percent chance of winning in 2024, Betfair said, down from 2 percent days earlier.
Criticism of Hawley came thick and fast following the D.C. insurrection, when the senator reportedly greeted pro-Trump protesters with a raised fist.
A Missouri businessman who spent millions of dollars funding his political campaigns disavowed the lawmaker, accusing him of inciting the riot and calling for his censure.
Shamed Dogan, a Republican member of the Missouri House of Representatives, also said he regretted supporting Hawley.
"I have never regretted a vote as much and as quickly as my vote for @HawleyMO in 2018," he tweeted. "His refusal to accept the legitimacy of Joe Biden's election, even after today's violence, is an embarrassment."
Hawley was a controversial figure even before the ransacking of Congress.
He was the first Republican senator who pledged to oppose the congressional certification of Biden's Electoral College win.
He claimed he wanted to highlight that "some states, particularly Pennsylvania, failed to follow their own state election laws."
His stance on the congressional vote triggered protests outside his Virginia home on Monday.
"Tonight while I was in Missouri, Antifa scumbags came to our place in DC and threatened my wife and newborn daughter, who can't travel," Hawley wrote on Twitter.
"They screamed threats, vandalized and tried to pound open our door. Let me be clear: My family & I will not be intimidated by leftwing violence."
Juan Vazquez, a spokesperson for the Town of Vienna Police Department, described the demonstration as "peaceful" and said "everyone just left" when they were told they were violating several laws.
"There were no issues, no arrests," he said. "We didn't think it was that big of a deal."
Hawley's position has also cost him a book deal with Simon & Schuster.
The publishing company said it "cannot support Senator Hawley" in the aftermath of the riot.
Newsweek has contacted Hawley's office for comment.