Josh Hawley, Khiara Bridges Clash Viewed 8M Times, Sparks Furious Debate
The video clip of Republican Senator Josh Hawley of Missouri and Berkely law professor Khiara Bridges clashing over trans issues has gone viral on social media and has been viewed over 8 million times.
During a Senate hearing focussing on abortion policy on Tuesday, an argument erupted between Bridges and Hawley when he questioned a phrase the professor used.
Bridges used the phrase "people with a capacity for pregnancy," which is considered a gender-neutral term that also recognizes transgender men and non-binary people.
The debate surrounding abortion, women's rights and trans rights has recently become more fierce following the Supreme Court's decision to overturn Roe v. Wade.
The clash between Hawley and Bridges has also sparked a debate on these topics online, most notably the discussion on whether to use more LGBTQ+ friendly or gender-neutral terms.
The video of the back and forth between the pair was posted on Twitter multiple times on Tuesday and when combined, the videos had been viewed more than 8 million times.
The video posted by the Twitter page Acyn had been viewed more than 5.6 million times. A clip posted by Huffington Post's Alanna Vagianos has been viewed more than 1.4 million times.
The Twitter page for the publication The Recount also saw more than 1.2 million views when it posted the video.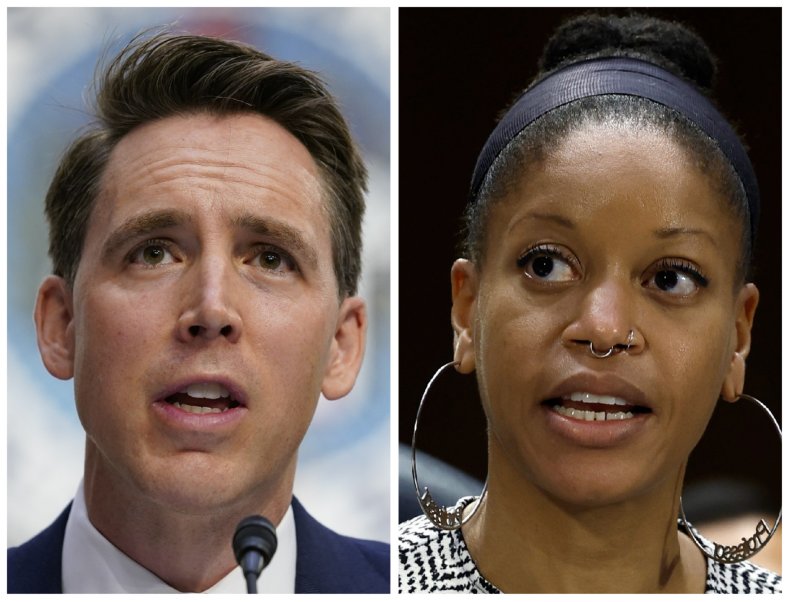 "You used a phrase several times—I want to make sure I understand what you mean by it," Hawley said to Bridges during the hearing. "You've referred to people with a capacity for pregnancy. Would that be women?"
"Many women, cis women have the capacity for pregnancy," Bridges replied. "Many cis women do not have the capacity for pregnancy. There are also trans men who are capable of pregnancy, as well as nonbinary people who are capable of pregnancy."
Hawley replied: "So this isn't really a women's rights issue."
"We can recognize that this impacts women while also recognizing that it impacts other groups," Bridges answered. "Those things are not mutually exclusive, Senator Hawley."
Hawley said: "Alright, so your view is that the core of this right then is about what?"
Bridges then replied: So I want to recognize that your line of questioning is transphobic. It opens up trans people to violence by not recognizing them."
"Wow," Hawley responded. "You're saying that I'm opening up people to violence by asking whether or not women are the folks who can have pregnancies?"
The debate has seen people from both political sides reflect on the incident and claim victory in the trans argument.
Following the argument, Hawley took to his own Twitter page to comment on the incident. He was met with support from some social media users and condemnation by others.
"The Democrats say what they really think: men can get pregnant and if you disagree, you are 'transphobic' and responsible for violence," he tweeted.
He added: "For today's left, disagreement with them = violence. So you must not disagree."
UC Berkeley Professor Khiara Bridges called Senator Josh Hawley 'transphobic' for saying he believed men cannot get pregnant," Act for America founder and author Brigitte Gabriel tweeted.
"Imagine paying $$44,066 + room and board to be taught this nonsensical fake science."
"The 'questioning gender ideology will get trans people killed' thing has always struck me as bizarre," associate editor for the Reason magazine Liz Wolfe tweeted.
"High suicide rates are worth treating on their own, not acting like it's all Josh Hawley's fault (your mental state shouldn't be contingent on his approval of your choices."
In a follow-up tweet, Wolfe added:" It's such a tenuous and flimsy connection, such an escalation to pretend that questioning, curiosity, confusion, or skepticism have the power to take otherwise mentally stable people to horrific places of suicidal ideation. It strikes reasonable people as... false."
However, other people have praised Bridges for not backtracking on what she said and confronting Hawley.
"I'd like to introduce everyone to my new personal hero, Professor Khiara Bridges," Democrat Representative for Missouri's 1st Congressional district Cori Bush tweeted.
"Our trans community members and all of us in Missouri who hold them close to our hearts as their rights are ruthlessly opposed by the likes of insurrectionist saluter Hawley thank you, professor."
"Senator. Josh Hawley (R-Mo) tries to mock Berkley law professor Khiara Bridges for using the phrase 'people with the capacity for pregnancy' during a Senate hearing on abortion. She was having none of it." Huffington Post senior reporter Alanna Vagianos tweeted, as she shared the video.
Newsweek has reached out to Hawley and Bridges for comment.