Senator Josh Hawley is now the only Senate Republican to have voted against confirming every Cabinet nominee put forward by President Joe Biden thus far.
Hawley, who represents Missouri, declined on Tuesday to support the confirmation of Transportation Secretary Pete Buttigieg, who made history as the first openly gay person to be confirmed to the Cabinet, and Secretary of Homeland Security Alejandro Mayorkas, the first Latino and first immigrant to be confirmed to that post.
Twelve other Republicans joined Hawley in voting against Buttigieg, and 43 Republican senators voted against Mayorkas. But only Hawley has voted "nay" for all six of the Biden nominees that have come up for a confirmation vote.
Senator Mike Lee, a Utah Republican, voted against all of Biden's nominees with the exception of Buttigieg, whom he voted to approve. Other Republicans, including Senators Ted Cruz of Texas and Marsha Blackburn of Tennessee, have voted "nay" for all of Biden's nominees except Secretary of Defense Lloyd Austin—the first Black person to serve in that role.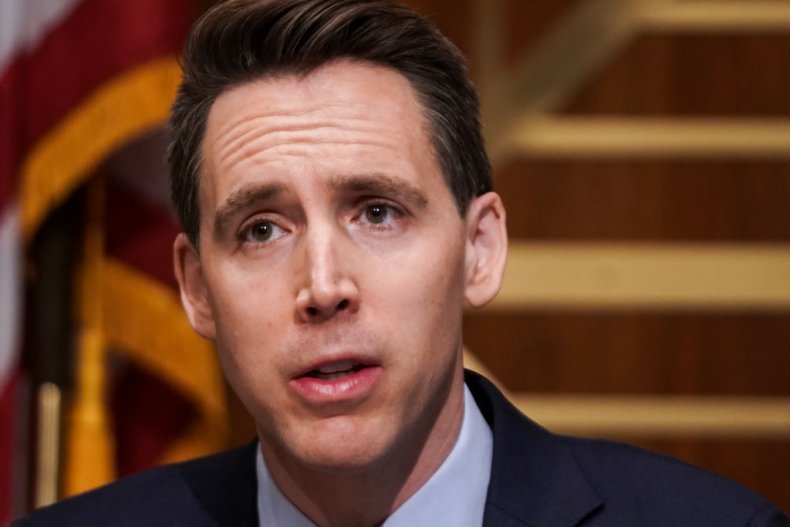 Newsweek reached out press representatives for Hawley and the White House for comment but did not immediately receive a response.
The Missouri Republican has faced significant backlash after he formally objected to the Electoral College votes from Arizona and Pennsylvania when Congress reconvened to certify Biden's win following the violent January 6 insurrection carried out by former President Donald Trump's supporters. Five people died in the attack on the Capitol, and Hawley—along with other Republicans who objected—has faced substantial national and state-level criticism.
A growing number of businesses have announced that they have permanently or temporarily suspended campaign contributions to Republicans that objected to certification of Biden's win. The Kansas City Star, a leading Missouri newspaper, has blamed Hawley directly for helping to incite the insurrection by giving credence to Trump's unsubstantiated claims of widespread voter fraud. Meanwhile, Hawley has complained from the Senate floor and in national media that he's been "muzzled"—a claim that his critics point out is bizarre, considering the prominent platform he's been provided to make it.
Biden strongly criticized Hawley and other Republicans in the wake of the January 6 riot at the Capitol. The president blamed them for shoring up support for the "big lie" that he had won through widespread fraud—an allegation that lacks evidence and has been thoroughly debunked.
"They're part of the big lie," Biden said on January 8. "Goebbels and the great lie. You keep repeating the lie, repeating the lie."
Joseph Goebbels was a key ally of Adolf Hitler in the lead-up to and during World War II. The politician was in charge of Nazi propaganda and is infamously credited with saying, "If you tell a lie big enough and keep repeating it, people will eventually come to believe it."