Sen. Josh Hawley (R-Mo.) said Monday that "incendiary rhetoric" from Democrats about the Israeli-Palestinian conflict has fueled a surge of antisemitic attacks.
Hawley plans to introduce a Senate resolution condemning what he says is antisemitic rhetoric coming from the left. During an appearance on Fox News, the senator reacted to President Joe Biden's Monday tweet condemning the "despicable" rise in antisemitic attacks, saying he was surprised the president "took this long" to address the issue. He suggested that other Democratic lawmakers who had spoken against Israeli government policies "contributed" to the recent rise in attacks.
"[Biden] needs to call members of his own party and tell them it's time to stop this rhetoric," Hawley said. "I mean, when you say things like calling Benjamin Netanyahu an ethno-nationalist on the floor of the United States Congress, when you call Israel an apartheid state—which Democrat members of Congress have done on the floor of the United States Congress—that's incendiary rhetoric."
"We've had almost 200 incidents of violence reported now against Jewish Americans," he added. "Again, that's just reported, we don't know what else is out there. That's too many, that's too much and this rhetoric is contributing to it. It's got to stop."
Newsweek reached out to the White House and the Democratic National Committee for comment.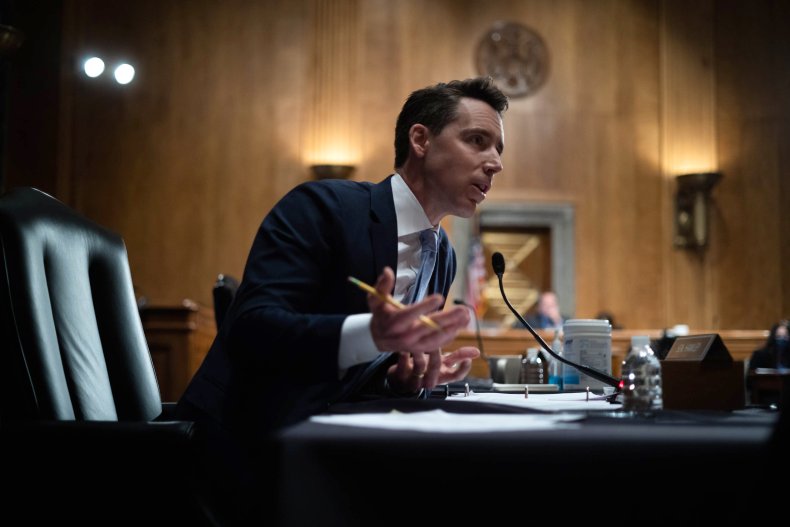 Hawley was citing statistics from the Anti-Defamation League (ADL). The group recently reported that there had been 193 antisemitic attacks during the week after the recent Gaza conflict began, a close to 50 percent increase from the 131 incidents recorded the week before. Many additional incidents, including physical attacks on Jews, have been reported since then.
Democratic "Squad" members Rep. Alexandria Ocasio-Cortez (N.Y.) and Rep. Cori Bush (Mo.) both referred to Israel as an "apartheid state" last week. Progressive Sen. Bernie Sanders (I-Vt.), who is Jewish, accused Israeli Prime Minister Benjamin Netanyahu of cultivating "an increasingly intolerant and authoritarian type of racist nationalism." However, they and a host of other Democratic and progressive lawmakers have also condemned the recent wave antisemitism and anti-Jewish attacks.
Hawley's condemnation of Democratic rhetoric comes one month after he became the only senator to vote against a hate crimes bill intended address a spike in anti-Asian attacks amid the COVID-19 pandemic. The bill passed in the upper chamber with overwhelming bipartisan support last month and was signed into law by Biden last week. Hawley explained that he believed the bill raised "big free speech questions" and he opposed it because he did not want to turn "the federal government into the speech police."
The senator has also been accused of promoting antisemitism himself. In 2019, the ADL blasted Hawley for delivering a speech that it said included phrases that had been historically "used to demean Jews" and "resonate with extremists."
Hawley came under fire earlier this year for his actions in the aftermath of the 2020 presidential election. Hawley was one of only two senators to object to certifying Biden's election win, doing so shortly after the Capitol was violently stormed by a mob of former President Donald Trump's supporters on January 6.