Josiah Colt, Capitol Rioter Pictured Hanging from Senate Balcony, Begs Forgiveness
A rioter who was photographed hanging from the balcony of the Senate Chamber has begged for forgiveness, saying he got "caught up in the moment."
The man—identified by local media as Josiah Colt, from Boise, Idaho—said his actions had been inappropriate and that he had not intended to "stain on our great Country's Democratic process."
His apology comes after he bragged about his rampage through the U.S. Capitol.
In a video posted on Instagram shortly after his rampage, Colt used a derogatory slur to refer to House Speaker Nancy Pelosi and called her "a traitor."
The 34-year-old also claimed he was the first to sit in the Democrat's chair, but the seat would have been that of Vice President Mike Pence.
On Thursday, however, Colt said he had "brought shame upon myself" and is now seeking legal advice.
In a message to CBS2 News, he said: "I love America, I love the people, I didn't hurt anyone and I didn't cause any damage in the Chamber. I got caught up in the moment and when I saw the door to to the Chamber open, I walked in, hopped down, and sat on the chair. I said my peace [sic] then I helped a gentleman get to safety that was injured then left."
"While in the Chamber I told the other protesters that this is a sacred place and not to do any damage. Some of them wanted to trash the place and steal stuff but I told them not to and to leave everything in its place. We're still on sacred ground.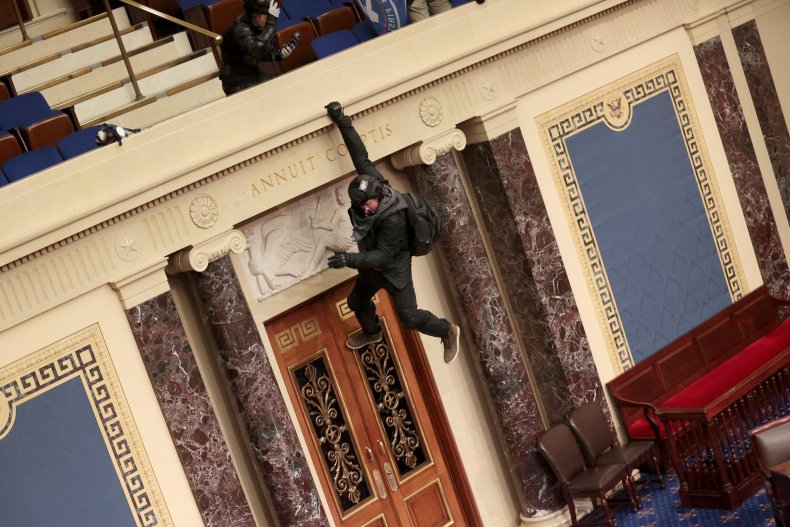 "I sincerely apologize to the American people. I recognize my actions that have brought shame upon myself, my family, my friends, and my beautiful country. In the moment I thought I was doing the right thing. I realize now that my actions were inappropriate and I beg for forgiveness from America and my home state of Idaho.
"My intention wasn't to put a stain on our great Country's Democratic process."
Colt's Instagram, Facebook and Twitter accounts have been deleted since the riot.
Five people died during the riot, including U.S. Capitol Police officer Brian Sicknick, who was "injured while physically engaging with protesters", police said.
Washington D.C. police has released pictures of "persons of interest" in relation to the riot as FBI agents also seek to identify those involved.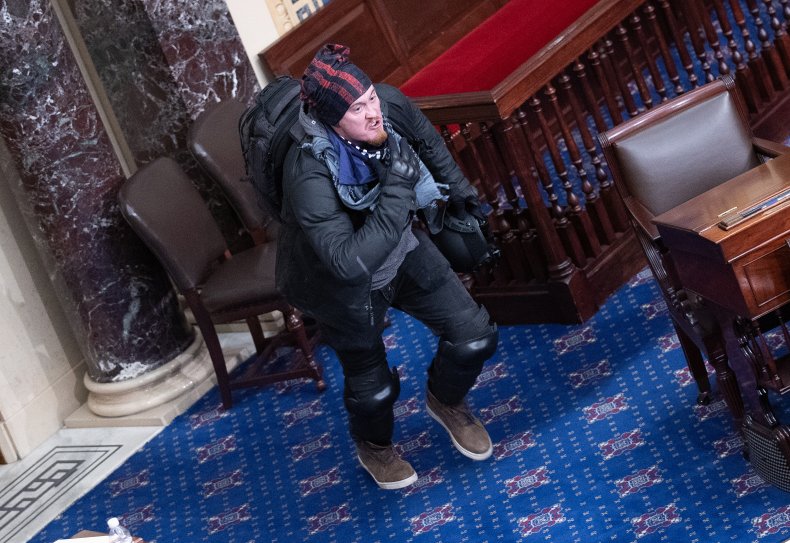 Among those to have been identified, include 60-year-old gun rights activist Richard Barnett who was photographed with his feet on a desk in Pelosi's office.
He later told The New York Times he had left Pelosi a "nasty note" and told a local TV station he had been "walking around looking for a bathroom" shortly before the picture was taken.
Others to have been pictured included a prominent QAnon supporter who wore a fur hat and horn, a woman with a QAnon-inspired sign about children in the House chamber, and men in tactical gear taking selfies.