Joy Reid Says BLM Protesters Would Be 'Shackled, Arrested or Dead' in Viral Speech on Race
A Joy Reid speech has gone viral after the MSNBC anchor eviscerated law enforcement's double standards in policing rioters at the Capitol yesterday versus the Black Lives Matter protests of 2020.
"I guarantee you if that was a Black Lives Matter protest in D.C., there would already be people shackled, arrested or dead," said Reid. "Shackled, arrested en masse or dead."
The political commentator was speaking on Wednesday's installment of The Reid Out where she made the point that "white Americans aren't afraid of the cops."
A clip of the segment has gone viral on Twitter with more than 3 million views at the time of publishing.
"The reason they could easily and casually—with their cameras on—film themselves throwing things through the walls of our Capitol, our property, going inside the Capitol, sitting in Speaker Pelosi's office, casually taking pictures of themselves, have that played on Fox News... They know that they are not in jeopardy," Reid said.
"Because the cops are taking selfies with them, walking them down the steps to make sure they're not hurt, taking care with their bodies—not like they treated Freddie Gray's body."
Gray, a 25-year-old Black man, died endured a severe spinal cord injury while in police custody.
"White Americans aren't afraid of the cops," Reid continued. "White Americans are never afraid of the cops, even when they're committing insurrection.
"Even when they're engaged in attempting to occupy our Capitol to steal the votes of people who look like me, because, in their minds, they own this country. They own that Capitol. They own the cops. The cops work for them, and people like me have no damn right to try to elect a president. Because we don't get to pick the president, they get to pick the president.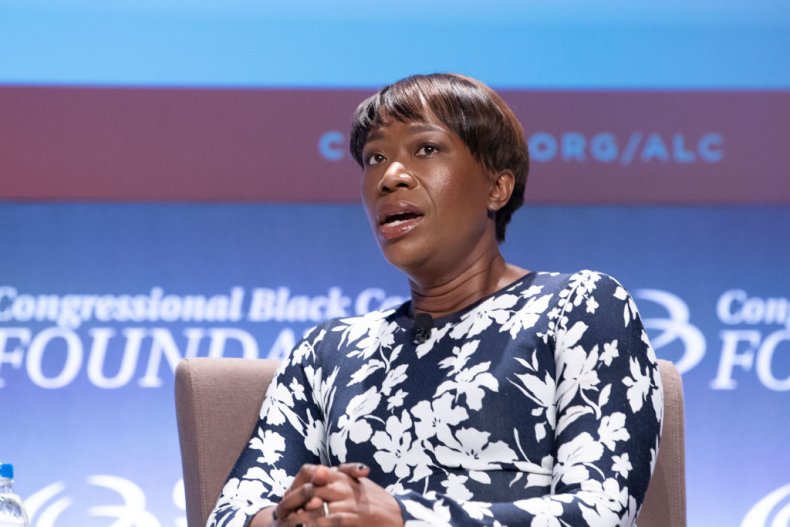 "They own the president. They own the White House. They own this country. And so when you think you own it, you own the place, you ain't afraid of the police. The police are you, and the police reflect back to that. 'We're with you. You're good. We're not gonna hurt you, because you're not them.'"
Many are drawing comparisons to the lenient police response to the violence yesterday with how Black Lives Matter protests last year were met with considerably more brutal force, resulting in multiple arrests and injuries across cities.
The June 1 Black Lives Matter demonstrators in D.C. were surged by a heavily prepared force made up of Washington police, more than 5,000 national guard troops and U.S. Park police, with the use of tear gas, horses and batons—yet protesters made no attempt to enter the Capitol or incite violence on a level witnessed yesterday.
Yesterday's lax riot response has led to outrage from lawmakers, who assured there will be an investigation to how law enforcement failed to prepare for the planned demonstration.
Black Lives Matter has said the handling of the violence at the Capitol in Trump's name shows "hypocrisy" by law enforcement.
"When white people attempt a coup, they are met by an underwhelming number of law enforcement personnel who act powerless to intervene," the group tweeted amid Wednesday's chaos.
Another video going viral on Twitter today shows Black Capitol maintenance workers cleaning up outside the House Chamber after the mob attack have sparked anger, sadness and frustration from many.