Video of Black Capitol Workers Cleaning Up After Mob Mayhem Goes Viral
Footage of Black maintenance workers cleaning up the Capitol after yesterday's attack by pro-Donald Trump supporters trying to overturn the election result have sparked anger, sadness and frustration online.
A clip of staff at work cleaning up the building following the riots which saw a number of people enter the House Chamber has been viewed more than six million times on Twitter at the time of publishing.
Daniella Diaz of CNN posted the clip with the caption: "The same House chamber doors where the armed standoff took place hours ago is being cleaned for members to return for the joint session."
The footage has since been circulating as Twitter users share their disgust at the image of African-American staff cleaning up after a group of rioters with noted ties to white supremacy.
Keenan Austin Reed, a founder of the Black Women's Congressional Alliance said the footage "almost more than [a] heart can take."
"The image of the black Capitol workers cleaning up behind white supremacist thugs who attempted a coup just a couple of ours ago is almost more than heart can take," Austin Reed tweeted.
"Black maintenance staff, who were likely forced to hide during insurrection, are cleaning up the mess of a white mob that hung a noose outside the Capitol," said Sawyer Hackett, Senior Advisor and Communications Director to Julian Castro.
Christine Pelosi, daughter of House Speaker Nancy Pelosi added: "Black workers cleaning up after White seditionists who were escorted out of the Capitol encapsulates Trumpism in a nutshell. Great thanks to all the #CapitolBuilding staff whose lives were at risk for covid and conflict today."
"Today was absolutely terrifying, but this video of custodial staffers of color literally cleaning up after white supremacists was such a clear and horrific illustration the state of systemic racism in our country," said food writer Priya Krishna.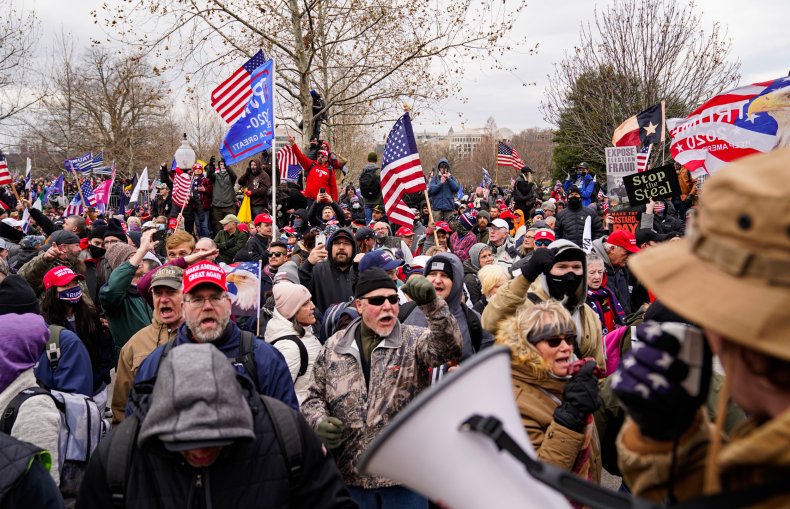 Similarly, many are drawing comparisons to the lax police response to the violence yesterday with how Black Lives Matter protests were met with brutal force, resulting in multiple arrests across cities.
The June 1 Black Lives Matter protest in D.C. was apprehended by a force made up of Washington police, more than 5,000 national guard troops and U.S. Park police, with the use of tear gas, horses and batons, though demonstrators made no attempt to enter the Capitol.
Compared with yesterday's disorganized riot response which has led to outrage from lawmakers, who vowed there will be an investigation to how law enforcement failed to prepare for the planned demonstration.
MSNBC anchor Joy Reid condemned the police response, saying that Black protestors would not be treated which such leniency.
"I guarantee you if that was a Black Lives Matter protest in D.C., there would already be people shackled, arrested or dead," said Reid. "Shackled, arrested en masse or dead."
D.C.'s Metropolitan Police Department has said that four people have died in connection with the riots with more than 52 arrests made. The violence has seen calls for vice president Mike Pence to invoke the 25th Amendment which would effectively remove Trump from office.