Republican With QAnon Ties Who Turned Lawn Into Trump Sign Wins in Ohio
An Ohio man who made headlines in 2020 by painting a banner for former President Donald Trump across his yard secured a victory Tuesday in the Republican primary for the U.S. House seat representing the state's 9th District.
J.R. Majewski is a vocal supporter of Trump and a relative newcomer in the political sphere, but he was still able to beat his opponents, including two already elected to the state Legislature, for the Republican nomination. He will now face off in the general election against Representative Marcy Kaptur, a Democrat from Cleveland who currently holds the seat up for grabs.
Majewski's been seen on multiple occasions wearing apparel with the "Q" logo on it, although he's denied being a believer of the conspiracy theory. He told the Toledo Blade that he "never read any QAnon drop" and that he didn't know the meaning behind the shirt, which he said he donated to the Salvation Army.
The Ohio Republican did, however, appear on a podcast with a man who believes in QAnon and admitted to the Toledo Blade that he associates with QAnon followers.
"I respect your beliefs, if you want to believe that stuff, that's fine. I'm not going to bias myself to a bunch of people who want to write these things," he said.
Majewski's victory sets him up for a competitive battle in the upcoming 2022 midterm elections, widely viewed as a crucial moment for both Democrats and Republicans as both parties seek to obtain or maintain majorities in Congress.
Kaptur was first elected in 1982 and became the longest-serving woman in the history of the House of Representatives in 2018, according to her website.
Majewski received 36 percent of the vote in the primary election, 3,129 more votes than the challenger who took second place, WTVG reported.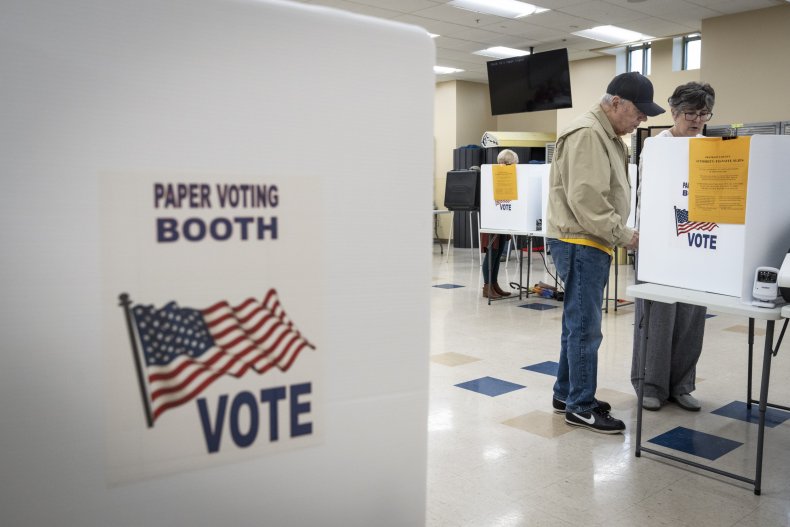 According to his campaign website, Majewski served in the U.S. Air Force for several years and has also had a career in the nuclear industry. He describes himself as an "America first" candidate who is against abortion rights and in favor of limited government, among other issues.
"The Republican Party is raunch with lifetime politicians who are spineless and seek to serve themselves and the members of their exclusive 'club.' We must fight to eradicate those within our party that seek to destroy it. We must hold them accountable to our Conservative principles and call them out when they cease to deliver," a message on his website reads.
He has received several endorsements, including from conservative political consultant and author Roger Stone and Republican Representative Paul Gosar, who was censured last year for sharing a violent meme about Democratic Representative Alexandria Ocasio-Cortez.
Majewski has not received a coveted endorsement from Trump, though the former president did tweet his thanks after he painted his lawn blue with the message "TRUMP -2020- KEEP AMERICA...GREAT!"
"Thank you to J.R. Majewski, a great Air Force Veteran and Trump Supporter who did a beautiful job of turning his lawn into a giant Trump Sign. Thanks also to your fantastic Ohio neighbors. We are making record progress on JOBS, etc. Big Silent Majority!!!" the president tweeted in 2020, according to the New York Post.
Newsweek was not able to independently verify Trump's tweet due to the ongoing suspension of his account.
Majewski again turned his yard into a mural in 2021, this time showing Trump's face on a red and white background.
Newsweek reached out to Majewski for comment.