Paul Gosar, Censured Over Anime Meme, Says 7 Siblings Are 'Horrific to Me'
Rep. Paul Gosar, who was censured by the House this week for sharing a violent meme about a Democratic lawmaker, has questioned why he has been publicly criticized by his own family.
In a radio interview, the Republican congressman for Arizona's 4th district said he did not understand why seven of his brothers and sisters had denounced him.
On Wednesday, the House of Representatives voted to censure Gosar for tweeting a doctored clip from an anime that depicts him killing Rep. Alexandria Ocasio-Cortez.
When asked by SiriusXM host Andrew Wilkow if he would have removed the video if Ocasio-Cortez had requested it, Gosar replied: "Absolutely, I'm not here for that.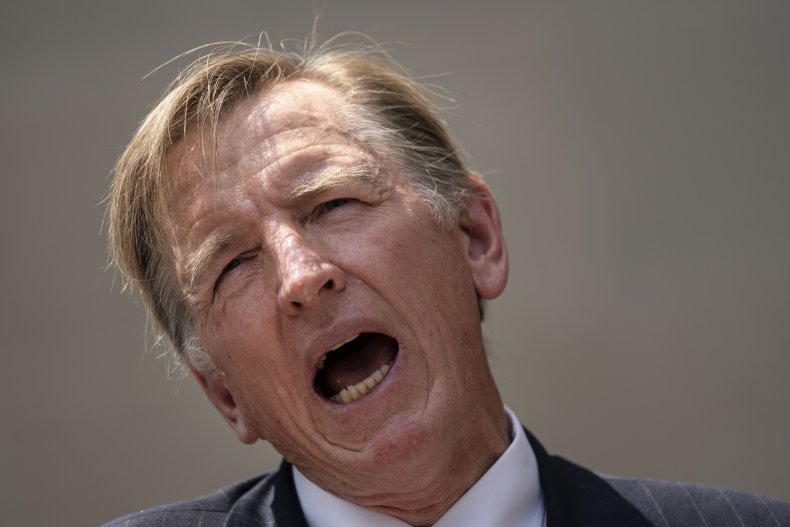 "I don't espouse violence, I don't espouse harming anybody, whether it be a member of Congress, whether it be a president of the United States, whether it be my own brothers and sisters."
The mention of his family led him on a tangent about his siblings. "I've got seven siblings that are horrific to me. I mean, they've done everything," he said.
"They've called me every name in the book, and yet I have done nothing, nothing to them at all."
Gosar has come under fire from family members and other critics for his connections to white nationalists and his promotion of the unfounded claim that the 2020 election was "stolen" from former President Donald Trump.
In June, at a House hearing about the storming of the Capitol, he characterized the death of rioter Ashli Babbitt as an "execution." In October 2017, he made antisemitic comments about the Unite the Right rally in Charlottesville, claiming it was a false flag operation funded by George Soros.
His siblings have repeatedly called on him to resign. Ahead of the 2018 midterms, six of them endorsed his Democratic opponent David Brill in an election ad that did not reveal their family relationship until the very end.
An op-ed written by his brothers Dave and Tim and his sister Jennifer, which was published in August this year by NBC Think, accused him of displaying "unhinged behavior" and not possessing "the intellect, character or maturity" to be a lawmaker.
In further comments that suggested the siblings would not be sharing a Thanksgiving turkey, Jennifer Gosar called her brother a "sociopath" in a CNN interview after he posted the anime. Following his censure, she said she wanted him ousted from Congress.
But Paul Gosar saw it differently, telling SiriusXM: "I have done nothing irrational. I've done nothing physically. I've never harmed them. I've never done anything.
"So, that should tell you the caliber of the person you're talking to."
Tim Gosar praised Ocasio-Cortez's speech urging Congress to hold the lawmaker accountable for the anime video. He told MSNBC she was "saying what matters and what is important and what is true and accurate. So, I commend her and hope people are listening."