Your Thanksgiving Dinner Will Cost This Much More Because of Inflation
Americans will be sitting down to a more expensive Thanksgiving feast this year as the COVID pandemic, inflation and supply-chain issues impact food prices.
"There is nothing on that Thanksgiving table that is going to be spared from price rises," said Curt Covington, senior director of institutional credit at AgAmerica Lending.
"The only way to control the cost of your meal is to have a smaller meal and a smaller gathering," he told Newsweek.
The American Farm Bureau Federation's 36th annual survey of the meal's costs, which was released on Thursday, has found that shoppers could be in for some sticker shock when they go to buy provisions for November 25.
The Farm Bureau used pricing data from all 50 states and Puerto Rico to calculate that the average cost for a feast for 10 people will be $53.31—up $6.41 or 14 percent from last year.
The higher costs have been caused by disruptions to the U.S. economy and supply chains over the past 20 months, inflationary pressure and difficulty in predicting demand during the COVID-19 pandemic.
Farm Bureau volunteer shoppers looked in person and online for a list of Thanksgiving meal essentials for 10 people—with enough for leftovers. They hunted for the best prices, without relying on promotional coupons.
As well as the typical dinner table centerpiece of turkey, the shopping list included stuffing, sweet potatoes, rolls with butter, peas, cranberries, a veggie tray, pumpkin pie with whipped cream, and coffee and milk.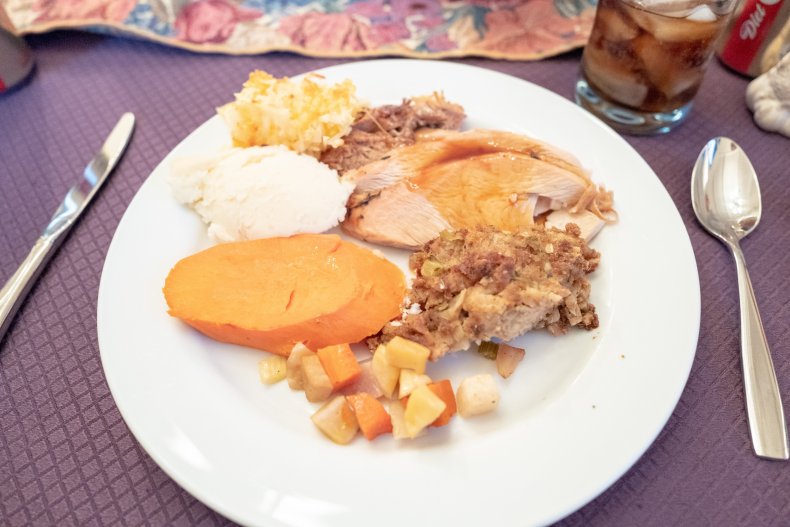 The cost of a turkey went up the most and stands at around $23.99 for a 16-pound bird, or $1.50 per pound. This is around 24 percent higher than last year.
"The supply chain is broken. Finding the labor and the transportation to get turkeys off the farm into the packing facilities is a difficult job. There is also a dearth of trucks and truck drivers," Covington said.
"I think the turkey industry has enough turkeys to get to the market. It's the size and the style of turkey where there are going to be the shortages.
He said smaller-sized turkeys might be in short supply, but "if someone wants to go out and find themselves a 20-pound turkey I think they are going to be able to do that."
Bargain birds should be available in the coming days, according to the Farm Bureau, which found that frozen turkey prices had tumbled after November 12.
The average per-pound price for whole frozen turkeys was $1.07 between November 5 and November 11, but it dropped by almost a fifth (18 percent) to 88 cents the following week. This suggests Americans who have not yet bought their turkey should be able to get one at a lower price than the Farm Bureau average.
Other big price rises were recorded in cranberries, which are 11 percent dearer than last year at $2.98 for a 12-ounce bag. A 1-pound veggie tray now costs 82 cents (up 12 percent) while a dozen dinner rolls are $3.05, 15 percent more than they were in 2020.
The Farm Bureau survey also looked at ham, Russet potatoes and frozen green beans. When these items were added to the standard shopping list, the overall cost rose by $15.41 to $68.72, which is also 14 percent higher than the 2020 figure.
If turkey is taken out of the Thanksgiving shopping basket, the average price is 6.6 percent higher than last year, broadly in line with the 6.2 percent consumer price index rise announced this month.
Covington's message for those wanting to save money at Thanksgiving was to "shop early and shop smart."
He added: "Instead of trying to buy everything fresh, look for frozen items."
Update 11/18/21, 12:10 p.m. ET: This article was updated to clarify Curt Covington's position as senior director of institutional credit at AgAmerica Lending