Judge Denies Release of Capitol Rioter Who Argued Lack of Cellphone Made Him Less of a Threat
A judge has denied a release request from Emanuel Jackson, saying there were no conditions that could ensure the safety of the community or law enforcement from the alleged Capitol rioter who's accused of hitting police officers with a baseball bat.
There are more than 180 cases against alleged Capitol rioters and prosecutors are increasingly citing the possibility of a future threat when pushing judges to deny their requests for pretrial release. In arguing for his release, Jackson, 20, pointed to the fact he turned himself in to law enforcement, has no criminal history and that communicating with people planning future riots could be challenging for him.
"As for the potential for future violence, Defendant emphasized that he does not have a cellphone, which would limit his ability to be involved in similar incidents," court documents said.
Jackson asked the judge to place him in the High Intensity Supervision Program, which keeps a defendant out of pretrial detention but allows for increased monitoring. He told the judge that he has "severe mental health challenges" that make his incarceration more difficult.
Details about Jackson's struggles with mental health that were discussed in a sealed portion of the hearing were "concerning" to Magistrate Judge Michael Harvey. In siding with the prosecution, Harvey said there were "no conditions or combination of conditions of release" that would "reasonably assure the safety of the community or law enforcement" if Jackson were released.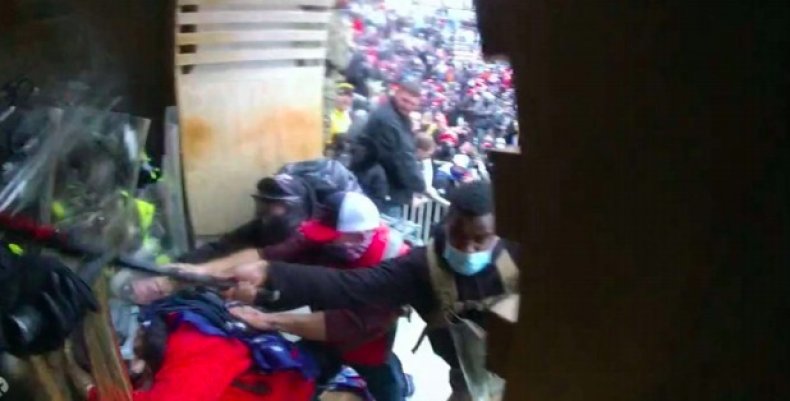 As he attempted to enter the Capitol on January 6, Jackson was captured on video "repeatedly striking" a Capitol Police officer with his fist, according to charging documents. About two hours later, after gaining entry to the Capitol, Jackson once again appeared on surveillance footage hitting a group of Capitol and Metropolitan Police Department officers with a metal baseball bat.
"This shows that his conduct at the Capitol was not a momentary lapse of judgment, but instead, was an ongoing act of violence that disrupted Congressional functions," Harvey wrote.
Jackson turned himself in to police on January 17 and admitted to participating in the riot. According to prosecutors, he told law enforcement that he intended to assist rioters in an effort to prevent the certification of the presidential election.
He faces four charges, the most serious being assaulting an officer with a deadly or dangerous weapon. If found guilty, he could face up to 20 years in prison, according to U.S. Code.
Jackson's attorney, Brandi Harden, denied a request from Newsweek for comment.
In a January 22 court filing, she called it undisputed that the allegations against her client were serious, but urged the judge to consider them "through the lens of an event inspired by the president of the United States."
Harden categorized the riot as "spontaneous and sparked by the statements made during the 'Stop the Steal' rally," and when combined with Jackson's lack of cellphone, support that he won't be involved in future violence.
However, Harvey said Jackson's willingness to engage in increasingly violent behavior in "support of a cause" that "has not gone away" instilled no confidence in the judge that the defendant would comply with release conditions.