Judge Slaps Down Conservative Group's Claim 'Zuckerbucks' Are Bribes
A Wisconsin judge has dismissed a lawsuit from a conservative legal group arguing that an elections assistance grant, partially funded by Facebook, amounted to bribery.
Dane County Circuit Court Judge Stephen Ehlke on Wednesday threw out the challenge from Erick Kaardal, a lawyer for the Thomas More Society. The lawsuit took issue with a grant from the Chicago-based Center for Tech and Civic Life to help the city of Madison, a Democratic stronghold in a key swing state, conduct its election during the pandemic.
The ruling is the latest setback for conservatives who have argued that private grants, some funded by Facebook founder Mark Zuckerberg, provided to prop up election offices are being used to undermine voting requirements and invite fraud.
Mayor Satya Rhodes-Conway applauded the judge's decision in a statement, saying that using grant funds to conduct an election during the coronavirus pandemic was clearly legal.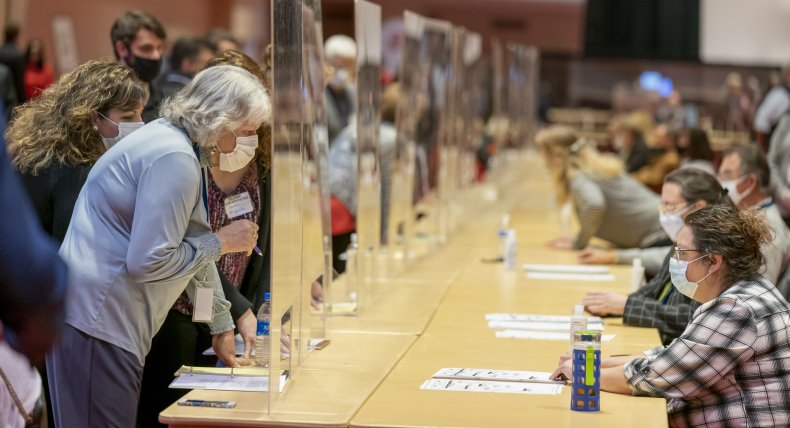 "Purchasing hand sanitizer and masks during a global pandemic and paying poll workers was the only way to ensure that voters could vote and poll workers could work safely," she said. "It is also obvious that our Clerk encouraging Madison residents to vote is not illegal – it is part of her job."
Kaardal filed a complaint in March on behalf of a Wisconsin voter with the state Elections Commission alleging the grant to Madison—totaling more than $1.2 million—to facilitate in-person and absentee voting violated anti-bribery laws. Kaardal described the Chicago-based Center for Tech and Civic Life as driven by partisan aims, staffed by Democratic activists and funded by Zuckerberg.
Ehlke upheld the commission's earlier dismissal of the complaint, reports the Wisconsin State Journal. Previously, Ehlke described the complaint's claims as "ridiculous."
The ruling is the most recent defeat for Kaardal, who has brought other challenges to cities and counties in Wisconsin accepting grants from the nonprofit, according to the Journal.
Courts have previously upheld the legality of more than $10 million in grants the Center for Tech and Civic Life has given to 214 municipalities in 39 of Wisconsin's 70 counties, including many won by former President Donald Trump, the Journal reports.
Following the 2020 election, Republican-led states have moved to ban private grants to assist local election offices. Deriding them as "Zuckerbucks" for their connection to the tech mogul, critics say the grants bring outside political influence into election offices.
Kaardal, a former Minnesota Republican Party official, in 2020 filed a lawsuit asking the Wisconsin Supreme Court to halt the certification of the 2020 election and give the Republican-controlled state Legislature the authority to name its set of presidential electors in the Electoral College.
Newsweek reached out to the Thomas More Society and Center for Tech and Civic Life for comment.