Milwaukee County Certifies Election in Biden's Favor, Says No Fraud Found in Recount
The Milwaukee County Board of Elections in Wisconsin finished its recount of votes cast in the 2020 presidential election on Friday evening, and certified its results in favor of President-elect Joe Biden over President Donald Trump.
Certifiers said they found no evidence of fraud, according to TMJ4 News, a local NBC affiliate.
The final count, posted on Twitter by local news reporter Stephanie Haines, showed 317,527 votes cast in favor of Biden and 134,482 votes cast for Trump, a difference of 183,045.
As of November 24, Biden led Trump by 20,608 votes throughout the entire state of Wisconsin.
Milwaukee County was one of two counties in Wisconsin in which Trump's re-election campaign sought to challenge and overturn votes for Biden, claiming them to be fraudulent; the other was Dane County. On November 18, the Trump campaign formally requested a recount in the two counties, both of which are historically Democratic-leaning. Trump's campaign paid $3 million, as required by state law, so election officials could complete the task by December 1.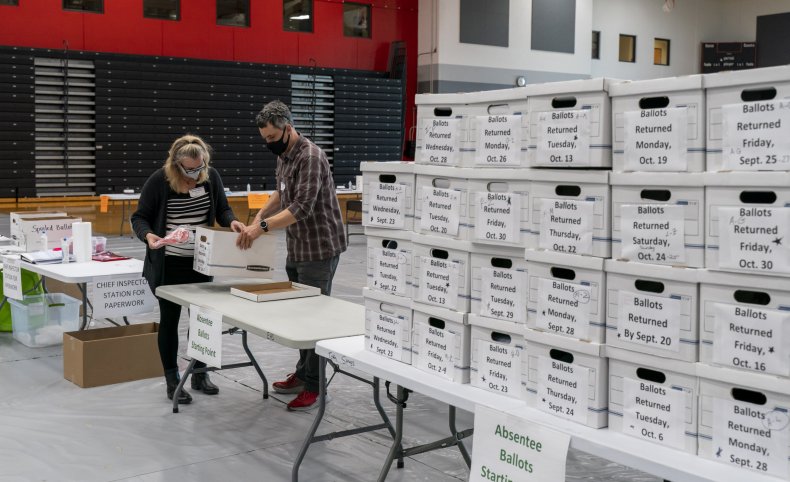 Specifically, Trump's campaign sought to challenge and toss out early votes and absentee ballots, something which angered locals who called the attempt "horrible" and "undemocratic."
Voting officials in Dane and Milwaukee counties accused Trump's election observers of putting the recount behind schedule and breaking rules by interrupting vote counters with questions while objecting to nearly every ballot pulled for investigation.
As of Friday evening, the unofficial vote count on the Dane County Clerk's website shows Biden with 260,157 votes and Trump with 78,789, a difference of 181,368 votes.
County Clerk Scott McDonell tweeted on Friday that the recount was about 65 percent complete after seven days of counting. Dane County is expected to certify its results on Sunday, November 29.
On Tuesday, Republicans filed a lawsuit not only asking the Wisconsin Supreme Court to stop the certification of the presidential election results, but also aiming to grant the power to name presidential electors to the state's Republican-controlled Legislature, the Associated Press reported.
The lawsuit was filed by Erick Kaardal, an attorney and former Minnesota Republican Party official, who filed as a representative of a conservative group called the Wisconsin Voters Alliance. He filed the suit on behalf of the organization and several Republican voters.
Wisconsin's electors for the Electoral College are scheduled to cast their 10 electoral votes on December 14. Only 270 are needed to win the presidency, and Biden has won 306.
On Friday, Trump tweeted that Biden can only become president if he proves the over 80,000,000 votes he got "were not fraudulently or illegally obtained." However, on Thursday, Trump said he would leave the White House if the Electoral College certifies Biden as the election winner.
Newsweek contacted the Dane County Clerk's office for comment, but did not hear back in time for publication.