Julia Fox Is 'Sure' Kanye West Has 'Residual Feelings' for Kim Kardashian
Julia Fox has opened up about her nascent relationship with Kanye West, addressing his recent statements about wanting to save his marriage to Kim Kardashian.
While West, 44, embarked on a romance with Fox, 32, after meeting her on New Year's Eve, the rapper and designer had expressed his desire to rekindle his romance with Kardashian, 41, with whom he shares four children, just weeks earlier.
During an appearance on the latest episode of the Call Her Daddy podcast, which was released on Tuesday, Fox addressed West's public statements about his estranged wife—revealing that she's "sure" he has "residual feelings" for Kardashian.
Speaking with host Alexandra Cooper, the Uncut Gems star said of West and Kardashian's situation, per Entertainment Tonight: "I'm sure there's still some residual feelings, and that's normal, it's human. I also know that he's with me now. And that's all that matters."
Kardashian, who exchanged nuptials with West in May 2014, filed for divorce from the musician in February 2021. However, toward the end of the year, West publicly stated that he didn't want their marriage to end.
Speaking at Los Angeles Mission's Annual Thanksgiving event in November, he said: "When God brings Kimye together, there's going to be millions of families that are going to be influenced to see that they can overcome the work of the separation, of trauma the devil has used to capitalize to keep people in misery while people step over homeless people to go to the Gucci store."
He said of his decision to live close to Kardashian: "I have to be next to my children as much as possible. So, when I'm out the house, I've got a house right next to the house. I'm doing everything to be right next to the situation. But I need to be back home."
Speaking about her new relationship on the Call Her Daddy podcast, Fox said of West: "I call him my boyfriend and he calls me his girlfriend."
And while West is now overseeing Fox's new look by drastically revamping her wardrobe, the actress insists that the relationship is not for show.
"Time will tell, you'll just see," Fox said of her romance with West. "Obviously, it looks a certain way, but people don't know the conversations happening behind the scenes, and you know, I've been around."
Recounting how they collaborated on Fox's new look, the screen star told Cooper: "We got to work. We were like, 'OK, we're gonna do this. If I'm gonna be seen with you, I need to step it up a little bit.'"
"I definitely do need to be nudged a little bit and pushed out of my comfort zone and I love that because I don't think anyone has been able to succeed in that,'" she added. "'Cause I'm stubborn and I'm gonna wear the things that I'm comfortable in."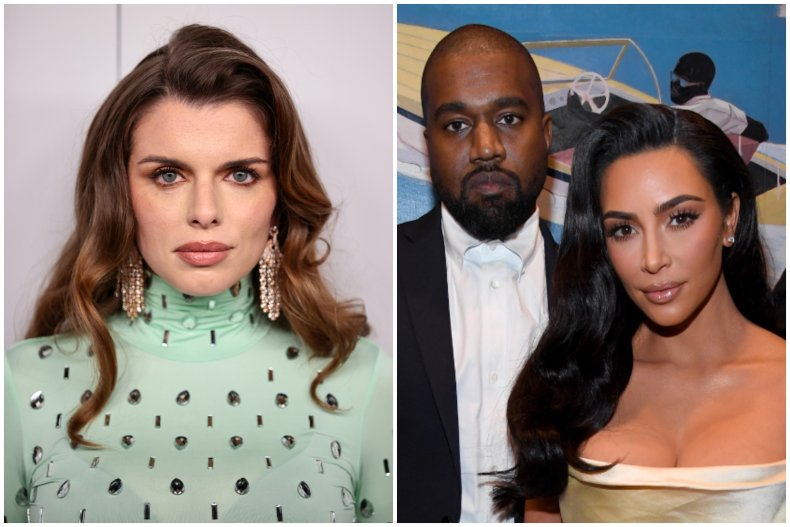 This new look, however, has led to comparisons to Kardashian, of which Fox admitted: "We've worn some of the similar looks, which I knew at the time of wearing them, I knew that Kim had worn it previously. But I thought it was cool that she had worn it.
"It is unfortunate because women are always being pitted against each other and obviously there's 10 years of history that they have prior and I don't want to ever like step out of line and speak on something that I have no place speaking on."
Discussing the bold fashion risks she has taken since getting together with the Yeezy designer, Fox said: "I have my insecurities that no one else sees and he doesn't see them. So, it's cool to see myself through his eyes."
Speaking with Interview magazine for an article published on January 15, Fox gushed about her fledgling romance with West, and her style "transformation" at his hands.
"After meeting him, a couple days later, all my s*** was in boxes, gone," said Fox. "It was so cathartic. It wasn't like I was just packing up my old clothes, it was like I was packing up my old life. I was like making that very conscious decision to really put everything in the box. To let go of the past."
"I'm really surrendering," she continued. "For someone like me who's such a control freak and always so used to taking care of myself, to just let go and be taken care of is foreign at this point in life.
"I've been the primary caretaker of everyone for so long, so it's a new sensation, but honestly, I think I deserve it. Even a month ago, I was so f****** like...not getting along with my son's father, or not having help. It was just me alone.
"I was so tired and everything was work. I just remember being like, 'I know that there's going to be a reward for this, like this is so f****** miserable that I know that I know something good will come of this if I just hang in there.'
"And then a few days later there I am with Ye, and it was the most instant natural organic attraction and connection. I just feel really safe with him. It's a redemption story."
However, at the time of her interview, Fox admitted that she was taking a cautious approach to her relationship after enduring previous bad experiences.
"You know, I'm so used to being f***** over in relationships," she said. "So I keep waiting for him to disappoint me, because he makes very grandiose promises, and it's like, 'How could he ever pull it off with all the other things he has going on?' But he always does. Last night was a testament to that."