'Canceled': How Kim Kardashian, Other Stars Marked July 4th Post-Roe Repeal
Kim Kardashian and Katy Perry are among the celebrities who protested July Fourth celebrations following the Supreme Court's Roe v. Wade reversal.
Since the court overturned Roe v. Wade on June 24, stripping away constitutional protections for abortion, a number of high-profile celebrities have been sharing their reactions.
As the country celebrated Independence Day yesterday, many were disheartened by the recent ruling, with the backlash being felt across social media, with Madonna calling for a revolution and Kardashian declaring that the Fourth of July was canceled.
Here's how some celebrities marked July Fourth following the repeal of Roe v. Wade.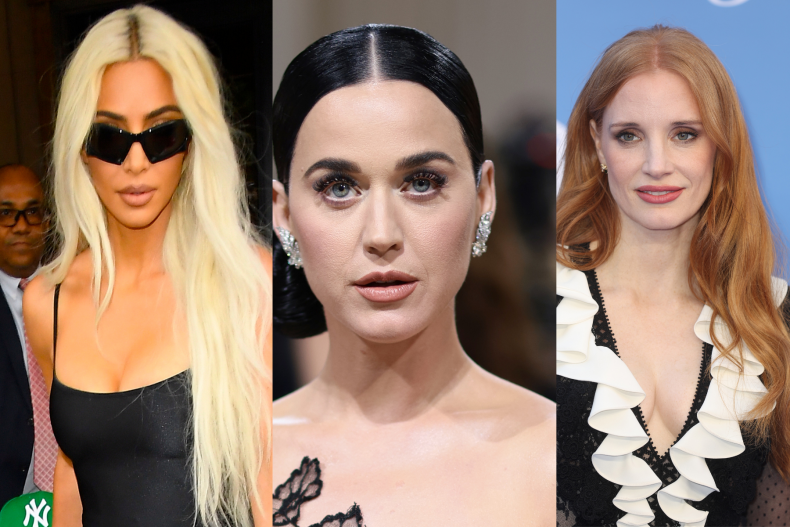 Kim Kardashian
The reality TV star reshared a post to her Instagram story which read: "4th of July has been canceled due to a shortage of Independence. Sincerely, Women."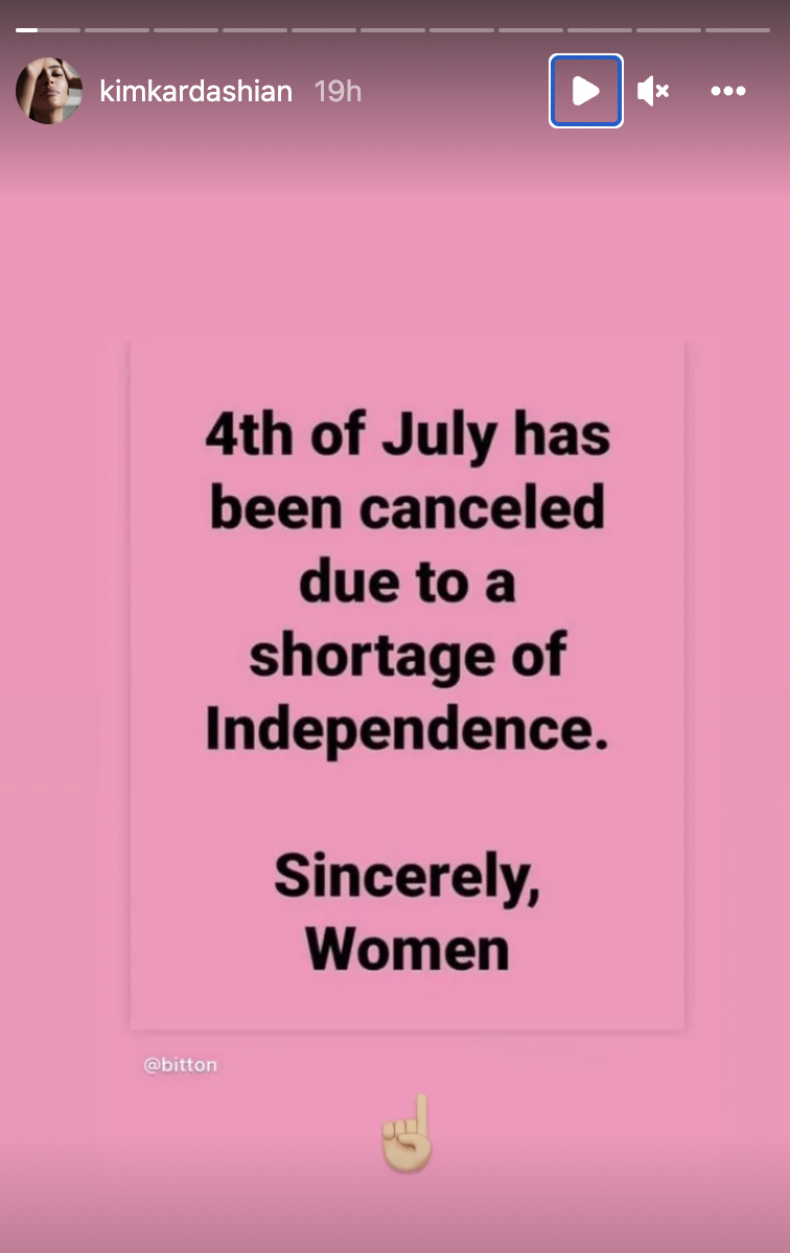 Jessica Chastain
Oscar-winner Jessica Chastain posted a picture of herself with her middle fingers up with the caption: "Happy 'Independence' Day from me and my reproductive rights."
Padma Lakshmi
Top Chef host Padma Lakshmi shared a photo of a cake with the frosting reading: "Separate church and state."
In another tweet, the TV star wrote: "Not much to celebrate this 4th, I'm afraid. Let's just hope everyone can keep safe and peaceful today and that soon our nation veers away from this precipice."
Katy Perry
Referencing her hit track "Firework," singer Katy Perry also used the holiday to make a statement on Roe v Wade.
"'Baby you're a firework' is a 10 but women in the US have fewer rights than an actual sparkler smh," she tweeted.
Brooklyn Decker
Model Brooklyn Decker shared her anger at the decision in a reflective post about the freedoms that the U.S. offers.
"Grateful for the abundance this country has to offer. Grateful that I live in a place I can criticize, and point out how disturbing and disgusting it is that Americans have fewer rights than they did last year," she wrote.
"Grateful that I can call out how this country doesn't work for everyone or keep everyone safe without getting jailed for saying those words. Today I carry both an abundance of gratitude and a swelling of anger. I know I share that with so many of you. May we sustain our fury to propel this complicated country forward and not further backward."
Jedward
Irish pop stars Jedward also used their platform for a July Fourth protest, tweeting: "Happy Independence Day? 🇺🇸 Women should be Independent to make their own choice on having an abortion! it's their Body not your control."
Madonna
Musical icon Madonna shared a sinister black and white video featuring a woman being dragged by armed guards and called for "a revolution."
"This is what life looks like if you're a woman in America," she tweeted. "It's not Independence Day for us. Let's start a revolution!"
Finneas
Music producer and brother of Billie Eilish, Finneas, tweeted: "4th of July is my favorite day of the year. Not sure if there's anything worth celebrating this year though."