Juneteenth National Holiday Leaves Black People Unimpressed
The U.S. Senate has voted to make Juneteenth, a day that commemorates the end of slavery in the U.S., a federal holiday. However, prominent Black voices on Twitter have expressed how they feel about the decision, with many saying it is not enough.
Criticisms have included the fact that making Juneteenth a national holiday does not solve material problems like police brutality.
Zellie Imani, a teacher, blogger, and activist, said: "We didn't ask for Juneteenth to be observed as a national holiday, we wanted an end to police violence."
Twitter user @MajorPhilebrity said: "The humor of America making Juneteenth a national holiday when they're banning people from teaching about it in schools is not lost on me"
Critical race theory, which examines the ways race and racism intersect with politics, culture, and the law, is currently banned in Arkansas, Idaho, Florida, and Oklahoma.
Lawmakers in Michigan, Tennessee, Texas, Georgia, North Carolina, South Carolina, Ohio, South Dakota, Arizona, Kentucky, Utah, and New Hampshire are also debating bans on critical race theory.
Another criticism is that the Senate was able to unanimously pass the Juneteenth holiday bill, but is still divided on issues of Black voting rights, especially regarding the John Lewis Voting Rights Advancement Act, a Democratic bill that aims to prevent states from carrying out racially discriminatory voting laws.
Writer Liz Dwyer said: "Soooo... Juneteenth can be unanimously approved by the Senate as a national holiday but we can't pass the John Lewis Voting Rights Act?"
Filmmaker Bree Newsome said: "I find this insulting, actually. For the Senate to unanimously pass this bill but refuse to unanimously support Black voting rights is a spit in the face. It's [an] entirely patronizing, hollow performance. They don't deserve applause for this."
Eunique Jones Gibson, author and activist, said: "So the senate passed the bill to make Juneteenth a federal holiday but they still haven't made lynching a federal hate crime? Got it."
The Justice for Victims of Lynching Act of 2018, which would criminalize lynching, was introduced and passed by the Senate in 2018, but was never passed by the House.
Following the Senate vote to make Juneteenth a federal holiday, the measure will head to the Democratic-led House, where it will likely pass.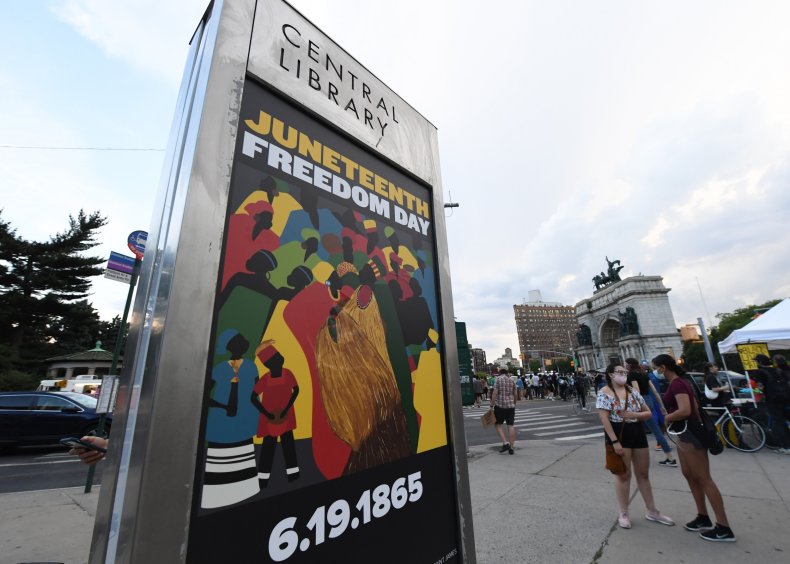 Juneteenth is the anniversary of June 19, 1865, when enslaved Black people in Texas learned they had been freed. The day has been celebrated since 1866, starting as a local event within Texas before evolving into a national celebration.
Juneteenth is officially recognized in almost every state, but it will become a federal holiday if and when the measure passes the House vote.
The graphic from Statista below shows Americans' familiarity with Juneteenth is still limited.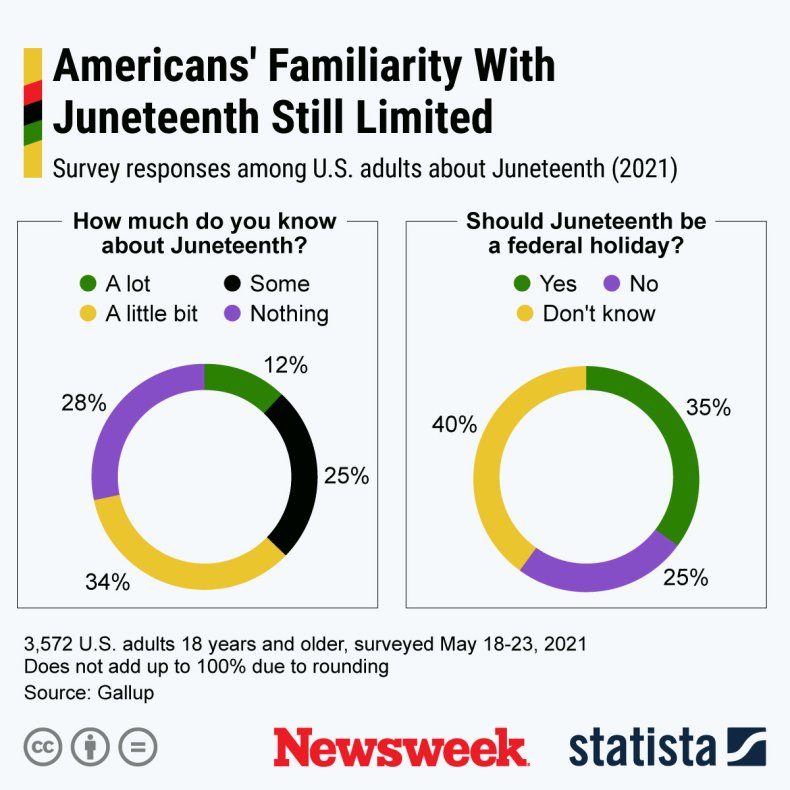 Update 6/16/21 7:45 a.m. ET: This article was updated to add a graphic.