Jussie Smollett's Early Release Could Help Other Defendants Build Cases
An appeals court's decision to release actor Jussie Smollett early from jail could benefit defendants in the future.
On the evening of March 16, 2022, the Empire actor walked out of jail six days into a 150-day sentence. Smollett's release comes after his legal team filed an appeal against the conviction.
However, Gene Rossi, a former career federal prosecutor who spoke to Newsweek said the appeals court's move is likely to be cited by other defense attorneys and defendants in the future.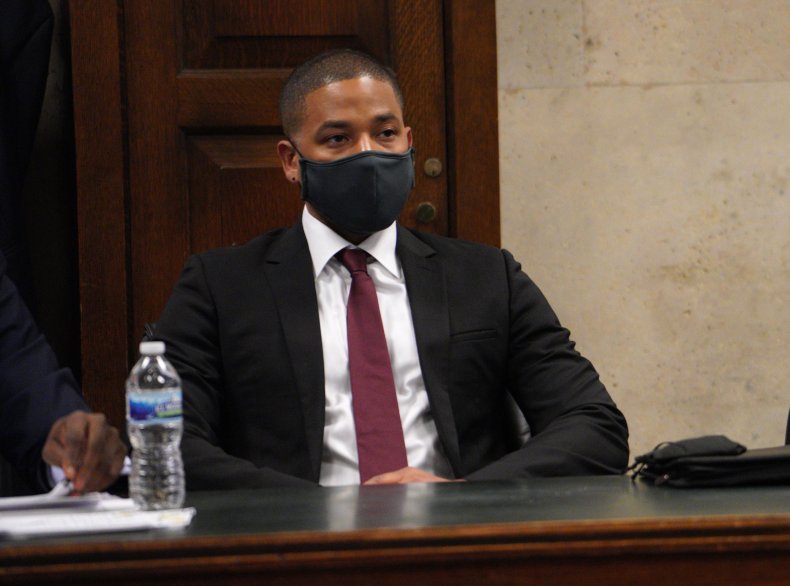 He said that any defense attorney is likely to make mention of the kind of treatment Smollett received and ask that their client receive a similar type of treatment.
Rossi also went on to provide a hypothetical situation where a defense attorney could likely use Smollet's celebrity status as an argument in the hopes of getting their client the same treatment as the actor.
"And the only difference between Mr. Smollett and my client is Mr. Smollett is a media superstar or he's in the public domain, as an actor in the show Empire and my guy is just this lowly truck driver, a maintenance worker and he's being treated very unfairly," he said.
Additionally, he added that that argument isn't likely to work in other courts, but it may find favor in a place like Cook County.
The Illinois Appellate Court, based in Chicago, ordered the actor released from the jail in Cook County after he had posted a $150,000 recognizance bond.
Judges, Rossi told Newsweek, can and do act differently when a celebrity is on trial.
"It's the time-honored problem: whenever you have a celebrity being tried, the rules of evidence, the rules of procedure and the normal way judges react to a defendant are altered, are altered. Judges don't want to admit that because they want to say 'I treat everybody the same. I treat everybody without favoritism.' But when you have a celebrity on trial, it just changes the dynamic."
Despite being released from jail as his legal team appeals the conviction, Rossi believes Smollett will ultimately serve time for his convictions.
"Mr. Smollett is definitely going to be incarcerated because of his convictions and he's just delaying the inevitable. There is no way in my book, in my experience, analyzing this case, that he will get probation. There is a very high likelihood he will receive incarceration," he said.
Smollett was sentenced last week—March 10—after he was found guilty by a jury on five counts of disorderly conduct for making false reports to police officers.
A lawyer for Smollett, upon his client's release from jail Wednesday night, stated that Smollett had gone the duration of his time incarcerated without consuming food.
In addition to 150 days in jail, Smollett also received 30 months of probation—to be served after his time in jail—a $25,000 fine and an order to pay more than $120,000 in restitution to the city of Chicago.